A Tender Thing
Ben Power
Royal Shakespeare Company
Swan Theatre, Stratford-on-Avon
–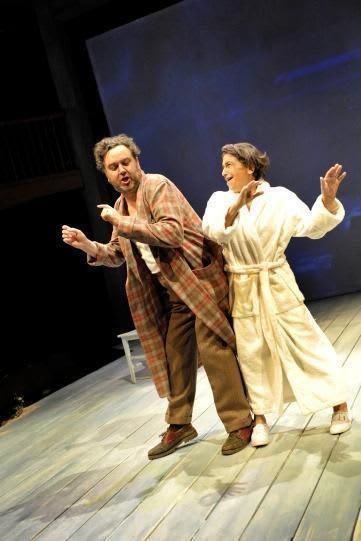 Six years ago the RSC's outgoing artistic director Michael Boyd asked Ben Power to adapt Romeo and Juliet for two older actors.
The move was prompted by a thespian in his 60s who told Boyd he was finally ready to play the great lover. So Boyd persuaded Power to modify Romeo and Juliet for an older generation.
The result is A Tender Thing which was performed in Newcastle three years ago and is now playing in the Swan at Stratford as part of the World Shakespeare Festival.
Power's powerful two-hander uses the original text but doesn't restrict Romeo and Juliet to the lines Shakespeare gave them. Words usually spoken by the likes of Mercutio and Friar Lawrence sound so convincing coming from two people in the twilight of their life that sometimes you have to remind yourself that you're watching a new play.
The script has possibly more resonance now than when it was written. Juliet, in so much pain because of an incurable wasting illness, asks Romeo to help end her life—all the more apt as the debate on assisted suicide continues.
The play begins with Romeo resigned to giving Juliet poison to end her misery; he lifts her out of bed and they dance. A series of flashbacks outlines how their relationship matures and Juliet's health declines.
Kathryn Hunter, who played Juliet in Newcastle, reprises the role and gives a totally captivating performance, expertly demonstrating how Juliet deteriorates.
At one stage she displays one of the unwelcome characteristics of a woman of advanced years as she calls Romeo back but can't remember why.
Later she falls over because she refuses to use a walking stick and she gets progressively worse until she relies totally on Romeo to wash and feed her.
There's tenderness yet tension between the couple who, like many people who've been married for a number of years, occasionally lose patience with each other.
Richard McCabe as Romeo is initially resigned to having to give his wife poison to bring on her "early sleep".
He then becomes spritely and cheery during the flashbacks, continually trying to keep Juliet's spirits up as she becomes only a shadow of the woman he married.
The way he shows the audience a picture of Juliet which he keeps in his wallet demonstrates his deep affection for her.
The look on McCabe's face when Juliet, frail and not in control of her body, maintains that Romeo would have a happier life without her is heartbreaking.
As the play goes on he too shows dismay that his body won't do what it used to and he finds it increasingly difficult to lift Juliet despite her frailness.
It's a touching portrayal by both actors and is sensitively directed by Helena Kaut-Howson who was also at the helm of the Newcastle production.
Jacques Collin's video, with the sea changing from blue to grey and the sun setting as Juliet's life ebbs away, is always excellent, as is John Woolf's music for violin, cello and keyboard.
A Tender Thing shows that the course of true love never did run smooth—and it can be all the more poignant for those of a certain age.
Reviewer: Steve Orme