A Thousand Miles of History
Harold Finley
Truly Fierce Productions
The Bussey Building (Theatre Local)
–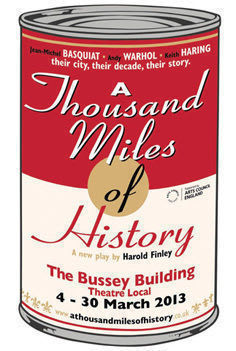 Writer and director Harold Finley here offers a peek into the New York modern art world of the late 1970s and 1980s when graffiti street artists Jean-Michel Basquiat and Keith Haring became fashionable, moving out of the streets and the subway and into the galleries.
I don't know how closely it sticks to the facts but this feels like reality. The play starts when Basquiat split from spray-painting partner Al Diaz, who had signed their work Samo, with the announcement across the walls of New York that "Samo is Dead". It is Rene Ricard, critic and friend of Andy Warhol, who begins the story. He tells how, having already launched Julian Schnabel in the art world he set out to promote Basquiat.
Soon we are caught up not only in these men's careers and their personal involvements, especially those between Basquiat, Haring and Warhol. These famous art world figures are not played in imitation of the actual people but with a theatrical reality that feels true.
Naturalistic scenes are framed by stylized movement, separated by blackouts or by multiple figures crossing. Mike Lees's setting is simple: a bare stage or sparse items of furniture against moveable screens and Tommy Lexen's projections of graffiti-making and paintings in creation, all supplemented by David Turpin's music, Jamie Flockton's sound and Anna Sbokou's lighting. There is a minimalist feel that sharpens the effect of what is presented, enriched by colourful costume and strong emotional playing.
Glimpses of gay discos and bath houses and gallery openings punctuate scenes of art world gossip and work in Basquiat's basement studio as he and Haring are turned into international superstars and Basquiat acquires a finally lethal drug habit.
This ultimately tragic history is littered with humour from Michael Palmer's caustically queeny Rene Ricard to Adam Riches's gentle Andy Warhol having his wig snatched off at a bookshop signing or drooling over the idea that Basquiat masturbates with the same hand he paints with. Simon Ginty has a naïve innocence as Keith Haring hanging on to the principles that he and Basquiat shared of art not just being for the elite but failing to nurture his own relationship with boyfriend Juan—another lovely performance from Miles Mitchell.
In the conflict between belief in art and belief in money it is Lisa Currucio Cam as gallery owner Mary Boone, and representing all Basquiat's earlier dealers, who is the image of the hard commercial world, along with a couple a couple of rather caricatured rich Swiss buyers. She may be a cool-headed businesswoman but seems concerned for her artist's welfares and describes collecting as "the only acceptable form of greed".
In contrast to the art world's personalities is Basquiat's father, ultra-respectable in his formal clothes, self-centredly superior. Joseph Mydell is almost sinisterly proper doing that difficult thing of playing a man who is himself a counterfeit, for this is the man who used to brutalise his son for all his claims of being Haitian aristocracy.
There is a colourful portrayal of Fred Brathwaite (artist and rapper Fab 5 Freddy) by Emmanuel Imani and James Kermack is Warhol's Mr Universe but at the centre of everything is Michael Walters as Jean-Michel Basquiat. This is an intensely physical performance whether flashing a spray can, doing the moves or hunched against a radiator in pain, a charismatic character bent on self destruction who declares "I take drugs for the same reason that I make art—I don't like the way the world looks".
In other circumstances Walters's performance would stand out as a star turn but it is a mark of the success of Harold Finley's writing and direction that it works as part of the whole. The first act seems just a little too long, but I saw a preview and by press night the scene changes may be faster, the playing fractionally tighter but though perhaps stretching a contemporary attention span there are no longeurs.
This is not just a play about art versus money it is also a play about people. Of course, part of its appeal lies in the interest we all have into the actual lives of the famous, but those lives were often played out in public and we get no gossip column prying but a questioning look at relationships served with imagination and theatrical flair.
Reviewer: Howard Loxton