A Thousand Splendid Suns
Ursula Rani Sarma, adapted from the novel by Khaled Hosseini
Northern Stage and Birmingham Repertory Theatre in association with Nuffield Southampton Theatres
Northern Stage, Newcastle
–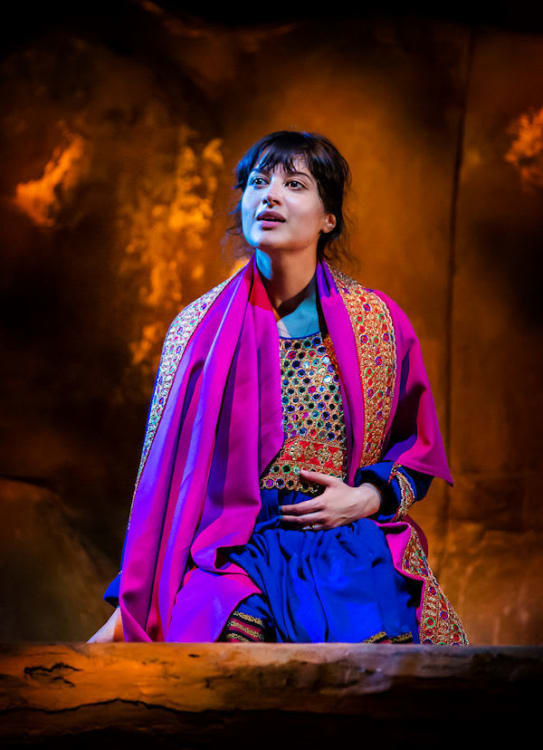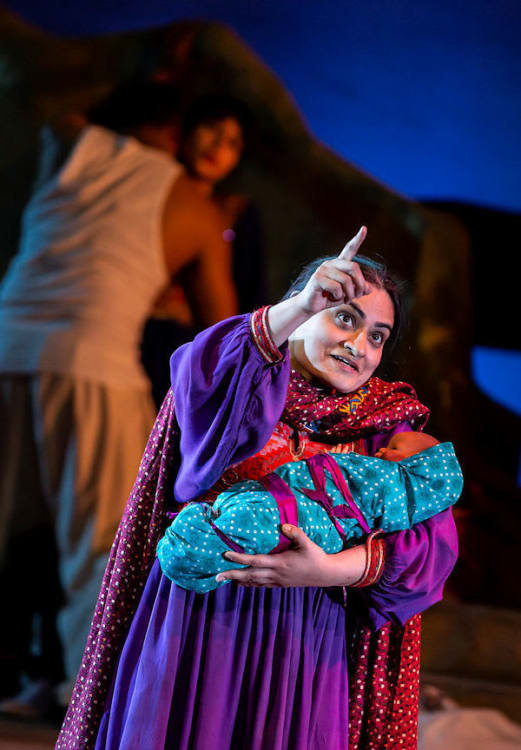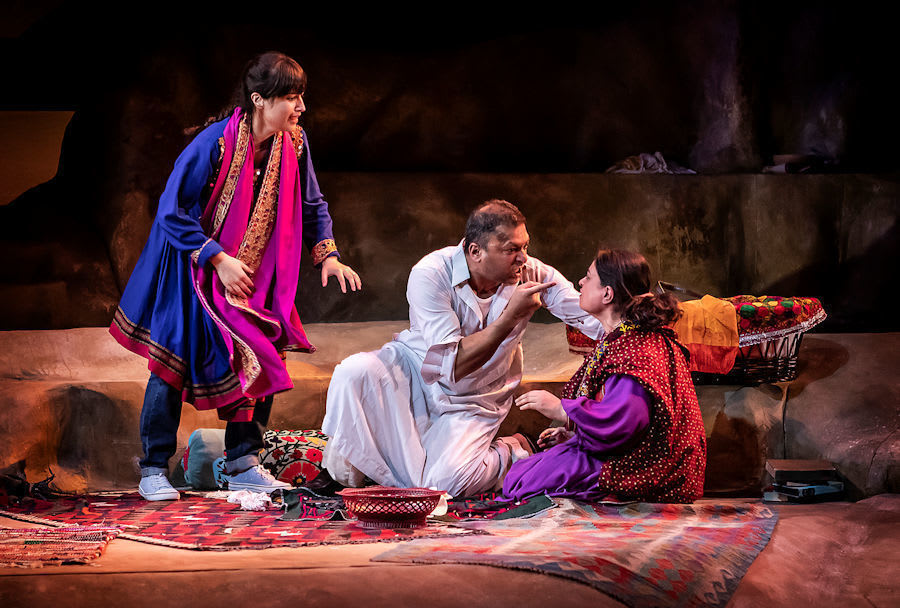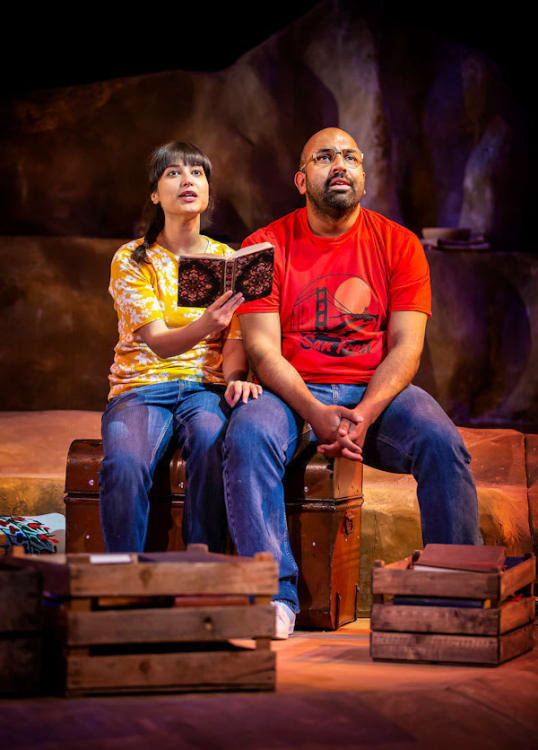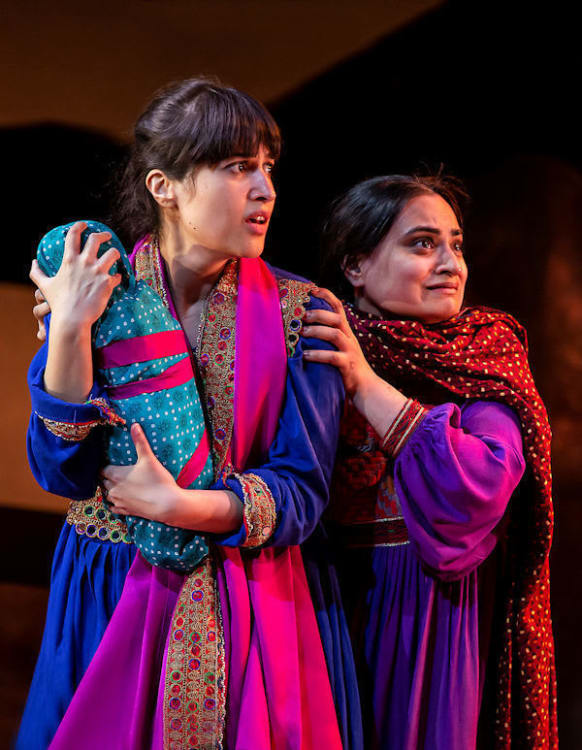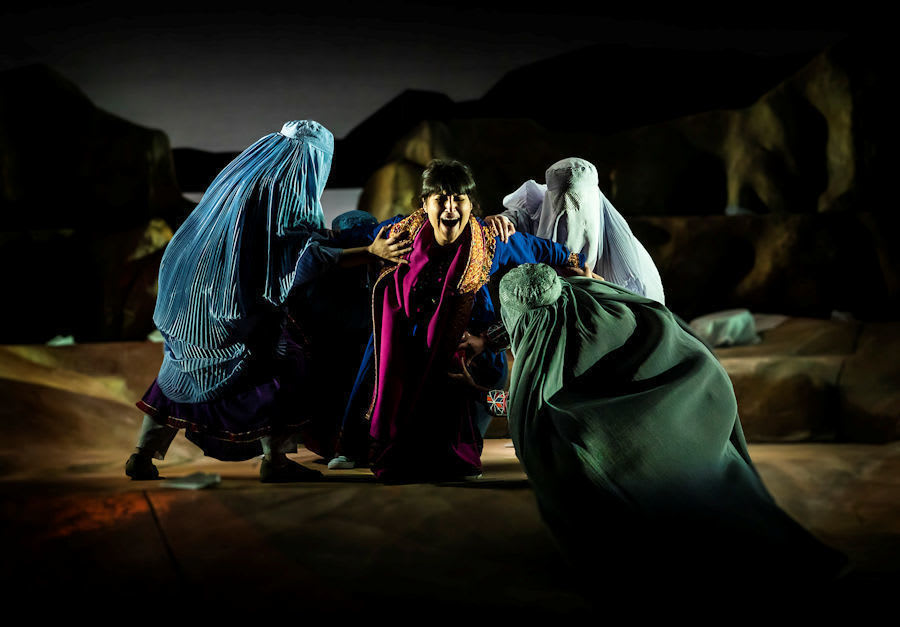 From Alexander the Great, through conflict with the British Raj in India, via the war between the Soviets and the Mujahideen, through to the Taliban and the US-led invasion (and all sorts of other troubles, internal and external, between), Afghanistan has always appeared to western eyes as a place of conflict, continuous warfare, death and destruction. It has also been seen as a place of Islamist fundamentalism where burka-wearing anonymised women are subjugated to their men.
A Thousand Splendid Suns looks at life in the Taliban era from the point of view of women, in particular Laila (Sujaya Dasgopta), a fifteen-year-old who, at the beginning of the play, is orphaned in a bombing raid, and Mariam (Amina Zia), wife of neighbour Rasheed (Pal Aron) who takes in the teenager—out of compassion, he says—and makes her his second wife.
The background of war is still there, but the focus is much more domestic, with the Talban's misogyny infecting not just life outside the home, but inside too. From the start, Rasheed's attitude towards Mariam is like that of master and servant and, with the arrival of a much younger "rival", it deteriorates from there.
Structurally, the play is somewhat complex. It starts with Laila and her father, a lover of poetry, reading together, an almost idyllic scene. Then, as the story is told from Laila's point of view, the next scene we see is of her recovering from unconsciousness after a bomb had destroyed her home and killed her parents. From there it continues in a straight line until there are flashbacks. For example, we have a flashback to Mariam's early years, but the young Mariam is not played by Zia but by Shala Nyx, who also plays another leading character. She does a splendid job of playing three characters, so the fact that it takes us a little while to catch on to what is happening is not due to her, not by any means.
We learn of the new, draconian rules for women (including not being allowed to learn to read or write) from the Taliban from a piece of paper read aloud by a young girl, Aziza, Laila's daughter (also played by Nyx) who is at school and loves it. We do see the women being forced to wear burkas and we even see one lashing, but really it is tell rather than show.
Here's the rub, the problem with the play. By trying, as it seems, to pack in as much as she can of the novel, playwright Sarma has left herself little time or scope for variation in pace and intensity or presenting us with fully detailed events or even depth of characterisation. It's a great story which gives a fascinating (and, frankly, horrifying) insight into the lives of women under extreme Islamist fundamentalism but I was thinking all the time, "I'm not really feeling this. I'm seeing but not experiencing. I'm reacting with my brain, not with my gut."
The only moment when I felt that I and all the audience were really deeply emotionally engaged was about a reaction (and action!) of Mariam when you could almost hear the audience sub-vocally shouting "Yes!" all at once.
(I know I was and my companion actually waved her fist in the air!)
It's a powerful story and the cast perform beautifully, particularly the central trio of women—Dasgupta as Laila, Zia as Mariam and Nyx as Aziza. The men have less to work with—most, in fact, are given two- (or even one-) dimensional characters with little opportunity to develop them—but they make the best of what they are given.
The audience (me included) were held, there is no doubt about that, either because they were enjoying seeing a novel they know and love brought to life before them or because they wanted to know what happened next, but I can't help feeling that, much as I was interested by what I was seeing, there is a better play which would have moved me more to be made from such great source material.
Reviewer: Peter Lathan