A View from the Bridge
Arthur Miller
Octagon Theatre Bolton
Octagon Theatre, Bolton
–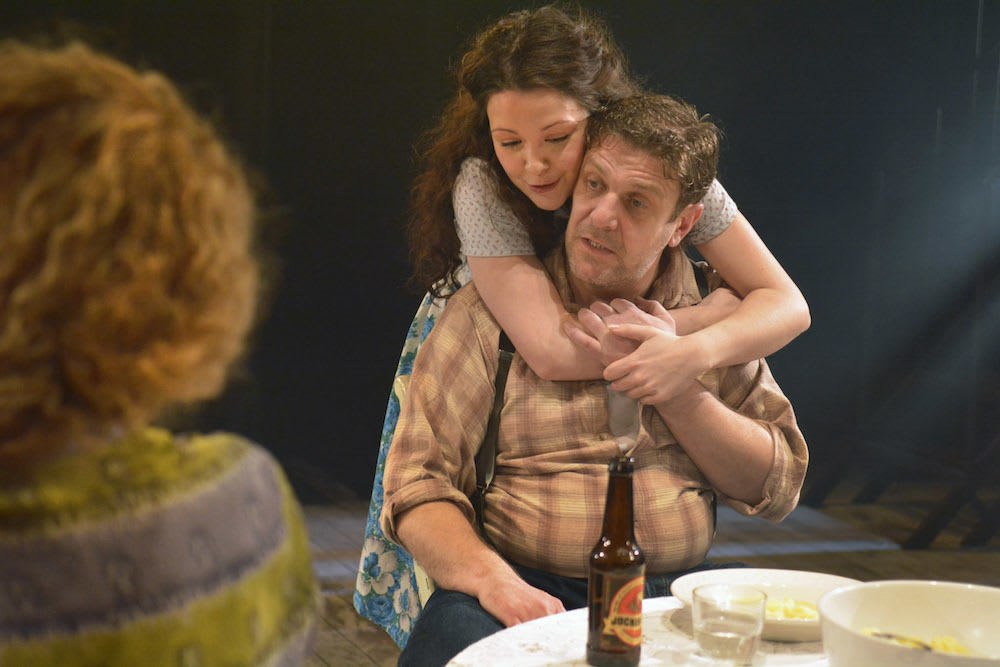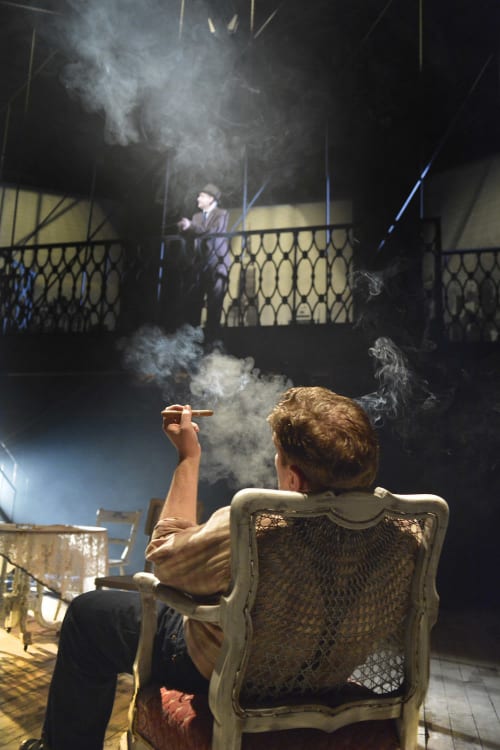 Arthur Miller's centenary year will offer several chances to see this particular play: Stephen Unwin will direct Michael Brandon in a touring production, and Ivo van Hove's production for the Young Vic starring Mark Strong has transferred to the West End and will soon be seen in cinemas through NT Live.
David Thacker's production for the Octagon, one of his last as artistic director, doesn't have the big star names in the cast, but, when it comes to Miller, the director is the star, having specialised somewhat in his plays and even worked with the great writer over many years. Although he directed a production some years ago which transferred to the West End, Thacker said, "I felt I had unfinished business with the play".
Ciaran Bagnall's set places the Carbone family's meagre furniture in the middle of a large wooden floor, with the huge steel bridge of the title overlooking and dominating their lives.
In the Italian community of New York, Eddie Carbone is a longshoreman, or dock worker, where work is uncertain and not particularly well-paid. However things are far worse in Italy, and so the family shelters Eddie's wife's cousins, hard-working married man Marco and his frivolous young brother Rodolpho, from the immigration authorities so they can earn money to send home.
Eddie is fiercely protective of his orphaned niece Catherine, and, when she and Rodolpho grow closer than he would like, his attempts to separate them become more and more extreme, calling into question exactly what his feelings are for his ward.
Colin Connor has shown himself to be a very versatile and talented actor in his many performances in the region. His Eddie is warm and funny—he has excellent comic timing—but stubborn, becoming increasingly desperate and emotionally disturbed. This is a great all-round performance.
He is supported by a performance of equal stature from Barbara Drennan as his wife Beatrice, often the voice of reason but frustrated that she can not get through to him—but still, despite anything, in love with him. Her cry at the end is as piercing and affecting as Lear's "Howl", a chilling note with which to leave the audience.
Miller's narration is delivered with clarity and precision, and some humour, by Patrick Poletti as lawyer Alfieri, David Nabil Stuart is chillingly silent and still in a very well-measured performance as Marco, Tristan Brooke is quirky without overplaying his difference as Rodolpho and Natasha Davidson is perfect as Catherine.
Even the very small parts are played skilfully and with precision by very experienced actors: James Quinn, Russell Richardson and Eamonn Riley.
While the current trend of the "community chorus" often appears to be more for the funding applications than for the audience, Thacker makes very good use of the ALRA students in a few places. The army of costumed stage hands make for some very fast changes of scene, and, as witnesses to Eddie's humiliation and downfall scattered throughout the auditorium, they reminded me of the chorus in Stephen Daldry's An Inspector Calls, and are as effective.
It isn't quite perfect—the scene in the lawyer's office in the first half seemed to be pitched and paced incorrectly (it "ain't right" as Eddie might say) but this may have been a one-off—but it's a very powerful production with a superb cast on top form, a great start to the Octagon's year.
Reviewer: David Chadderton