Abigail's Party
Mike Leigh
Curve Theatre
Curve Theatre, Leicester
–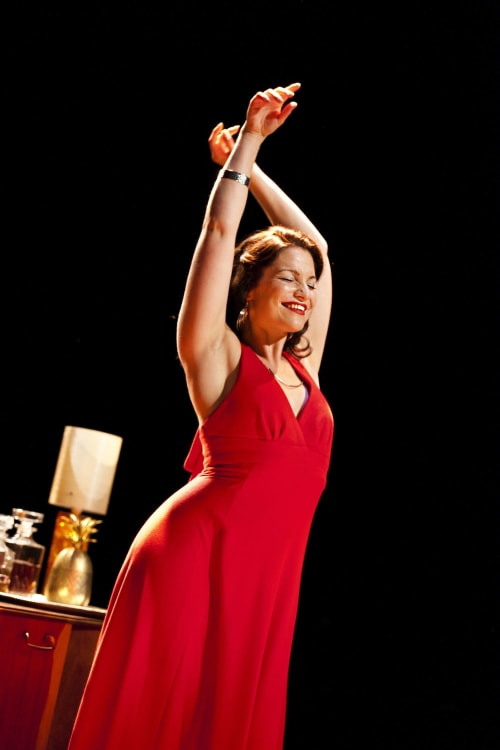 In this famously circular theatre, it seems long overdue for Curve to stage its first production in-the-round but, almost six years since the venue opened, we now have an invitation to do so with Abigail's Party.
Such performances heighten intimacy and what better way to ramp up the squirm factor in Mike Leigh's influential 1977 classic than allowing the audience a wallflower's view of Laurence and Beverly's party.
Beverly and Laurence are our hosts, welcoming new neighbours Angela and Tony to Richmond Road with light ale and conversation. Another neighbour, Sue, has been invited to escape her teenage daughter Abigail's party back at Sue's.
Abigail is never seen but the dull thud of music coming from across the road, together with occasional reports from Tony and Laurence, give the distinct impression that those at Abigail's party are having a much better time than the 'grown ups'. Here at Beverly's well-appointed home, too much alcohol and long-suppressed frustrations spill over into recrimination and tragedy.
Former beautician Beverly (Natalie Thomas) is an unattractive character: an insistent hostess, plying her guests with drink, cigarettes and Jose Feliciano, bulldozing them into having a good time.
She is as adept with a Soda Stream as she is with a tray of cheese and pineapple on sticks, and Thomas successfully captures Beverly's self-belief yet vulnerability. It is painful to watch but you just can't keep your eyes off her. Her exchanges with her overworked, unappreciated husband Laurence (Patrick Moy) become less subtle and louder as their unhappy marriage unravels, with Moy a dangerously tight coil of dissatisfaction and resentment.
Time and place are clear in this production: David Woodhead's set reeks of the '70s with wall-to-wall teak, a swirly carpet and impressive fibre optic lamp (this production also comes with a more up-to-date health warning that the actors will be smoking on stage). 'Place' is in the form of a south east estuary twang, but, such is the strength of the characters, they are all too recognisable whatever your age or background.
Everyone knows (or maybe is) a Beverly or an Ange (Emily Head)—so eager to please she is happy to accept Beverly's patronising comments and thinly-veiled criticisms. Cary Crankson is delicious as manly, monosyllabic Tony, his resigned obedience great fun to watch. Sue (Jackie Morrison) has lived in Richmond Road longer than either couple yet hovers uncomfortably on the fringes of acceptance by her neighbourhood's newer residents.
As is often an issue with in-the-round performances, a little is lost, with some lines of sight missing actors' expressions, particularly during the more comic moments. Also, the final scene may be clearer for more of the audience if Laurence was centre stage. However, there is good movement around the set and, if possible, this production is worth a second visit, trying another spot for a different viewpoint.
Ultimately, these party-goers just want to be liked and loved and the drama comes from recognising the uncomfortable silences and subtle subtexts lurking behind net curtains anywhere in the country.
Director Suba Das has succeeded in bringing something new to the crass and cringeworthy characters in Abigail's Party, providing a neat portrait of suburban social-climbing, as relevant today as it was almost forty years ago.
Reviewer: Sally Jack