Abigail's Party
Mike Leigh
Derby Theatre, Queen's Theatre Hornchurch, Wiltshire Creative and Les Théatres de la Ville de Luxembourg
Derby Theatre
–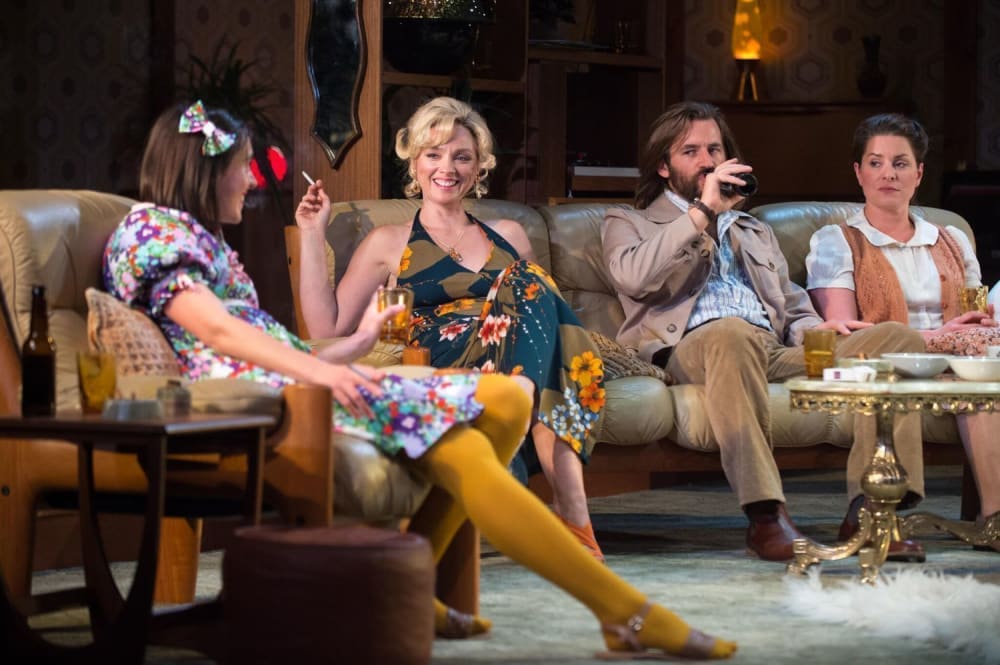 It was a time of social unrest, strikes, increasing unemployment and uncontrolled inflation. The Queen celebrated her silver jubilee, Virginia Wade won Wimbledon, Elvis and Mark Bolan died and the Sex Pistols were whipping up "Anarchy in the UK".
The year 1977 was the perfect moment for Mike Leigh to unveil the dreadful social climber Beverly, the central character of Abigail's Party. She's the queen of cringe who invites neighbours into her home and is determined that they'll have a good time whether they like it or not.
Douglas Rintoul, artistic director of the Queen's Theatre, Hornchurch, one of the co-producers of the play, directs Abigail's Party and admits in the programme that Leigh's opus passed him by until four years ago.
He was only three when Abigail's Party was shown on television as a Play for Today, with Alison Steadman giving an unforgettable performance as the materialistic, middle-class meddler who never sees anyone else's point of view.
Rintoul doesn't tell us whether he's seen a recording of Steadman's portrayal. It's clear that he wants Melanie Gutteridge to stamp her own interpretation on the role and she does that successfully.
She leads her husband Laurence a dog's life, ordering him around incessantly, constantly reminding him not to forget the beers when he goes out and treating him like an imbecile.
She also patronisingly criticises new neighbour Angela, showing scorn for her choice of shade of lipstick with the kind of insensitivity that's prevalent nowadays on social media platforms.
It's not until towards the end that Gutteridge becomes totally impossible, a violent streak showing what a hateful person Beverly has become. Overall, though, it's an understated performance from Gutteridge; perhaps I've seen the play too many times and I didn't find her annoying enough, even when she constantly described even the most trivial thing as "fantastic".
Gutteridge is almost overshadowed by Amy Downham whose Angela is a loud, excitable, easily impressed social misfit. If you think Theresa May can't dance, you should see Downham, arms flailing everywhere and without natural rhythm as she dances to a ballad.
The two men in the cast give solid performances. Christopher Staines as snobby estate agent Laurence is commendable as he becomes increasingly wound up by Beverly who decries his attempts to raise the tone of the evening.
Liam Bergin as former professional footballer Tony is just as impressive, becoming irritated by his wife's inelegance and revealing a darker side behind his laid-back façade. Bergin's eyes are amazingly expressive, capable of showing disdain, disapproval, confusion and bewilderment.
The cast is completed by Susie Emmett, a lovely depiction of Susan, the formal, reticent woman whose concern about what's going on at her daughter Abigail's party is exacerbated by everyone around her.
Lee Newby comes up with an atmospheric set which features G Plan-style furniture and a lava lamp. The only thing missing from the original stage play was the Donna Summer number at the start because of rights problems. It's replaced by Baccara's "Yes Sir, I Can Boogie", a fitting substitute.
Rintoul builds up the tension as the play hurtles towards its tragic yet humorous conclusion. This revival of Abigail's Party is worth celebrating although it doesn't quite reach the quality of being "fantastic".
Reviewer: Steve Orme