Abigail's Party
Mike Leigh
Ambassador Theatre Group and Smith & Brant Theatricals in association with Tulchin Bartner Productions and Julie Clare Productions
Grand Theatre, Blackpool
–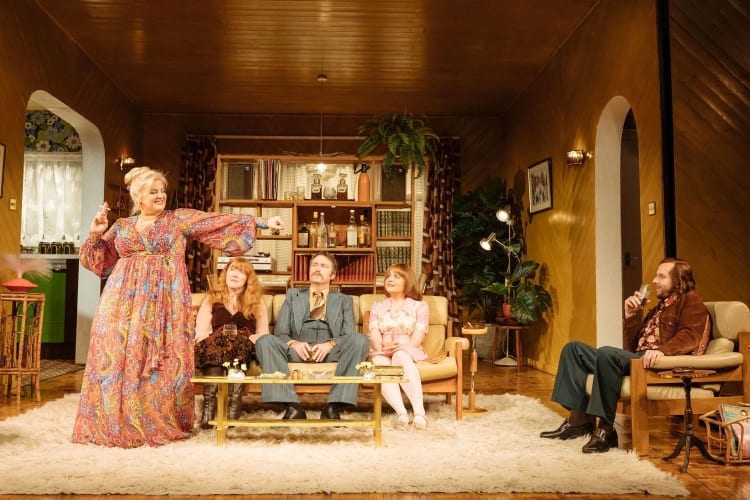 It has to be said: you get more Beverly for your buck with Jodie Prenger as the monstrous main character in this excellent revival of Mike Leigh's iconic comedy.
Her customary stage-filling presence adds a new vitality to the role, from the first glimpse of her shimmying solo to Donna Summer's "Love To Love You Baby", all the way through the story of her ill-fated attempt to entertain her neighbours.
For a play where it remains essential 'the only way is Essex', dialect coach Charmian Hoare also ensures the Blackpool-born star comes complete with an authentic accent. Director Sarah Esdaile remains true to this and all the other essential elements of a play that is, after all, a time capsule from 1970s Britain. A time when the world smelled of Youth Dew, a house on the outskirts of London cost £21,000 and James Galway was a 'promising young flautist'.
It all provides the setting for a modern-day comedy of manners, or lack of them, as the grating small talk of suburbia slowly scrapes away at a thin veneer of civility. Marriage, affluence and class are put through the blender when Bev and husband Laurence invite new neighbours Angela and Tony round for drinks, along with Sue whose wild child daughter—the always-unseen Abigail—is holding her own far-less formal party across the road.
It all makes for excruciating comedy of the type that is now a staple element of modern television. Rose Keegan's Sue, in particular, comes more fully-fleshed in the appearance of a post-dated hippy type whose life seems to be one of sad submission. She and Tony (Calum Callaghan) corner the market in their monosyllabic contributions to the conversations, and some of the best of the resulting laughs, while Laurence (Daniel Casey) and Angela (Vicky Binns) carry rather more of the physical humour.
But for all her manifest faults, you can't help yourself but Love To Love You Beverly...
Reviewer: David Upton