Abigail's Party
Mike Leigh
Wiltshire Creative, Derby Theatre, Les Theatres de la Ville de Luxembourg and Queen's Theatre Hornchurch
Salisbury Playhouse
–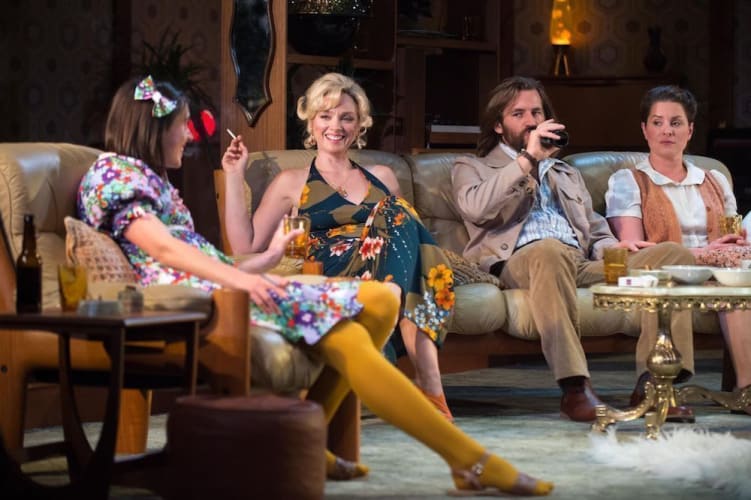 It's not often, is it, that you have a play in which the character mentioned in the title is never actually seen on stage? Can't immediately think of another one.
Abigail's Party has been around for a long time though (first performed in 1977) and still has the power, evidently, to attract a large and enthusiastic audience.
Of course Pinter's The Birthday Party, (1957) like Abigail, quickly descends into a kind of comic nightmare and in 1966, the film of Who's Afraid of Virginia Woolf? had Richard Burton and Elizabeth Taylor at furious, alcohol-fuelled loggerheads. So the theme of the play has its fondly remembered precedents.
Originally played by Alison Steadman in the film version, the part of Beverly is here portrayed, in all its ghastly pretentiousness, by Melanie Gutteridge. In her floor-length backless evening dress and with her domineering attitude, she assumes control over what most people would consider just a casual get-together of neighbours.
If we were in any real doubt about her genuine social status, the south London accent would be something of a giveaway. Her husband Laurence (Christopher Staines), who might reasonably justify his more elevated status as a successful estate agent and who supports his wife's careless extravagance with (on the whole) patient acquiescence, is treated with general disdain. We genuinely feel for him as, finding Beverly has been too busy preparing the assorted olives, crisps and cheese bits on sticks for her invited guests, he is forced to go into the kitchen to make himself a cheese sandwich.
Then there are the three guests: recently moved-in neighbours Tony (Liam Bergin) and his wife Angela (Amy Downham) and Susan (Susie Emmett). Angela is a recently appointed nurse at the local hospital whose proficiency and expertise will later on highlight the lack of such qualities in her hostess. Beverly will not notice but we will.
So, at last, we come to Abigail, the elusive character. Susan has a pivotal role as Abigail's mother. Abigail is fifteen years old and her mother has agreed to allow her to hold a party in her house without Susan being there.
Beverly, who has no children, or even experience of children, immediately tries to initiate a sense of alarm and insists that Laurence and Tony should form a patrol to see "what's going on". We do not, of course, follow them. We have faith in Susan's common sense and experience and her empathy with teenagers in general. She is the gentle, knowledgeable voice of real authority. She does not have a south London accent. She has accepted Beverly's invitation as a convenience to give her somewhere to be while not getting in her daughter's way. She will not be back.
Plenty of lessons in how to live life in this play then. And the ghastly Beverly does provoke some very funny lines. There are plenty of laughs. And once you accept that all interchange of dialogue must compete with the constantly recurring sound of glass against bottle and all action be viewed through a recurring pall of swirling cigarette smoke, then you are in for a very enjoyable evening.
Reviewer: Anne Hill