Abigail's Party
Mike Leigh
Theatre Royal Bath and Chocolate Factory Productions
Yvonne Arnaud Theatre, Guildford
–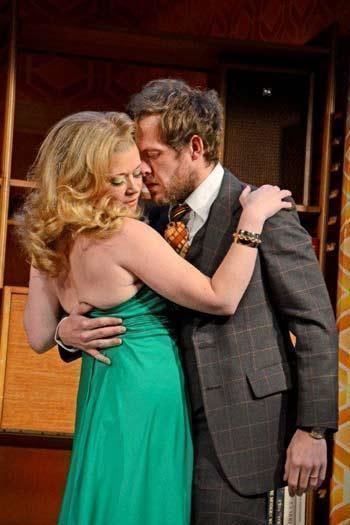 Mike Leigh's bittersweet comedy has become a modern classic with the 1977 television recording often repeated and many "A" Level students choosing the script for their practical exams.
Set deep in suburbia, the play examines the fragile relationships of five characters as they negotiate their way through an evening of booze and polite small talk whilst mutual loathing and repressed sexual energy simmer beneath.
It is hard to avoid the shadow of the original iconic performances and their influence is clearly evident; however this cast wisely avoid caricature and Lindsay Posner's direction brings plenty of fresh touches.
Hannah Waterman is an effortless Beverly switching from a smooth hostess to sniping wife by simply putting a special emphasis on the word "please". She pushes the characterisation to the limit without straying too far into the world of the grotesque and with a throaty growl makes Beverly's none-too-subtle designs on Tony (Samuel James) immediately clear, much to the irritation of her husband Laurence (Martin Marquez).
Marquez pitches Laurence's increasing frustration perfectly and James also reflects the mounting tension through his physicality. His facial expressions when watching Waterman's Beverly more than make up for his lack of dialogue.
The other two women at this awkward soiree are Tony's wife Angela (Katie Lightfoot) and Susan (Emily Raymond). Lightfoot creates a beautifully irritating Angela squinting and giggling her way through many gin and tonics whilst Raymond's Sue clearly wilts under the polite peer pressure of Beverly and Laurence and grows hysterical with concern for her daughter (the Abigail of the title who is having a party across the road).
The dramatic conclusion is shocking, even if you are expecting it, and the final tableau of these isolated and unhappy characters is just as effective as the earlier comedy. Whilst some of the topical comments are obviously now dated, Abigail's Party is not a history piece. In a society still driven by consumerism and aspiration there is plenty for a modern audience to identify with, even if we don't want to own up to it.
Reviewer: Amy Yorston