Abigail's Party
Mike Leigh
Theatre Royal, York
(2005)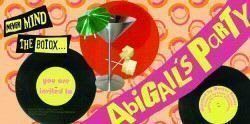 Abigail's Party, that late Nineteen Seventies stage and small screen mould-breaker, is running in York. It's a tribute show. Just like The Beatles or The Kinks it attempts to recreate the original. And it does so very well, to the delight of those who wish to revisit their past or, more interestingly, those too young to have seen the original.
It's a strange concept. First find a cast that physically resembles (consistent with talent) the 'originals'. Then recreate the show. Marcus Romer directed, presumably by sitting his actors in front of a video and saying, 'Copy that!'
The audience loved it.
Emma Donovan's sumptuous set is surely the star of the show. Emphasising the Royal's rake, it hits every 70s design button and stimulates a lot of nudging and whispers of 'Oh we had one of those'. Then, in response to the trill of a phone, an awesome, strangulated drawl reminds us to turn off our mobiles and the first gust of laughter wafts the theatre. We've recognised the voice, it's the one adopted by Alison Steadman for the yet more awesome and strangulated Beverley. What a great impersonation by Sara Poyzer.
Some of us (well me anyway) cherish the thought that this might be a bijou pre-set joke. That the team will have dug into themselves and the script and found something new to say. Then on comes Beverly in all her mannered glory... and, if you've seen the original, well, that's it really. The copy unfolds before your eyes.
The cast, god bless 'em, are brilliant in a Stars in Their Eyes sort of way. And Helen Goldwyn hams up the convoluted, agonised body language of Angela to great comic effect. Otherwise it is all high class impersonation, very high class.
And it is a lovely play into which the improvising original team, with Mike Leigh's help, poured their hang-ups and let-downs, observed mannerisms and feared weaknesses. And, surely, settled old scores with obnoxious neighbours, teachers and family. There's a lot of psychological and sociological truth in the play. And even an ersatz production can bring it out. We still squirm as we laugh.
The script, then, is superb, and it's good to be reminded that its implications rise above location and period. The temptation to cast (direct and perform) against type and find a new production must have been great. For me it is a shame that the temptation was overcome. It's a play with plenty more to say than has already been said. This production takes it further down the road of becoming an endlessly rehashed heritage theatre seat-filler. Give five or so years and the audience will come in flares and tank tops and join in at key points: 'Nather drink, Ayange!'
Reviewer: Ray Brown