There's Something About Simmy
Written and directed by Pravesh Kumar
Rifco Arts
West Yorkshire Playhouse, Leeds, and touring
(2007)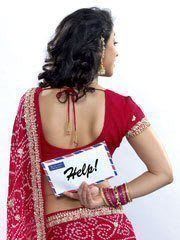 Here's a simple love story washed by the richness of an uprooted, disintegrating culture. Or is it re-integrating as Harry, who has turned his back on his Indian roots, falls for Simmy, the village girl from the Punjab, the victim of an arranged Marriage with Raj, Harry's no good brother.
It is wonderful to sit at a computer and type: "I cannot fault this production". Acting of a very high standard, but more than that, acting suffused with enthusiasm and love for the play. A fabulous text: "An idle mind is the devil's play station!" An intricate static set of a house without walls facing onto a narrow street with a terrace of pebbled-dashed small houses. The set is used every which way and to great effect.
And lighting to die for! Street windows illuminated for Diwali, the stage festooned with fairy lights, star light, fireworks, swathes of rich colour - breathtaking.
And joyous dance, music, wardrobe.
In other words, here's a show that creates in adults the excitement and involvement most of us first encountered as children at a pantomime. Spectacle and a truly moving narrative, beautifully presented. This is a totally delightful show which heaves with talent, humour, humanity, and the pure magic of theatre. It's feel-good, with depth and integrity, and it enters my top ten best ever nights in the theatre. Catch it if you can. And really try to do so, you wont regret it!
Howard Loxton reviewed this production at the Theatre Royal, Stratford East
Reviewer: Ray Brown