About Tommy
Thor Bjørn Krebs, translated by David Duchin
Brother Tongue
Southwark Playhouse
(2009)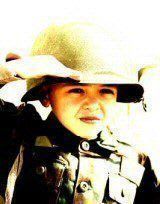 Once a war has dragged on for a few years, the media loses interest and the responsibility falls to the arts to maintain the public's awareness. The ongoing conflict in the territories of the former Yugoslavia is no longer regularly in the public eye, usurped by coverage of Iraq and Afghanistan, which makes it unfashionable but necessary subject matter for the stage.
Neither Britain nor the United States of America is a major player in this conflict, which means the Anglophone world is largely uninterested. Enter Danish playwright Thor Bjørn Krebs and Brother Tongue, a new theatre company specialising in translations of European works.
Translated by David Duchin and staged by Southwark Playhouse, Krebs' play About Tommy focuses on a bunch of new recruits to the Danish International Brigade, a force deployed in the former Yugoslavia under the United Nations Protection Force (UNPROFOR).
About Tommy attempts another fresh variation on that well-worn theatrical tradition, the horrors-of-war play.
The International Brigade are a peacekeeping force, which means their role is to protect diplomats from both sides on their way to peace negotiations, take care of wounded civilians and prevent the conflict from escalating. They're forbidden to show preference for either side, or to shoot back when attacked by snipers with no regard for the supposedly off-limits U.N. colours.
The quandary is an interesting one: what happens when you train soldiers to kill, then forbid them to do so, even when threatened? The resolution is logical, and therefore predictable - though Gwilym Lee's fresh-faced portrayal of eager Everylad Tommy allows us to empathise with the gradual erosion of his youthful idealism.
Beatrice Curnew and Hywel Morgan ably populate the rest of the play, drawing characters with the broad physical and vocal brushstrokes necessary for rapid but unambiguous switching.
Tommy's parents, meanwhile, are absurdly disproportioned dolls seated atop a sandbag wall, watching and commenting on their son's progress from on high (i.e. back home). The faces of Rachel Atkins and Roger Ringrose animate the dolls' giant, featureless white heads via prerecorded projection.
The play aspires to a documentary style, with events recounted out front in past tense by stationary performers. The brevity of each scene, along with Anna Watson's choppy lighting design, just about excuses the potentially very dull and static staging this requires. Tellingly, when Tommy returns home and the pace becomes more relaxed, the play starts noticeably to drag.
Eschewing theatrical action in favour of static recollection seems calculated to trick us into thinking we're watching Verbatim theatre. If we are, the programme and publicity make no mention of it. The goal is presumably to remind us that even if these particular characters aren't real, real people are out there experiencing the same things.
Adopting the tricky structures of Verbatim without the moral strictures imposed by genuine testimony allows About Tommy to bypass Verbatim's usual complaints - but naturally robs it of the veracity such testimony can lend to a play.
Until 25th April
Reviewer: Matt Boothman