The Absence of Women
Owen McCafferty
Lyric Theatre, Belfast, and touring
(2010)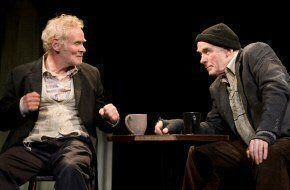 Owen McCafferty's The Absence of Women, presented in the deconsecrated Elmwood Church while Belfast's Lyric ploughs the last £500,000 fund raising furrow towards the spring 2011 opening of its new Laganside theatre, turns few new sods as it reworks the much tilled plight of the elderly alcoholic Irish navvy holed up, waiting for death, in dismal London hostels, .
Ian McElhinney, the most weighty of local thesps, is Iggy, short for Ignatius, and one of McCafferty's favourite first names. He'll never return to the Belfast he was forced to leave when his homosexuality was revealed in a boy's boxing club. Dour, in beanie and scuffed jacket, he's survived the decades, just, by downing pints, punching those who query him and burning, literally, his boats when that fails to wipe away the day he kissed ginger John (Conor MacNeill) so many years ago.
Karl Johnson, a Welshman and not an Ulsterman, is incongruously cast for a part which local sixty-yearold thesps would have jumped at. He's wiry Gerry whose liver, the doctor tells him, is as big as a dinner plate. His 'black dog' is an offered dance he never took from a young English girl, played by an excellent Alice O'Connell.
For despite his fine roles in Derek Jarman's Wittgenstein and McPherson's The Seafarer, plus a part in McCafferty's Scenes from the Big Picture, his local accent is far from constant and to many in the first night audience he's still the preposterous Twister in Lark Rise to Candleford.
So this odd couple, their bickering laced with overtones of Beckett's enigmas and a northern take on O'Casey's whimsical surrealism, play a blunt Mornington Crescent as they try to recall the tube station route to the funeral to which they'll never arrive. Midst this dying of the light, there are flurries of fancies which invoke, inadvertently, more Peter Cooke and Dudley Moore's Dud and Pete than McCafferty's usually savage constructs.
Rachel O'Riordan, the brightest star amongst the north's thirtysomethings, who made her name with Hurricane, has, for once, despite deft touches, failed to ignite the relationship between Iggy and Ginger, men who, as the text says, were taught not to speak, in Belfast.
So while Stuart Marshall's spare doss-house setting, bathed in James Whiteside's sepulchral lighting - and suffused with Ivan Birtwhistle and Vincent Doherty's film noir sound design - offers feints towards Evening Standard award-winning McCafferty's bleak intent, The Absence of Women, for the moment, seems but a work in progress.
Lyric at the Elmwood till Feb 27, then nightly in Coleraine, Strabane, Downpatrick, Armagh, Omagh and Lisburn, details www.lyrictheatre.co.uk
Reviewer: Ian Hill