The Absence of Women
Owen McCafferty
Lyric Theatre, Belfast
(2011)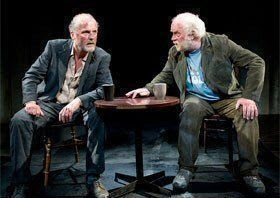 "I was dancing with my darling ."
Irish theatre has long enjoyed a reputation for eloquent story telling even though, paradoxically, its drama is dominated by emotionally crippled men wholly incapable of expressing their feelings to friends and family, a failure that ultimately destroys their lives and relationships. This long tradition is further consolidated by Owen McCafferty's latest play:
Gerry: I was taught not to talk, you know that
Iggy: We were all taught not to talk
And, tellingly, it's called The Absence of Women.
Recalling Jimmy Murphy's Kings of the Kilburn High Road, McCafferty's play portrays the purgatorial plight of two exiled elderly Irish navvies who, after a lifetime in England building roads, sewers and subways, are now languishing in a London doss house; derelict, drunk out and dying in a country they cannot call home . a word, which like their lives, has lost any sense of meaning.
The play's opening lines of dialogue are performed in complete darkness so that when the lights slowly fade up on the forlorn figures of Iggy (Ciaran McIntyre) and Gerry (Peter Gowen) we feel we've joined them mid-conversation; not that it matters, as the rhythm of their ritualised exchanges soon establishes their conversation is cyclical with both men bickering constantly; taunting and tormenting each other, their surface hostility belying their Beckettian interdependence. Gerry proudly declares he's done the most damage to himself with his drinking, Iggy claims he's drunk in more pubs; Gerry claims his navvying above ground was harder work than Iggy's under it, but both comically declare they refused to work on railroads as it would've been too much of a cliché.
McCafferty's stylised use of Belfast speech is often polished into poetic passages and odd couple Gerry and Iggy's cantankerous badinage sometimes comically segues into surreal territory. Gerry recalls how his drinking caused him to wake up one morning without the power of speech, an affliction trumped by Iggy's account of waking up to find himself struck blind after a night on the batter, all of which is reminiscent of Dylan Moran's mordant observation that the Irish gauge a good night out by virtue of the damage inflicted: "You should have come out with us last night, you might of lost a foot."
Both men brag about their prodigious capacities for drinking and grafting and bathetically pride themselves on the damage done and their ability to endure and injure. And yet, a deep sense of loss and loneliness haunts these hard men; it's immanent in their silences and etched in their faces.
The source of their grief (and guilt) is poignantly played out in flashback scenes replaying disastrous amorous experiences that have had a devastating affect on both men. Iggy's flashback takes place in a Belfast backstreet outside a boxing club and involves a clumsy teenage pass, that was rather poorly played on the night, that is rebuffed by his best friend John (Francis Mezza), turning their relationship toxic as the innocent John returns a spiteful homophobic fury, promising to drive Iggy out of the district in disgrace. Little wonder then when Gerry's suggests they return to Belfast for one last drink Iggy scorns the idea and is scathing of Gerry's claims that the city has changed "It's still a fuckin' kip .I don't belong there."
In Gerry's flashback scene, Gowen touchingly re-enacts a romantic encounter with Dotty (beautifully played by Alice O'Connell), a young London girl who asks the diffident big navvy to dance with her. O'Connell is disarmingly charming in this short scene; her nervy flirtatious chatter offset by Gowen's physical discomfort as he awkwardly responds to her questions. Dotty mistakes Gerry's blunt refusal to dance, "Belfast men don't dance", as a brutal rejection of her and, as the gentle strains of The Tennessee Waltz lilt offstage, she hurriedly makes her excuses and exits; her expression crushed and confused .
"I remember that night at the Tennessee waltz, now I know how much I have lost"
Towards the end of the play, when an anguished Gerry once more recalls this lost opportunity for love, recognising the hurt he had caused Dotty and realising the cost to himself, Gowen's performance of pent up grief is almost unbearably moving.
Indeed, Gerry's emotional confession affects the still closeted and emotionally closed Iggy, but it is the cue for him - after McIntyre's hilariously elongated pause - to tentatively ask Gerry, if would he like to dance now. As both men taken their positions, their perfect casting becomes all the more apparent as McIntyre's shorter stocky figure is comically counterpointed with taller, physical imposing form of Gowen.
This comic image of both men dancing a clumsy waltz together is curiously tender but the prospect of any redemption is uncharacteristically denied by McCafferty in what turns out to be a stunning coup de théâtre. Mid-twirl Iggy whirls offstage into the darkness as the lights fade and Gerry slumps to the floor.
When he rises again it soon becomes apparent that Iggy is dead and Gerry has now returned 'home' to Belfast where he is back on the drink. Slurring his words and shouting against the harsh sounds of traffic, his final rambling speech at first appears to be the incoherent ravings of an drink-addled down-and-out, until we slowly recognise that it's comprised of short snatches of Gerry and Iggy's earlier conversation that have been scrambled inside Gerry's stewed brain and are now being spewed out at strangers in the street who pass by heedless and indifferent .
It will be hard to look at or listen to drunks the same way again.
Perhaps more than any other Irish playwright, McCafferty opens up the complex cat's cradle of anxieties and insecurities affecting (Irish) masculinity and, in director Rachel O'Riordan, McCafferty is well served by someone whose impressive back catalogue reveals a level of acuity and insight into the same subject that augurs well, one would have thought, for future collaborations.
Finally it should be noted that this production of The Absence of Women is a reworking of the last year's premiere of the play, featuring an almost entirely different cast.
Coincidentally, that same year, a wonderful independent film called Arise you Gallant Sweeneys! was released which recorded an extraordinary trip home made by elderly Irish navvies who had been living in homeless hostels in England after a lifetime of hard work as itinerant labourers of 'The Long Distance Gang'. As virtually the last living members of an entire generation of Irish emigrants, their lives have hitherto been memorialised (and mourned) in songs sung by the Dubliners and The Pogues, and in the plays of John B. Keane, Tom and Jimmy Murphy. McCafferty's In the Absence of Women, it seems, is in good company and, in its own way, is often just as moving a tribute to that lost generation.
Running until 3 September 2011
Philip Fisher reviewed this production at the Tricycle, Kilburn
Reviewer: Mark Phelan