Absolution
Owen O'Neill
Guy Masterson & Theatre Tours International
Park Theatre (Park 90)
–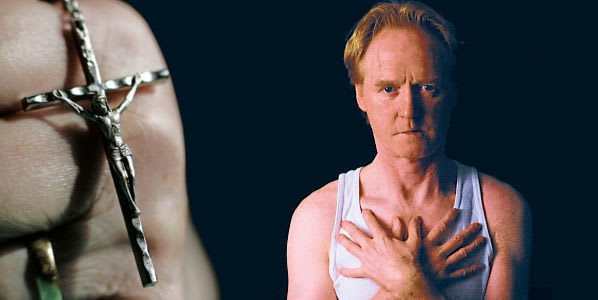 The setting is a stark room with a tightly-made bed, a washbasin and a small desk, very institutional; when a man appears in singlet and tracksuit bottoms pushing press-ups and mock boxing, a hard man keeping fit, you can't help but think prison. As he speaks in what is an hour-long confessional, it becomes clear that he is indeed a killer.
"I've got a song to sing," plays as an introduction, and what a song it turns out to be, for this is a play about child abuse: paedophilia among the Catholic priesthood. It is a hard-hitting one-man show, both written and performed by Owen O'Neill, that packs more power into its 65 minutes than most full-length plays. It won both Best Play and Best Actor in New York's 2010 Irish Festival and gained critics' plaudits on 2014's Edinburgh Fringe. This new production directed by Guy Masterson is just as deserving.
O'Neill's Nathan explodes with energy as he unburdens, graphically acting out incidents as he describes not one but five killings. He doesn't see himself as a murderer but an avenger who brings retribution, his actions given heavenly sanction by the Virgin Mary.
Canada, Australia, the USA—the Church has to face revelations of child abuse all over but Absolution is set in Ireland where this killer seeks out those guilty. Seeming calm and reasonable as he recounts his actions as the lights change and he re-enacts each of five killings, all priests who have abused young boys or girls, he becomes frenzied.
"I don't understand 'shallow graves'," he tells us: people in a hurry, and explains how he tied a rope to a tree to pull himself out after digging a grave down to 9 feet where no dog or fox would dig down to the body, how he split a skull in two with a spade, how he strangled and struggled, how disposing of a body he nearly ended his own life, we are told every detail. It is horrible and gripping at the same time and in performance its sheer theatricality achieves a delicate balance, horrifying without actually making you vomit.
It's not just about the mechanics of retribution. It is also about the culture that makes it possible for such abuse to continue. The respect for the priesthood that makes a father refuses to believe what his son tells him, the whole village that knows a boy has been abused but says nothing, yet can't look him in the face: collusion for all kinds of reasons.
There are the priests too and their excuses: the ones who blame the child for being temptation, those who beat children after abusing them to punish them for being sinful lest they have enjoyed it and accept homosexuality, the priest who selected six-year olds because at seven the child is considered able to judge right from wrong and therefore itself sinning, the priest who saw his death as the only way of ending his sinning but thought suicide the greater sin so welcome his nemesis with a gun and a plan all prepared for his executioner.
This killer is a man who can't wait for God to punish these priests and, as he takes things into his own hands and becomes his own avenging angel, can you entirely condemn him? Would you give him Absolution?
At some point, it seems certain that this killer has himself been one of the abuse victims, that he is acting on behalf of all those like him, but O'Neill has a final twist to his plot concerning where his play is set and who this man is.
Absolution isn't a play for the squeamish, it can be tough to watch but it is very rewarding for it has been written with feeling and is performed with passion.
Absolution plays as the first part of a double-bill with Bill Clinton Hercules but each can also be booked separately.
Reviewer: Howard Loxton