Absurd Person Singular
Alan Ayckbourn
London Classic Theatre
Festival Theatre, Malvern
–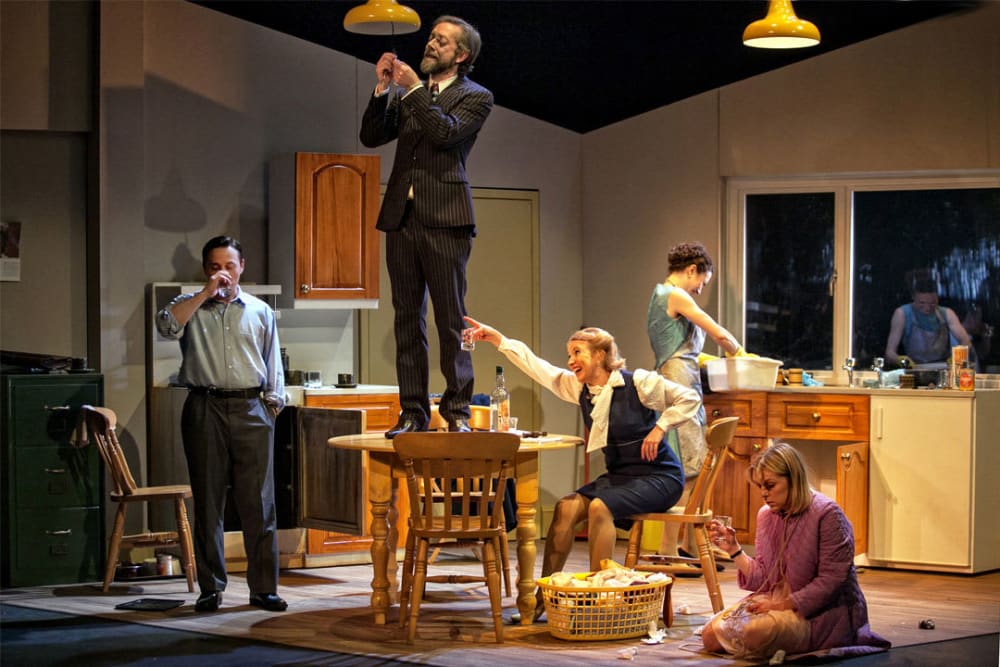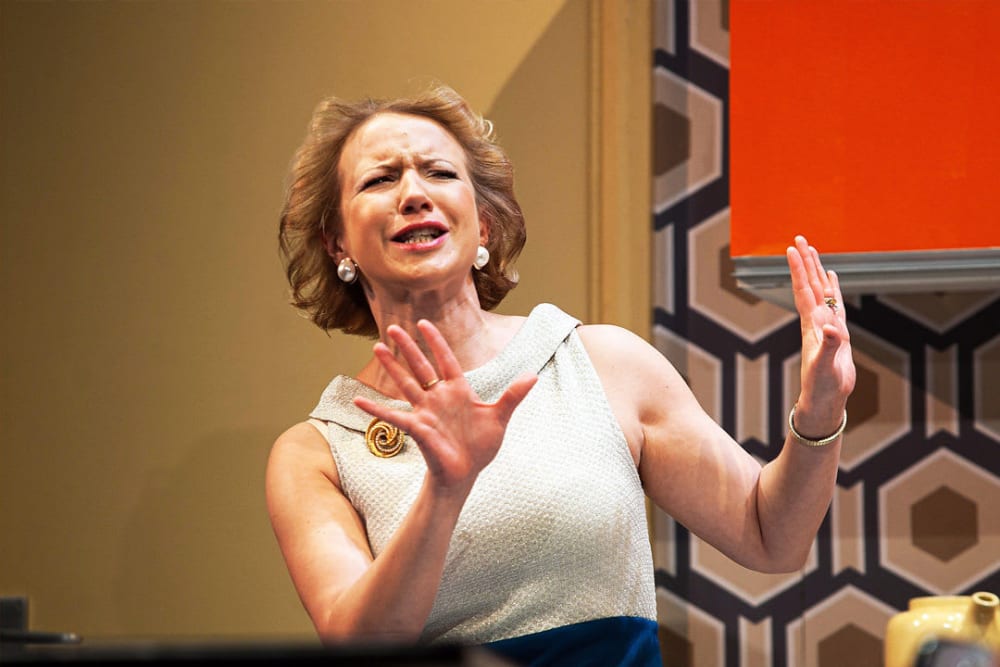 It was written nearly 50 years ago, but although around 70 plays have flowed from Alan Ayckbourn since then, Absurd Person Singular remains one of his most popular and funniest plays.
The acute humour is pitch-perfect, and, far from being dated, the piece seems ahead of its time, Thatcherism before Thatcher, a world in which fortunes can go down as well as up. The work is one of Ayckbourn's first to combine barbed social commentary with innovative stagecraft, the action taking place in three kitchens over three successive Christmases.
It opens in that of the Hopcrofts, whose vulgar bad taste shouts from the wallpaper. Domineering Sidney, an ill-bred, every-man-for-himself property developer, and his nervy wife Jane are entertaining banker Ronald Brewster-Wright, from whom he hopes to obtain a loan.
Enter Ronald's toffee-nosed wife Marion, played with joyful ghastliness by Rosanna Miles, who sees the garish orange, yellow and green décor. "What a gorgeous, enchanting kitchen—just look at those work surfaces," she declares, raising condescension to Olympic ski-jump proportions.
The wonderful second act is all about Eva Jackson, the excellent Helen Keeley, who steals the scene by saying almost nothing at all. Thanks to the magnificent writing, we discover the reason for her silence only gradually as husband Geoffrey, by now a struggling architect, played by a raffish John Dorney, tells her with outrageous cheek not to blame herself.
"You were absolutely right in what you said last night, darling," and here Dorney's pause is delicious—"that I should go to live with Sally."
What follows is hilarious, as Eva tries to kill herself in all manner of ways, each misinterpreted by her guests. At one point, Sidney, played by Paul Sandys with a smarminess that could bring one out in a rash, draws a diagram of her blocked sink on the back of one of her many suicide notes.
At another, the irrepressible Felicity Houlbrooke as the obsessively tidy Jane Hopcroft finds Eva with her head in the gas oven, and presumes she is doing a bit of housework. So she takes over with the immortal line: "I'll clean this oven if it kills me."
The play is as much about marital as it is about social disharmony, but director Michael Cabot introduces a touch of reconciliation in the final act as Marion, by now a bed-bound alcoholic, talks of self-loathing. "I know the feeling," says a recovered Eva, at which husband Geoffrey lays a gentle hand on her shoulder.
This is all something of a mystery to Graham O'Mara's Ronald Brewster-Wright, however, who complains that he doesn't understand women. His two wives have simply, he laments lugubriously, "cost me a fortune in fixtures and fittings."
That's a clue also to the declining fortunes of men of his professional class—Geoffrey meanwhile facing ruin after the collapse of one of his buildings—while the brassy Hopcrofts rise above them.
In a great, grotesque finale, the latter arrive uninvited and unwanted at a party for the others, armed with crassly inappropriate gifts. And at last, after two past unsuccessful attempts to get the guests to play games, Sidney starts the music and gets them all dancing, dancing to his tune.
Cabot's tight direction is enhanced by complementary design by Simon Scullion (set), Kate Lyons (costume) and Andy Grange (lighting.)
The production continues to Guildford, Peterborough, Weston-Super-Mare, Cheltenham, Bury St Edmunds, Bath, Doncaster, Winchester, Ilfracombe, Chelmsford and Exeter, concluding at Theatr Clwyd on 16 October, with all performances staged in line with current government guidelines.
Reviewer: Colin Davison