Absurd Person Singular
Alan Ayckbourn
Yvonne Arnaud Theatre, Guilford, and touring
(2008)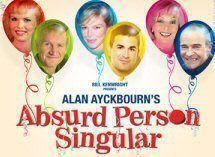 Ayckbourn has written more than seventy plays, almost all of which have been translated into many languages worldwide and are frequently performed by both professional and amateur companies. Despite this he has been out of favour with the fashionable set for the last few years, but no one has informed Guildford of this, and would they have taken any notice if they had! These people know what they like without being told what to like, and they filled the theatre for this production with every intention of enjoying themselves – and enjoy themselves they did, laughing uproariously at the antics of those stage.
An acute observer of human nature, Ayckbourn peoples his plays with very believable characters, a little larger than life, but picking out the minutiae and absurdities of social behaviour often, particularly in his later plays, putting his creations in strange and unexpected situations.
Here the scenes are set in three contrasting kitchens on three consecutive Christmas Eves – past, present and future – and the first is a party at the home of ex-navy man Sidney (Matthew Cottle) who wants everything shipshape to impress the guests whom he hopes will help him in his business ambitions He has turned his wife Jane (Sara Crowe) almost into a nervous wreck as she tries to live up to his expectations, obsessively cleaning and tidying everything in sight – including her husband.
The guests are shown into the living room, but they constantly wander in and out of the kitchen, plummy-voiced Marion in search of more gin and longing to leave this boring, ordinary little house, while her bank manager husband Ronald (David Griffin) absent-mindedly, and without understanding it, reads the cooker instruction book.
Waif-like Eva arrives, popping pills which she says are the only thing keeping her sane, and her successful handsome builder husband Geoffrey (Marc Bannerman) obviously has an eye for the girls, but not much time for his wife. We now have the measure of them all – or do we?
Comedy and tragedy are often mixed and strangely some of the funniest scenes show Eva trying desperately to kill herself and being thwarted at every turn, constantly having to write yet another suicide note as her carefully penned efforts are carelessly taken as useful paper to make notes. A wonderful tragic/comical performance here from the delightfully named Honeysuckle Weeks, with some graceful athleticism thrown in. Even putting her head in the gas oven is assumed by Sara to be an effort to clean it and she takes over the job with gusto, anxious to help.
Michael Pavelka's sets are sometimes a little wobbly in construction but expertly demonstrate the diverse tastes of the three couples – utilitarian and basic, romantically slovenly, and chillingly (literally) Gothic, while director Alan Strachan (no stranger to Ayckbourn plays) keeps the action moving smoothly and swiftly along, although the second scene does tend to degenerate into rather predictable farce.
An undemanding but enjoyable play – I would describe it as a rather sad comedy - with the final scene demonstrating their changing fortunes, but whatever happens life must go on and perhaps the best method of coping is just to keep on dancing.
Touring to Malvern, Wolverhampton, Aberdeen, Cheltenham, Cambridge and Bath.
Reviewer: Sheila Connor