Accidental Death of an Anarchist
Dario Fo, translated by Simon Nye
Octagon, Bolton
–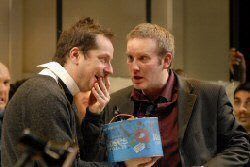 Dario Fo's political farce is brought to the Octagon by director Paul Hunter, in an adaptation (this is more an adaptation than a translation) by Simon Nye, creator of TV's Men Behaving Badly.
The play begins with a police officer, Bertozzo, questioning a person known only as "the maniac" about his habit of posing as people he is not, such as a psychiatrist. He has an extraordinary talent with words and voices and so manages to convince people very easily that he is the person he is posing as. When he steals a police file and then boldly walks into another room in the police station pretending to be a judge investigating an incident when an anarchist who had been arrested 'fell' through the window to his death, the inspector and chief superintendent are falling over themselves to please him. The maniac's gift with words twists everything that the others say so that they end up revealing far more than they would under more conventional interrogation. The pace hots up as a journalist enters the scene and then the original police officer, who knows who the maniac really is, returns.
The very first entrance by Niall Ashdown as the maniac sets the style of the production; without giving away the surprise, it is the first of many touches of surrealist humour and is very similar to a famous entrance in Complicite's Street of Crocodiles. Other humour is similar to the style of The Right Size (director Hunter has performed in The Right Size's The Play What I Wrote) without the same frenetic pace. However this is humour with a purpose, as it is satirising corruption in the police and judiciary. Nye's version is transferred to modern-day England with lots of topical references, although it still does not strike the same chord in contemporary Britain as it would have done in Fo's Italy. The adaptation does go on a bit at times, but there are also lots of very funny moments.
There are some superb performances in this production. Ashdown relaxes well into his huge and demanding role, and occasionally works the audience like an experienced comedian. Michael Hodgson has created a wonderful character as the police inspector, with some very good backup from his chief superintendent Martin Hyder. Even the smaller parts - Annie Fitzmaurice as the journalist, Dharmesh Patel as the constable and Simeon Truby as the other police officer Bertozzo - fit perfectly into the production.
There are some brilliantly imaginative comic touches, such as the telephone conversations, and the door handles (with the maniac's version of the gag slightly different and funnier) - unfortunately they don't work anything like as well when described in print. I'm not sure what the significance was of the pigeons, but somehow they work. Designer Naomi Wilkinson has produced a perfect set for the actors to play on, with split levels, a staircase, a door leading nowhere, a door with no door, a window with no window and piles of shredded paper. It looks as though rehearsals must have been great fun - but they certainly all work very hard on stage.
Some of the humour may not be to everyone's taste, but this is a polished, energetic production that occasionally seems to go on for a little too long but, overall, is fast, funny and entertaining.
Reviewer: David Chadderton