Accidental Death of an Anarchist
Dario Fo, adapted by Deborah McAndrew
Oldham Coliseum Theatre
Oldham Coliseum Theatre
–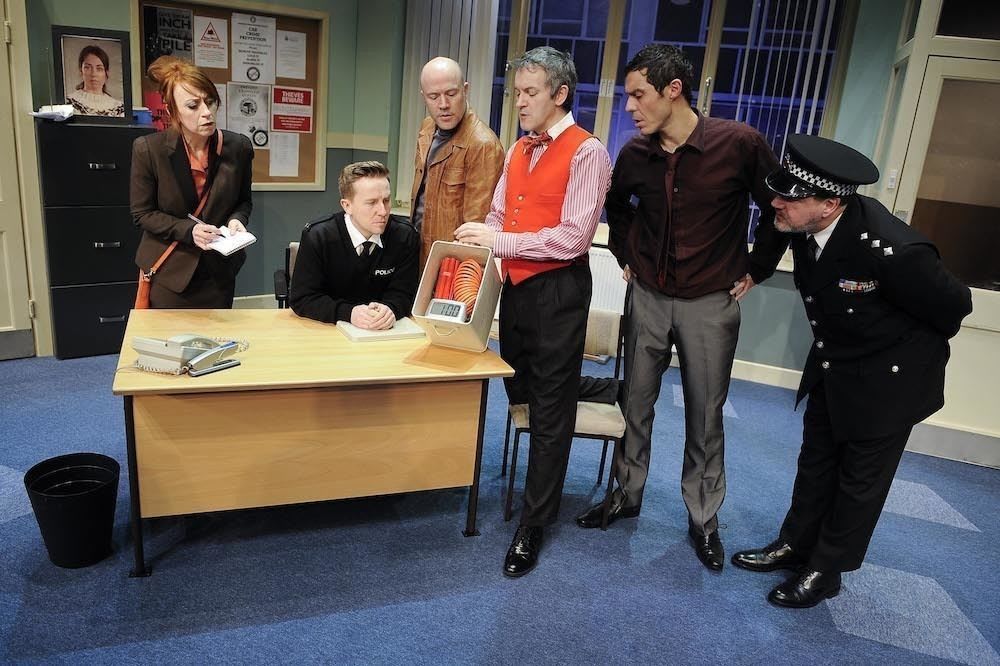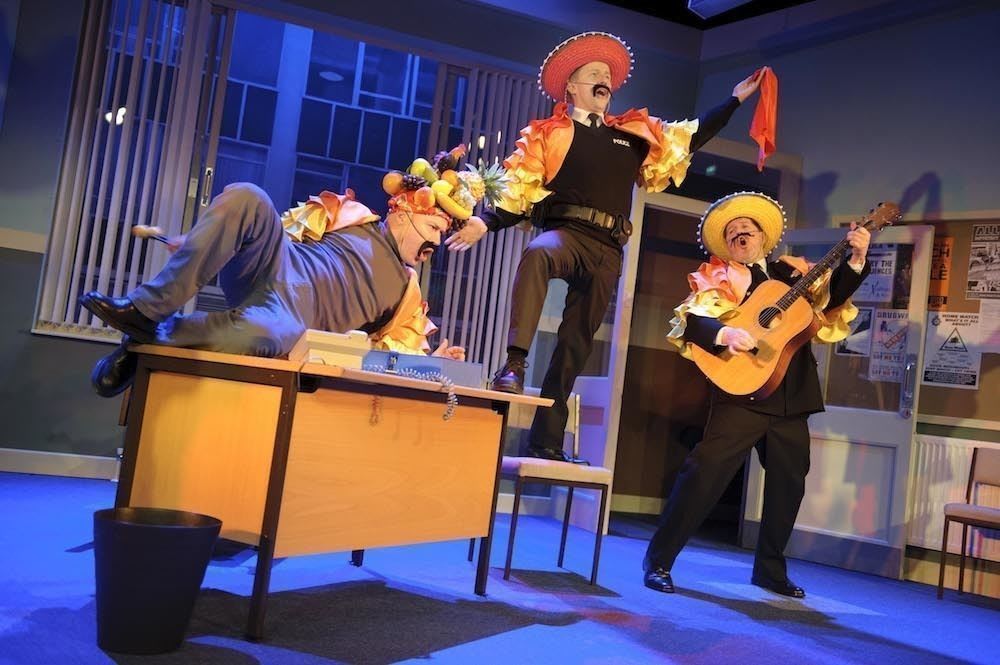 Italian political farceur Dario Fo's most famous work, at least in English, from 1970 is revived by the Coliseum in an adaptation by Deborah McAndrew she wrote for Northern Broadsides in 2008.
The play comes from a time of political turmoil in Italy and is closely based on a real case, still current when the play was written, of a railway worker who was arrested for allegedly planting a bomb in Milan and who mysteriously "fell" from a fourth-floor window at police headquarters a few days after his arrest.
It is difficult to imagine the impact that the play would have had at the time, especially as it had become the main source of information and debate over the incident. Fo was continually updating it as the case progressed and the media were keeping fairly quiet about the whole thing. Can such a play have anything to say to a twenty-first century English audience?
The play is a farce, but its roots are much more in the Italian commedia del'arte than in Ben Travers, Brian Rix or Ray Cooney. The whole piece revolves around the joker character of The Maniac, who can talk directly to the audience and become lots of different characters, although this is justified by making it clear he has been certified insane rather than leaving it as a theatrical device.
After a bungled interrogation by DI Bertozzo, The Maniac impersonates a judge (after a speech about judges that has rather a lot in common with Peter Cook's E L Wisty sketch from Beyond the Fringe) investigating the death of the titular anarchist and appears to be helping them to collaborate on a version of events that would let them all off the hook (some of which was taken from original police statements from the real event) but then he becomes less reliable in his support for them when there is a reporter in their midst.
The adaptation retains the Italian character names but brings the action into England in a time that looks like the 1970s of The Sweeney in its design but has many references to modern events and current political figures. While this may seem incongruous in a more realistic form of theatre, here the characters will refer directly to the audience or suddenly erupt into a song and dance routine in full costume, so there is a consistency in this inconsistency of style.
A lot of comedy doesn't translate well to a different place and time, but satire rarely works out of its original context. McAndrew's script tries to replace this reference to a specific event on the other side of Europe 45 years ago with lots of little satirical swipes at modern British society and politics. Some of these are quite funny but I don't think the writers of Have I Got News For You? have much to worry about.
The play in performance depends entirely on a strong, charismatic performance from The Maniac, who controls the whole proceedings. Jack Lord makes a wonderfully quirky entrance at the beginning, then kills it dead with some barely audible muttering and never really gets that comic rapport with the audience for more than a few isolated moments. I found the character more irritating than funny.
There are some pretty decent performances from the rest of the cast, with Andonis Anthony as proper 1970s London copper DI Bertozzo, Matt Connor as both constables 1 and 2, John Elkington as the DCI, Leigh Symonds as DI Pisani and Isabel Ford as reporter Maria Feletti. Foxton's set works well, and has a superb effect for the change from the third to the almost-identical fourth floor after the first scene.
While there were plenty of laughs from some of the audience on press night, the script is so loaded with gag after gag that the ratio of laughs to jokes was still pretty poor. The script isn't funny enough and, despite some great fights directed by Renny Krupinski, the comedy isn't physical enough.
If you saw this in Italy in 1970, it would have been funny, shocking, dangerous and bang up-to-the-minute. Despite some clumsy attempts at injecting some modern satire, it doesn't say much to an audience in Oldham in 2014, at least not in this production.
Reviewer: David Chadderton