Accomplice: London
Tom Salamon
Menier Chocolate Factory
(2010)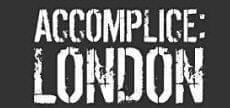 This is one in a series of productions that take their audiences on a journey through the urban environment in which they have to follow the clues, sometimes provided by members of the cast, that unravel the plot. The first was created by Salamon and his sister Betsy Suffot and presented in New York in 2005, Salamon has since developed versions set in Greenwich Village in 2007 and Hollywood last year before this version for London.
There is no ticket, no traditional theatre or adapted space. Instead, the day before, each Accomplice: London ticket holder is telephoned and told to be at a particular place at a particular time - and to be there precisely.
I'm not going to tell you very much about it for that would spoil the fun for anyone who buys a ticket. The title is a hint at what you might find yourself involved in and I can guarantee that you are going to meet a set of rather shady, sometimes peculiar, even psychotic characters played by a team of actors who all maintain their characters superbly even when they have to cope with challengingly difficult members of the audience or silent unresponsive ones. But which are the characters you are supposed to meet and which are those you just meet anyway?
Is that guy giving you suspicious looks part of the show or just worried about strangers lurking outside his neighbour's door? Which of the people in the pub do you possibly have an assignation with - and have you got the right pub anyway or even totally misread the cryptic instructions you've been given? You don't have to face this on your own. Right from the start you'll find you are joined by some other punters - or are they actors? You'll soon work that out, but are you sure?
I found the plot pretty implausible but this is play in both senses. In fact it is really more game than theatre and to be enjoyed as a piece of fun. There is none of the psychological soul-searching or really deep immersion that some vaguely similar audience-involving shows have featured. It is more treasure hunt in concept that drama and, despite the concentrated playing of the various mainly comic cameos, there are times when you feel if only they would shut up and send you on to solve the next part of the puzzle. However, I suspect that may be because they are having to make sure you don't go charging off before the group before you have got sufficiently far ahead - indeed one group of critics did catch up with another who had gone off in the totally wrong direction and, though they reached their final destination, they were beaten by the final challenge, but there are some treats along the way and I just don't mean the acting.
If this sounds like your kind of thing, be warned that much of it takes places outdoors so check the weather in case you'll need an umbrella, and on your journey pay very careful attention to what you are told and carefully examine everything you are given.
I can't name the performers, if you happen to recognize an actor's face en route they could be someone in this show - but on the other hand they could just be taking a walk along the South Bank, or off to shop in Borough Market.
This is a weekends only show with performances beginning every half hour from midday until 4pm
Reviewer: Howard Loxton