Achille in Sciros
Francesco Corselli, libretto by Pietro Metastasio
Teatro Real Madrid
Teatro Real Madrid, Spain
–

Listing details and ticket info...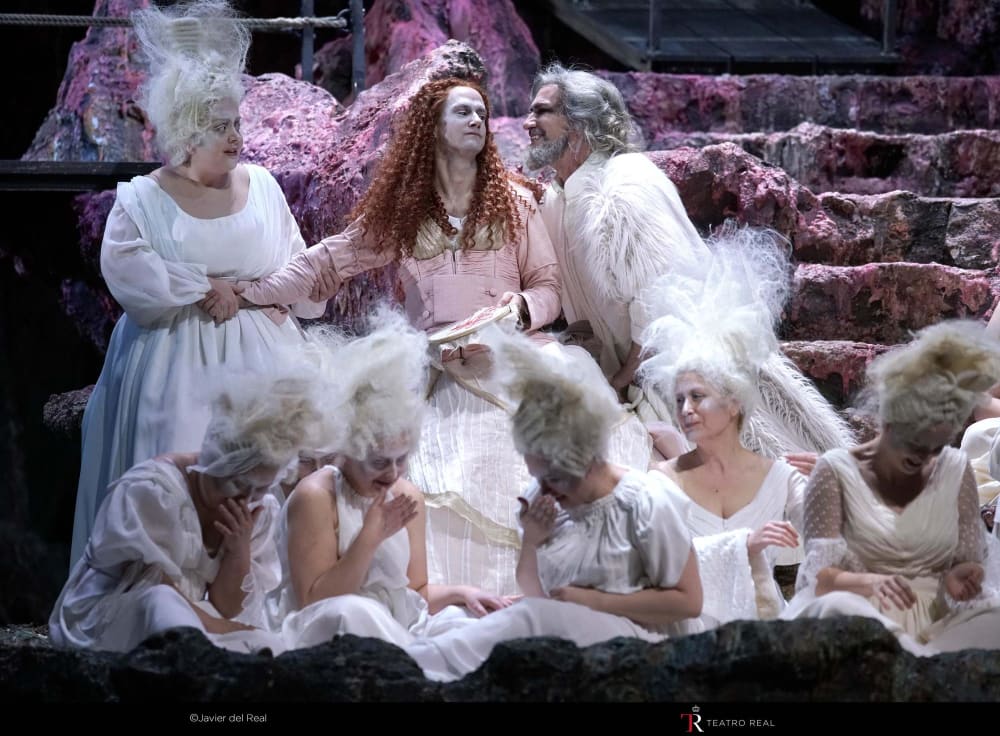 A male prince is sung by a woman who is sexually attracted to a man who is dressed as a woman. No problem. We live an age in which we should be able to take the gender confusion in Francesco Corselli's opera in our stride.
Teatro Real Madrid is staging a rarity, which is so rare that it has not been seen in two and a half centuries. Mariame Clément directs and Ivor Bolton conducts from the harpsichord.
Corselli's Achille in Sciros, with a libretto by Pietro Metastasio, premièred in Madrid in 1744 to celebrate the marriage of the Infanta of Spain to the Dauphin of France. The Italian composer was a key figure in Spanish opera in the 18th century, holding the position of Master of the Royal Chapter of Madrid.
Achilles' mum does not want him to go to war and persuades him to disguise himself as a girl and packs him off to the Island of Scyros where he falls in love with Princess Deidamia, who sees through his disguise but keeps it secret from her dad, who thinks they are just good girl friends. Deidamia is betrothed to Prince Teagene, which complicates matters.
Ulysses arrives on the island. He is keen to have Achilles in his invasion of Troy. Will Achilles, a fighter at heart, torn by love and glory, discard his female identity and grab a sword and shield and go off to be the number one hero in the Trojan war or will Deidamia stop him? Your guess is as good as mine.
Disguise, transvestism and castrati singers were an essential part of classic opera. Achilles, the most masculine of Greek warriors, is sung by Gabriel Diaz, a countertenor, who is wearing 18th century female gowns and wig and finding it frustrating to be in drag.
Prince Teagene is sung by Sabrina Puertolas, a soprano, who wears male garb and sports a tiny beard and moustache. Teagene's love for Diedamia might look lesbian for uninitiated audiences. Ulysses is sung by Tim Mead, a countertenor, and what he is wearing looks like a skirt. His aide (Krystian Adam) and Achilles' tutor (Juan Sancho) are very camp.
A directorial innovation is to have the beautiful Infanta (Katia Klein) silent on stage throughout listening to what is going on and identifying with Diedamia (Francesca Aspromonte) and interacting with her in a girly crush. The Infanta has a musical box whose clockwork figures Achilles and Deidamia attempt to imitate.
The set is a rocky cave so stagey it looks like something you might find in a theme park. The cave, at one point, is filled with marble statues, the most prominent being of Hercules rashly fighting the Hydra when he is fully naked.
Corselli's Achille in Sciro is a collector's item which many will want to see. All the singers have their big moment. The most flamboyant moments of all are reserved for Aspromonte and Puertolas.
The opera can be viewed free on the OperaVision channel.
Reviewer: Robert Tanitch