Diary of an Action Man
Mike Kenny
Graeae Theatre Company at the Traverse, Edinburgh, and touring
(2005)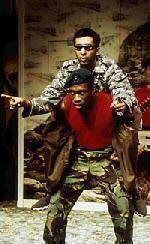 In the recent film Finding Neverland, there's a scene where author and playwright J.M. Barrie arranges for children from a nearby orphanage to come watch the opening night of his play alongside adults. The kids behave themselves perfectly, and their joy and wonder at the phenomenon of theatre helps the adults in the audience to access the adventures of Peter Pan on a level separate from the level of critical observation people exhibit more and more as they grow older.
Whether it be in pantomime, ballet, musicals, or straight theatre, there's something about sitting in the midst of an audience of enthusiastic children while they experience the wonder of theatre that allows an adult (or in my case, a not-quite-grown-up-University-student) to enjoy a piece which, were the kids not present, might seem a bit well, over-enthusiastic, to say the least.
Diary of an Action Man is the story of Ezra (Amit Sharma), a boy whose father doesn't live with the rest of the family. To combat his sense of abandonment, Ezra fantasizes about his Dad (David Ellington) in the guise of a life-sized action man toy. When Ezra's sister Louise (Cherylee Houston) and Mum (Karen Spicer) try to force Ezra back to reality, he retaliates by running away to Manchester to search for his real father.
Although I felt the first act had quite a slow pace, it managed to hold the attention of the children in the audience, to the point where there were only one or two comments (other than one particularly offensive one, which I will detail later in this review) from the kids in the audience, which leads me to think the pace was probably appropriate for the age group.
Graeae is a theatre company specifically targeted toward creating 'theatre made by disabled people,' and their approach to doing so in this case includes sign language which is incorporated into the entire performance - no small feat, considering that this is then woven expertly into the plot. The only concern I have about this part of the performance is that, during the break, I overheard one girl asking another why the actors were "moving their hands around like that," and complaining that she found it boring and distracting. Perhaps it would have been helpful for children in the audience, especially since seeing this show may be many of their first experiences with extended exposure to signing, to have some sort of explanation of what was going on worked in early in the piece. Or perhaps these were two particularly slow ten-year-olds.
Speaking of ages, Diary of an Action Man is the perfect example of the importance of defining (and adhering to) age guidelines in theatre. The piece is designed for those ages seven and above (though specifically ages 7-11), and while the majority of the children at the performance I attended fell within this limit, there were a handful of adolescents whose teachers, for whatever reason, had thought bringing them along to see a piece aimed at much younger children was a good idea. Fine, I'm all for bringing kids to see theatre - especially when, as in the case of this show, there were elements such as sign language incorporated into the piece, which one doesn't normally get to see. The problem begins when students just old enough to not only fall outside the recommended ages, but also into that age group where they're 'too cool' for 'kid stuff' is dragged into an auditorium and made to watch a performance which, to be honest, isn't really age-appropriate.
While this doesn't excuse the behaviour of one teen who, during a quiet part of the show, shouted out his opinion on one actress' appearance, it does present a strong argument for teachers paying more attention about the age guidelines attached to theatre pieces when organizing school outings.
.
Reviewer: Rachel Lynn Brody