Adolf Hitler: My Part in His Downfall
Spike Milligan, adapted by Ben Power and Tim Carroll
Thetare Royal, Newcastle, and touring
(2010)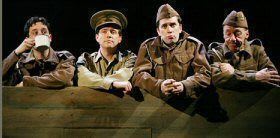 When Philip Fisher and Steve Burbridge sent in their less than enthusiastic reviews of this show from Hampstead and Darlington respectively, my first thought was that they are too young to remember Spike Milligan at the height of his powers or the glory days of The Goon Show which, when I was a teenager, was compulsory listening. Indeed we listened religiously and rehashed every episode the following day at school, enlivened with our own impressions of Bluebottle, Eccles, Major Bloodnock et al. Later I bought every Milligan book and some still rest on my bookshelves. How can anyone not joy in his collection - with comments and drawings - of William McGonagall? My reaction, I was sure, would be completely different.
Alas, it wasn't.
There is nothing - well, except for the music - in this production that is not in the book of the same title but somehow it just doesn't work on stage. There were moments when I did laugh aloud and others when I chuckled, either outwardly or inwardly, and there were moments of real pathos, but the whole thing is so very bitty, essentially a series of sketches interspersed with music, and thus does not really hang together. I do wonder if any stage show could possibly recapture the zaniness and surreality of the book. I am reminded of the ill-fated attempt to put the Goons on television: putting a face and body to Bluebottle, Eccles and the others diminished them. I preferred my imagination's pictures.
And so it is here. No matter how good the actors, the direction or the staging, a stage show must inevitably make concrete what in the book is verbal description, accompanied by the occasional cartoon: the stimulus to the imagination disappears.
There are good things in the production. Power and Carroll have, I think, done the best it is possible to do in adapting the unadaptable and no one could complain about the performances of the five actor/musicians (although sometimes the music made lines a little difficult to hear). The music, too, is excellent - I remember, in particular, a great rendering of "St Louis Blues" just before the interval and a deeply moving a capella version of "O God our help in ages past".
And yes, the madness of war comes across but the format mitigates against the creation of dramatic tension and any depth of involvment with the characters, including Milligan himself, so his ending up in a psychiatric hospital becomes just another scene rather than a dramnatic conclusion to the preceding events. The programme calls it "an entertainment based on the memoirs of Spike Milligan" and that says it all, really.
Reviewer: Peter Lathan