Adriana Lecouvreur
Francesco Cilea, Libretto by Arturo Colautti
Met Opera on Demand
Metropolitan Opera House, New York
From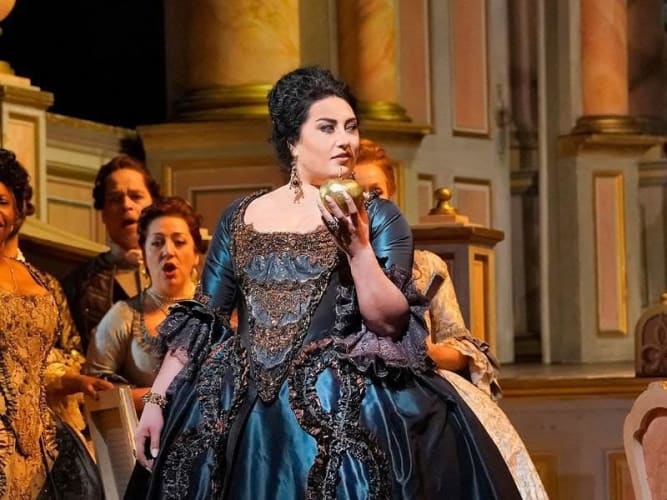 Celebrated French actress Adriana Lecouvreur (1692–1730), the outstanding tragedian of her day, was famous for her naturalness on stage and for her power to move audiences. She acted in plays by Corneille, Racine, Moliere and Voltaire.
She died an early death in mysterious circumstances at 38. It was widely believed that she had been poisoned by one of the jealous mistresses of her long-term lover, Maurice Comte de Saxe, a brilliant military commander who was extremely popular with aristocratic ladies. The Church denied her the last rites and she was buried in unconsecrated ground.
Eugene Scribe and Ernest Legouve wrote their play about her in 1849 and the lead role has been played by Rachel and Bernhardt. There have been films and at least four operas. The most enduring opera is by Francesco Cilea which premièred in Milan in 1902. Adriana Lecouvreur is a great showcase for a great diva.
The lush, romantic melodrama gets the lavish and handsome treatment it needs in this production by David McVicar, which was seen at The Met, New York in 2019, conducted by Gianandrea Noseda.
The singing is thrilling. Anna Netrebko is Adriana Lecouvreur. What charm! What voice! Anita Rachvelishvili is the jealous, evil Princess of Bouillon, a formidable presence and vocal powerhouse. Piotr Beczała is Maurizio, the politically ambitious womaniser they both love. There is also delightful performance by Ambrogio Maestri as Michonnet, the elderly stage director who adores Adriana.
The first act takes place backstage at the bustling, gossiping Comédie-Francaise. The second act has a confrontation between two women trying to guess each other's identity in a darkened room, so dark they cannot see each other's faces. The third act has the women publicly insulting each other. Adriana wins the round when she starts quoting lines from Racine's Phèdre. The fourth act has Bouillon''s revenge with a lovely bunch of poisoned violets.
Cilea is so melodious, many will wonder why the opera is not revived more often.
There are a number of ways of tapping into this opera and others at will. The Met Opera on Demand service offers annual ($149.99) and monthly ($14.99) subscriptions as well as a one-off payment ($4.99) for those who have limited time or only want to watch the occasional opera.
Reviewer: Robert Tanitch