Aesop's Fables
Peter Terson
Isango Ensemble
Hackney Empire
–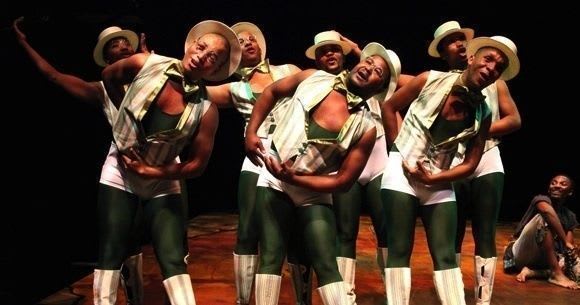 This is a musical adaptation by director Mark Dornford-May of Peter Terson's script which retells some of the animal stories of Aesop's Fables in the framework of the slave Aesop's quest for freedom from his princely master Escallwags.
Accompanied, like Isango Ensembles previous smash-hit Magic Flute, by a band of marimbas and percussion, its music ranges from the operatic to a calypso number sung by a Rastafarian goat by way of indigenous South African melodies.
Staged on a ramp of bare boards backed by scaffolding, its strong images are created by colourful costumes and lighting animated by this band of charismatic performers. Although their accents sometimes make their delivery hard to follow, their fine voices and lively dancing compensate for the effort demanded to achieve comprehension.
Each of the animals is imaginatively presented and given great individuality and the numbers in which they introduce themselves are particularly engaging. There are many-limbed, uniformed ants in white helmets demonstrating their teamwork, a spectacled tortoise with its colourful carapace labelled "Slow" and a collection of colleagues with open umbrellas as their shells, a track-suited hare, a boxing-gloved wolf (yes, we do get their race), frolicking frogs, a white-winged dove, a swift that flies so fast that it is back immediately it has started, a very tall stork with a chopstick beak to peck with, a cockerel with a colourful crest and a strutting dance who has an entourage of chickens and a donkey that likes to pretend it's a lion until it is caught out. As well as the animals we meet a glittering gold god in the messenger Mercury and even get a brief glimpse of Zeus on cloud-capped Olympus.
These are fables that teach about life experience rather than offering high moral precepts. Even if you are not always entirely sure what is happening, the action is always lively and watchable, the performance entertaining and you can't help but enjoy the vitality of this vibrant ensemble.
Reviewer: Howard Loxton