Afraid of the Dark
Anonymous
Charing Cross Theatre
–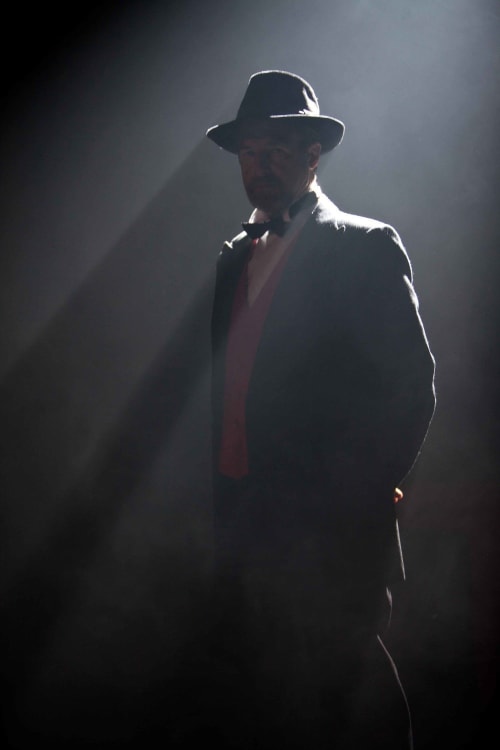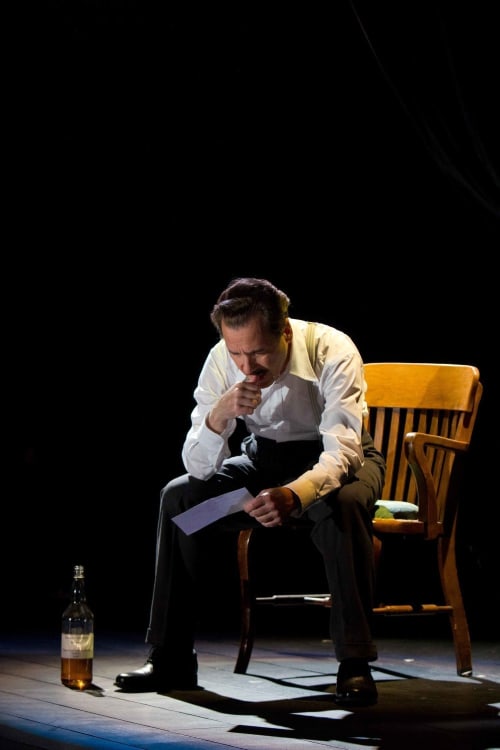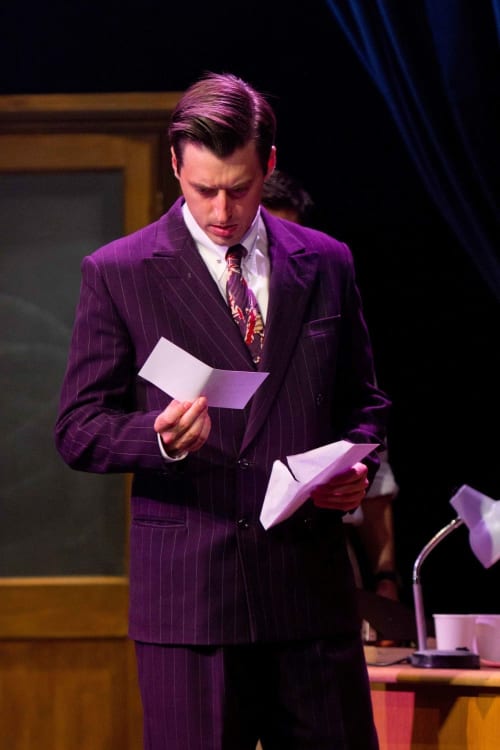 When a writer insists on anonymity, that even a pseudonym is not enough to hide behind, there is surely something fishy.
Is he (or she) offering something so potent they fear repercussions, so outrageous their family will disown them—or do they just not have enough confidence in their baby to own that it is theirs. Sadly the latter seem to be the case with this play.
The publicity warns off those with a nervous disposition and if you are afraid of the dark then perhaps you might find it scary, for indeed it quite frequently plunges the audience into darkness.
It's a story about a group of 1950s Hollywood B-picture makers churning out the kind of horror movies that bring beasts out of the swamp or alien invaders who are looking for a cheap formula to create quick profits as the growth of television threatens their business.
Decades earlier, Henry Charlier, a vaudeville entertainer who bills himself "Master of Terror", faced a similar situation when he found his livelihood challenged by the development of the moving picture. The evening starts with one of his performances, recounting a strange tale of a camera with peculiar properties. Is he a magician, a clairvoyant, mind-reader, illusionist? Difficult to say, but he hands out envelopes with information inside them that links mysteriously to people's lives, including one young man at the back of the audience.
That young man turns up later in the story, as does the ageing Charlier, now a small part movie actor, as it moves forward to the Los Angeles of the McCarthy era. The witch hunt for reds was certainly scary, but that's just part of the background rather than essential to the plot, which admittedly is not very clear, though presumably the old-timer is wreaking his revenge on the movie business.
It is a B-movie story about B-movie people. John Guerrasio, Charlie Anson, Mark Rice-Oxley and Rebecca Blackstone play an odd-ball set of company boss, producer, screenwriter and an accountant with that slightly tongue-in-cheek Grand Guignol mix of fright and fun, but the material is too thin for director Ian Talbot, even with the help of illusionist Darren Lang, to make things really scary.
Paul Farnsworth's design, with lots of black, is stark and simple; like these movie makers, he's no doubt stretching his budget, and, helped by Jason Taylor's lighting, emphasises this B-movie world, but it is a pastiche that needs more powerful content. There is really no sense of these characters being trapped, until almost at the end when the situation gets scary for the characters at least.
With Peter Clements as the young Charlier, we seem to be in for something in the mould of Bram Stoker or Lewis's The Bells, but, though Julian Forsyth's older Charlier is more sinister, this show isn't going to give you any nightmares.
There are a couple of disconcerting gimmicks that work in the best comic-horror-movie way—and I won't spoil things by revealing them—but the terrified shrieks on opening night came from Mike Walker's sound design, not the audience.
Reviewer: Howard Loxton