The African Company Presents Richard III
Carlyle Brown
Collective Artists
Greenwich Theatre and touring
(2009)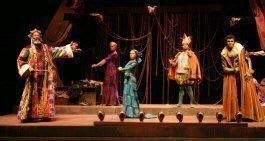 In the 1820s a former ship's steward turned tailor, the free black West Indian William Brown, opened a tea garden which he called the African Grove behind his house in Thomas Street, Manhattan, with live performers, and then converted the upper part of his house into a theatre he called the African Theatre which opened in September 1821, shortly after the reopening of manager Stephen Price's Park Theatre the same month,. rebuilt after a fire. Price saw what is generally thought the first Black American theatre company as competition that would reduce his audiences, not just those in the large gallery where blacks were placed but white patrons too. From this historic background Carlyle Brown makes his play.
An interrupted opening parallels Price's scheme to close down Brown's theatre but the effect is awkward rather than dramatic and confusing as to whether it precedes the scenes that follow or is a preview, and the announcement of act and scene numbers to mark changes of time and place is somewhat disconcerting. Perhaps it is intended as a Brechtian device to make us more aware of what is being presented, perhaps to remind us that these are people appropriating a different culture. The first act introduces us to the personalities involved in mounting the African Theatre's production of Richard III but Maxwell Hutcheon's manipulative assured Stephen Price tends to be foregrounded, often literally so on a forestage. It is not strongly dramatic but it is full of information: while the Park Theatre put blacks in the gallery, Brown had a roped-off white section, for instance, and it gives a clear picture of a New York where, though slave-free, racism is rampant and blacks thought incapable of such intellectual activity as performing Shakespeare. Always present is the spectre of the slave trade: the set (designer Kate Unwin) suggests the carcase of a slave-ship and its rear is curtained by a wall of chains.
It is in the second act that this play and Chuck Mike's production come to vibrant life. Billy Brown, in a scene beautifully played by Chris Tummings, reveals his strategy as a demonstration of Black identity and consciousness. James Hewlett, the actor playing Richard III, picked up some of his technique while dresser to visiting English actor George Cook, Charlie Folorunsho shows him growing in ability as a performer, though bound up with becoming an actor at the cost of private relationships, there is a cleverly introduced moment when he sings 'Opposum up a gum tree' a satirical view of black performance that became a traditional caricature. Antonia Kemi Coker sometimes takes things at such a pace early in the play that she is not easy to understand but now has a touching scene in which she subtly shows her feelings for Hewlett and Shango Baku has the opportunity to introduce some humour as a Caribbean grier reinterpreting their interchange. There are also strong performances from Krystle Hylton and Simon Ryerson.
Hewlett is a known figure in Black and theatre history and the great Ira Aldridge may also have first acted with the African Company but Brown, who also wrote the first known play by a Black American - which helps draw this play to a close, is someone Carlyle Brown has made me want to know much more about.
At Greenwich Theatre until 21st February, then New Theatre Royal, Portsmouth 26th-28th February; Dunstable Grove Theatre 2nd March, Laurence Batley, Huddersfield 5th-7th March; Oval House, London 17th-18th March; Stephen Joseph Theatre, Scarborough 23rd-25th March; Nottingham Lakeside 26th-28th March 2009
Reviewer: Howard Loxton