Afrika! Afrika!

In the tented palaces next to The O2 Arena in London at North Greenwich
(2008)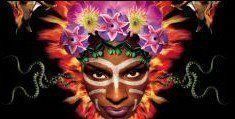 For many people Africa is a continent of civil war, disease, poverty, famine, hunger, dictatorship, corruption and political instability. Impresario André Heller offers the public a different vision, something more uplifting and enjoyable: a circus of over 100 musicians, singers, dancers and acrobats from the many different regions.
There are dancers from Senegal, Guinea, Ivory Coast and South Africa. There are human pyramids – four men, one on top of the other - from Gabon and Tanzania. There are gumboot and tap dancers from South Africa.
There is strapado art from Martinique, ball-juggling from Ethiopia (eight balls!) breakdancing from France, Gnawas from Morocco, and pole acrobats from Tanzania and South Africa.
Two girls, one from Tanzania, one from Kenya, lie on their backs and juggle tables and huge vases with their feet in the familiar Chinese manner. There are basketball skills on bicycles from the USA. There is a carnival of mythical animals to delight the children.
Dickson Oppong, a big, burly and humorous guy from Ghana, juggles eight huge pots at the same time. There are two contortionists. Makaya Dimbelolo from Angola is a beautiful and lyrical aerialist. Nokulungo Buthelezi, from South Africa is also very beautiful, but she gets her body into such extraordinary and deformed positions that the audience groans loudly and many were averting their eyes.
The all-smiling cast is an excellent ambassador. The music, the singing and the drumbeat give Georges Momboye's choreography and Matthias Hoffmann's colourful production its urgency.
The show's dynamism, its frenzied, relentless and inexhaustible energy, its breathtaking speed, its virtuosity, its precision, its flexibility, its sheer zest and good humour, is a knockout and great fun for the whole family.
Afrika! Afrika! has the support and patronage of UNESCO. Since it opened in December 2005 it has been seen by 2 million people. For every ticket sold 70 pence is donated to the cultural foundation, Art in Africa. So far 1.5 million euros have been collected.
Afrika! Afrika! is the best circus in town. The tent at Greenwich holds 2,000 people. Go.
Reviewer: Robert Tanitch