After Dark; or, A Drama of London Life
Dion Boucicault
Iona Purvis for The Phil Willmott Company in association with the Finborough Theatre
Finborough Theatre
–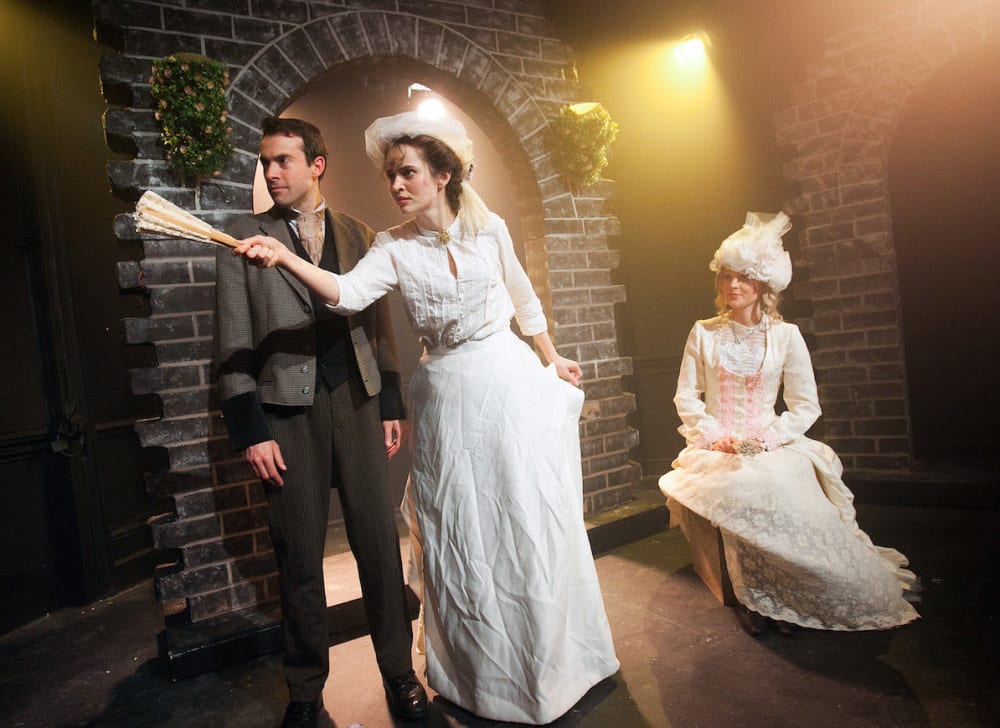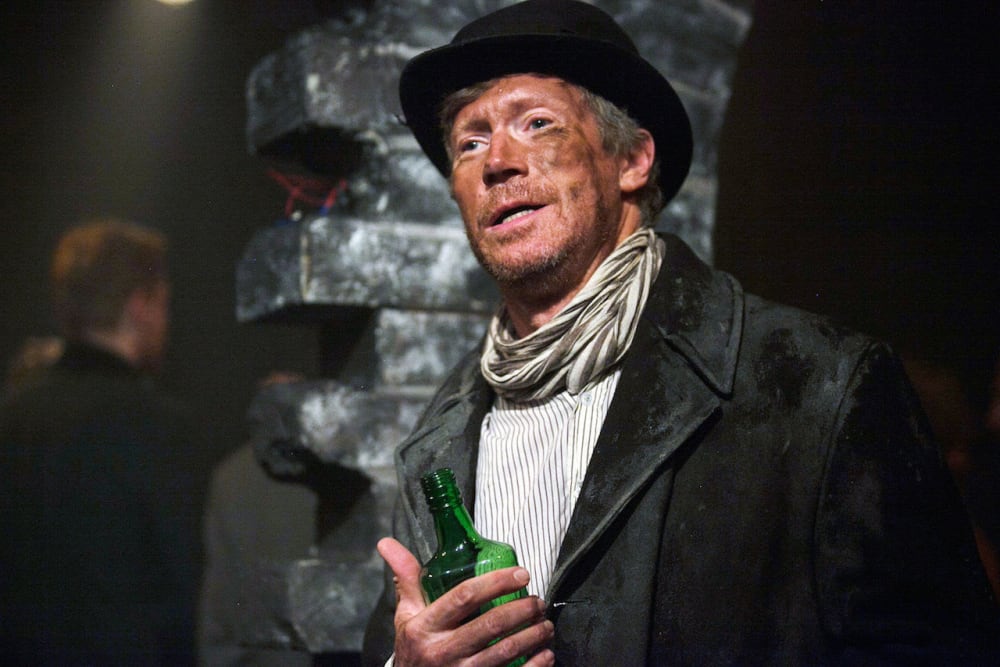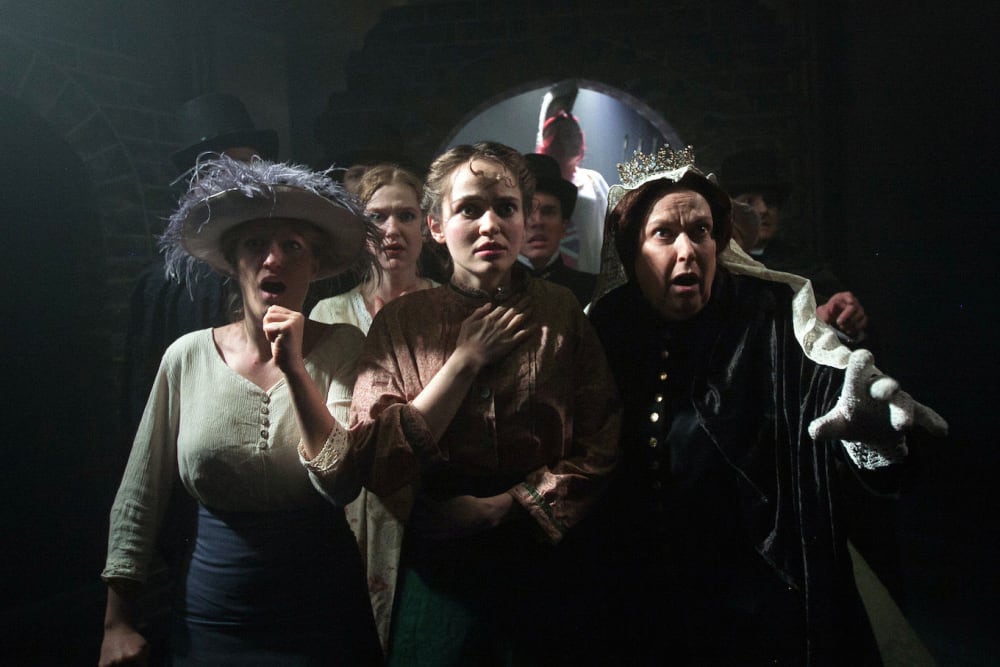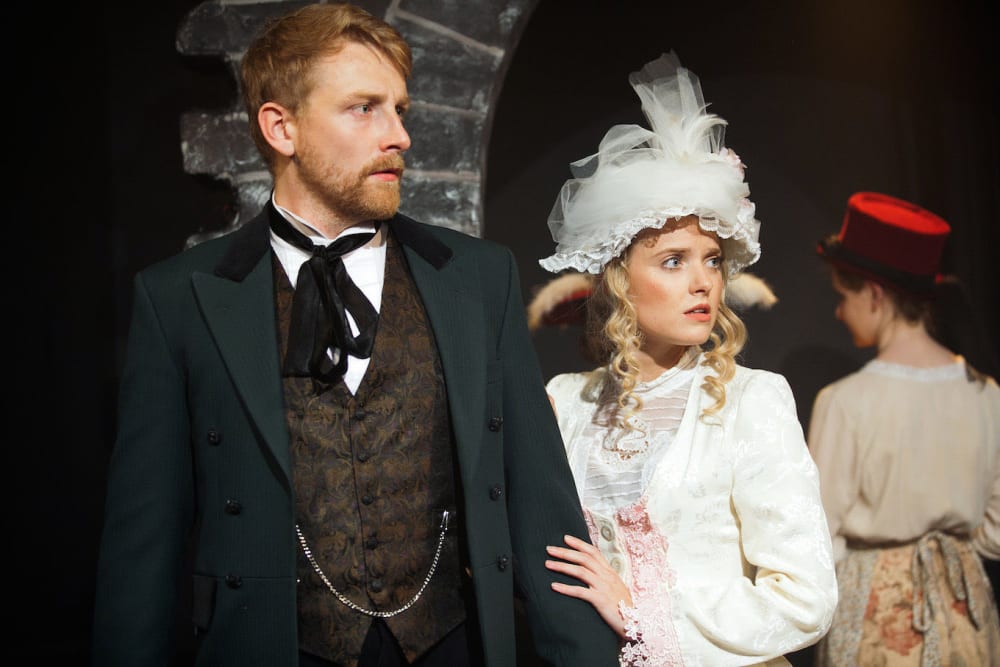 Victorian actor, dramatist and manager Dion Boucicault had a career on both sides of the Atlantic and a crowd-pleasing line in spectacular melodramas like The Poor of New York on Broadway in 1857, a play adapted from the French that he himself described as "guano" but that found wide commercial success with the title changed to fit location: The Poor of Liverpool in 1864, The Streets of London when it reached the Princess's Theatre six months later.
After Dark was another Princess's Theatre success in 1868 (the same year that the Finborough building was erected), another French adaptation made now to feature a Thames suicide, the still novel underground trains (the world's first), destitute veterans of the Crimean war and London's "Great Stink" then still fresh in memory (one character remarking on the contrasting clean country air in Hammersmith).
It is full of complex plotting with the chief villain a corrupt lawyer who is a wanted Australian criminal in cahoots with a woman who runs a gambling house, an aristocrat who has forged his father's signature and now gets blackmailed, an inheritance dependent on marrying for a man who is already married while the new intended already has a devoted suitor, a wronged soldier and his abandoned daughter and an heiress who has joined the newly created Salvation Army.
But why should the Finborough's Neil McPherson decide to stage a piece of once-topical tosh from 1868? Could it just be because it shares the Finborough building's 150th birthday? Why put on a play written to provide spectacle for in a big auditorium in one of London's tiniest theatres with a minimal budget?
In a note to the audience, director Phil Willmott wonders too. I suspect it may partly be that McPherson wanted to offer his colleague a challenge—and, if it was, Willmott certainly rises to it. With the simplest of means—some mirror glass, handhelp lamps and audience imagination, helped by Hannah Postlethwaite's moveable setting—he creates his effects in small scale but with impact. He admits that in rehearsal looking for psychological motivation proved fruitless; instead he borrowed from Brecht asking not who, but what are you?
That is what we get; villain or hero, scheming harlot or abandoned maiden, each has a place in the story and they tell us their feelings rather than subtly express them. I suspect there has been some judicious cutting, opportunities for musical uplift are exploited and the production isn't afraid of being funny—not just in the malapropisms of Victoria Jeffrey's malevolent Dicey Morris and the blatant imperialism of the Metropolitan Railway's Britannia (which peaks with a Last-Night-of-the-Proms moment) but in an ingénue more interested in jewels than which man she ends up with. Jazz Sanders plays Rose like a Hollywood dizzy blonde.
Jonathan Le Billon has a more difficult time as George Medhurst, the aristo who must marry her. He may have been happy with his Eliza but he ditches her. Too flawed to be a real hero, he combines a stiff upper lip with eyes that show fear and guilt. Jemima Watling has a much easier time as wronged Eliza, despairingly throwing herself in the Thames as it glistens in the moonlight.
Tom Fyans as ex-soldier Gordon Chumley is more like the conventional hero, selflessly promoting others good and ending up drugged in the path of an underground locomotive. He recognizes old comrades in Medhurst and heavy-drinking derelict Tom Dalton (Simon De Deney, who gives him an even bigger heart of gold) who saves him from death as well as unknowingly rescuing his daughter from drowning. Kate Stafford's Aviona Crumpet (yes, that's what Boucicault calls her) seems a do-good precursor of Shaw and Damon Runyon's Sally Army ladies and Toby Wynn-Davies tilts his head back to leave no doubt that lizard-like lawyer Chandos Bellingham is decidedly evil.
Add Steven France as PC Pointer, a bit slow in spotting the real wrong-uns but finally there when he is needed, and Gabi King, Rose Lennox and Helen Potter to liven things up with music and together they deliver an evening of slightly tongue-in-cheek entertainment that works because they never appear other than deadly serious.
This isn't going to transfer for a glamorous West End staging (Heaven forbid! It would ruin it) but it gives a once in a lifetime opportunity (the first for 120 years in fact) to catch up with a rarity that once packed houses. Respect its age and be a little indulgent—by winning the audience over they pull it off.
Reviewer: Howard Loxton