After Miss Julie
Patrick Marber's version of Strindberg's Miss Julie
Theatre Royal Bath
Yvonne Arnaud Theatre, Guildford
–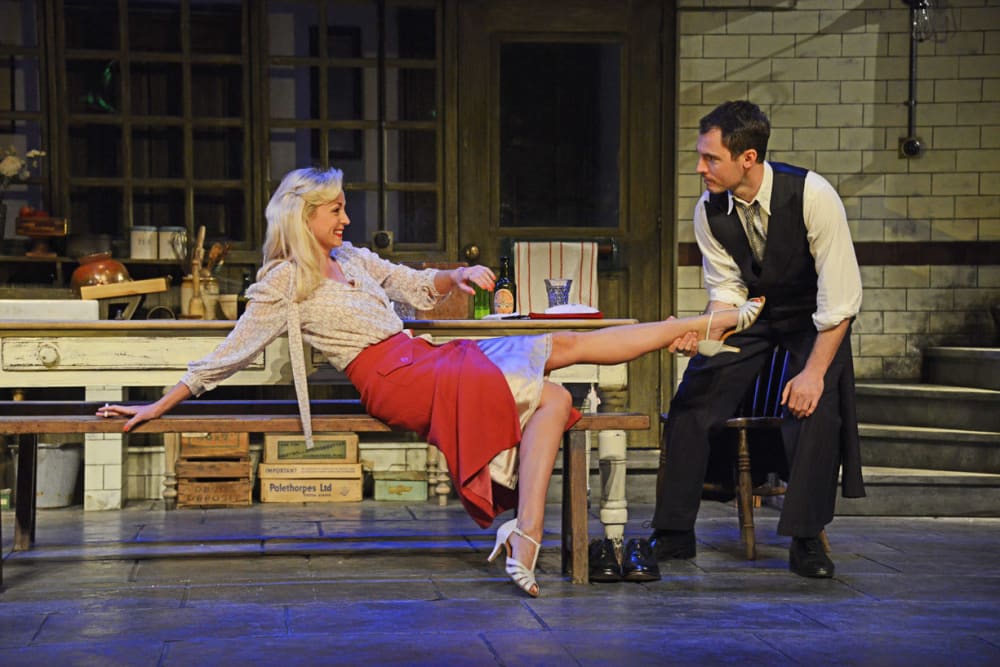 There is no real plot in this play, only characterisation, which leaves a lot of room for the audience to try to understand the characters and what motivates them in their actions, although in the case of Miss Julie understanding is extremely difficult.
A rich heiress with a decidedly complicated upbringing, she seems totally intent on her own destruction, while at the same time living in a fantasy world where everything is going to be perfect and exactly as she wants it to be.
The action is played out in the kitchen of a large country house (superbly designed by Colin Richmond), the year is 1945 and the whole country is in a mixture of emotions. A summer ball is taking place upstairs and laughter and music can be heard as everyone is celebrating not only the end of the war but also Labour's Landslide victory, ousting Churchill, who had led the country to victory, but hopefully signalling the end of the class system. Ironic that Miss Julie's Labour peer father is the seemingly tyrannical head of a household with servants.
Leaving the ball and in search of excitement, Miss Julie descends to the kitchen to flirt provocatively with the handsome chauffeur, John, totally ignoring the presence of his fiancée Christine, the cook. John has always been in love with Miss Julie ever since, as a boy scrumping apples, he lay hidden in the dirt and mud of the orchard watching her petting her pony. On later refection he wonders, was it love or was it envy, but whichever it emphasises the inequality in their station in life.
Miss Julie seems to be attempting to redress the balance, feeling guilt at her enviable position and insisting that they could be equals, yet almost instantly she is pulling rank, giving him orders (sometimes ridiculous) and expecting instant obedience.
There are occasional long pauses in the action, the lack of movement again concentrating attention on the character, and each time performed so well that you can almost get into the heart and soul of the individual and feel what they are feeling.
This is particularly well illustrated when the cook Christine (Amy Cudden) finds her fiancé in bed with Miss Julie and desperately, but silently, tries to control her feelings. She is the most constant and sensible character of all, her religion keeping her grounded and determined to keep the status quo, even with a straying partner. "I know my place" she says to him, "and I think that you do!", happy in a world with rules she understands.
Helen George copes brilliantly with a challenging character who has such violently changing moods delivered with such passion that it would seem to tear her apart, while Richard Flood's John, after a half-hearted attempt to remember his 'place', goes along with her plans—until he finds she has no money.
All performances are superb and the play demands complete attention with the pauses only increasing the tension and apprehension of what might happen next.
Strindberg's play is a classic and Marber's version is very watchable, but I was not surprised to hear audience members asking each other—what was the point of it all!
Reviewer: Sheila Connor