After the End
Dennis Kelly
Stratford East
Theatre Royal Stratford East
–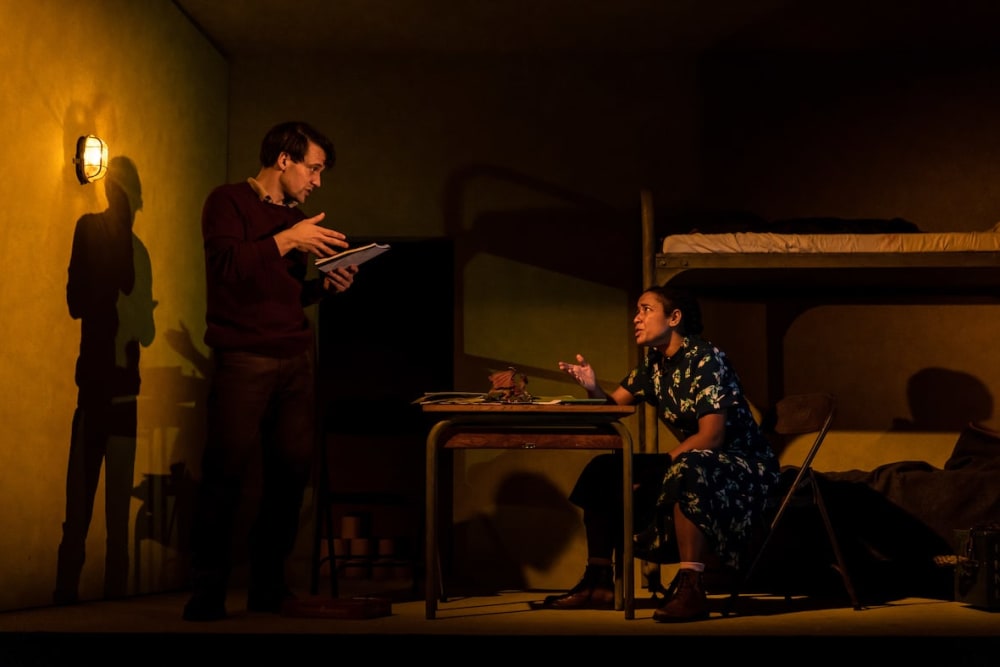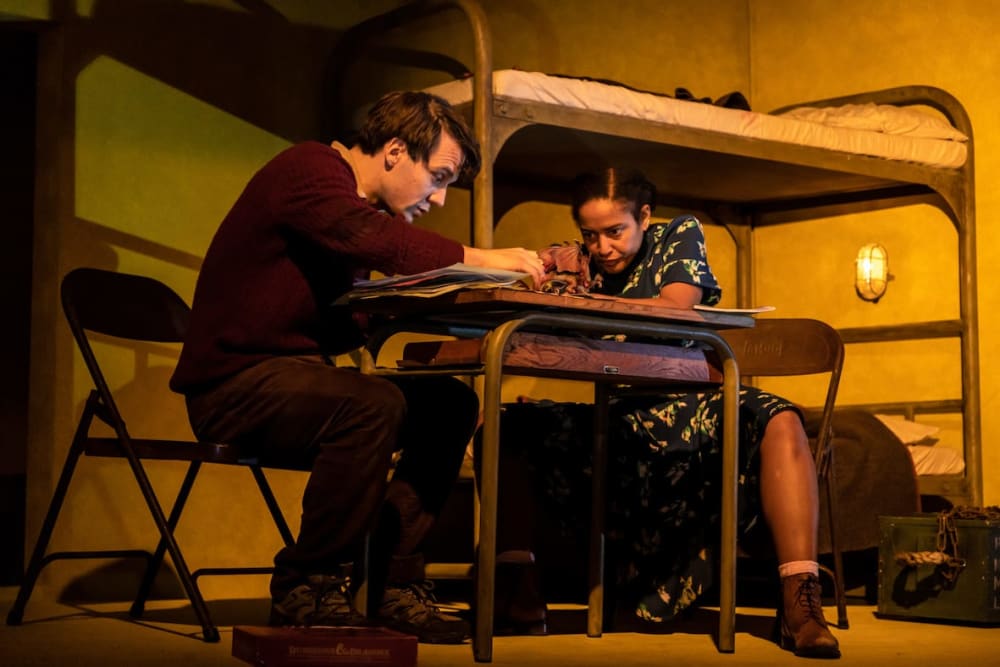 Work colleagues thought it was typically weird of nerdish reprographics assistant Mark to buy a place with a fallout shelter in the back garden, but now it proves to have been a wise choice and good that he has kept it stocked with provisions, for that is where After The End finds him with Louise, a co-worker it seems he has always fancied.
Louise knows she was at an office leaving party but has no idea of what has happened or how she got there but he explains. There has been a nuclear explosion, a "suitcase bomb" he thinks not a missile strike. Somehow, they were both sheltered from the initial blast and radiation and he had been able to pick her up and carry her through the wrecked streets and dead bodies until he recognised his neighbour's patterned driveway, locate the entrance and bring her to safety before the radioactive ash started falling.
"I kept it stocked," says Mark, "because the world has gone fucking insane." They check out the canned food, plenty for one for a fortnight, carefully rationed it should feed them both. Now they must wait it out.
Director Lyndsey Turner's production is a revised and updated version of Kelly's 2005 play that feels uncomfortably timely as Ukrainians take to their shelters and underground tunnels, but After The End is not about post-apocalyptic disaster. It presents a contest in control in which to start with it is Mark who calls the shots.
At first, Louise is grateful to have been rescued but increasingly feels like a prisoner. Is Mark telling the truth or is this a kidnap as in John Fowles's The Collector and similar real-life examples of incarceration? Is the small wound or burn on his back enough to make you believe his account of charred bodies that fall to pieces?
When Louise balks at playing Dungeons and Dragons, Mark's composure begins to disintegrate; this isn't going the way that he wants it. You don't decide who I am," she declares. Through a sequence of short scenes, interspersed by blackouts when Tingying Dong's sound design ratchets up the tension, power shifts from one to the other.
Peter McKintosh's stark setting increases the tension. How did they climb down? There is no sign of a ladder. Louise climbs on a table but can't reach the escape hatch. Tim Lutkin lights this windowless space with its unreliable lamps to match its unbalancing atmosphere.
There are stunning performances from Nick Blood and Amaka Okafor as Mark and Louise, as he moves from earnest to angry and she for a time turns the tables. It makes a gripping ninety minutes straight through with a final "after the end" coda that doesn't entirely resolve things.
Reviewer: Howard Loxton