Afterglow
S Asher Gelman
Adam Roebuck Aaron Quintana and Justin Coffman
Southwark Playhouse (The Large)
–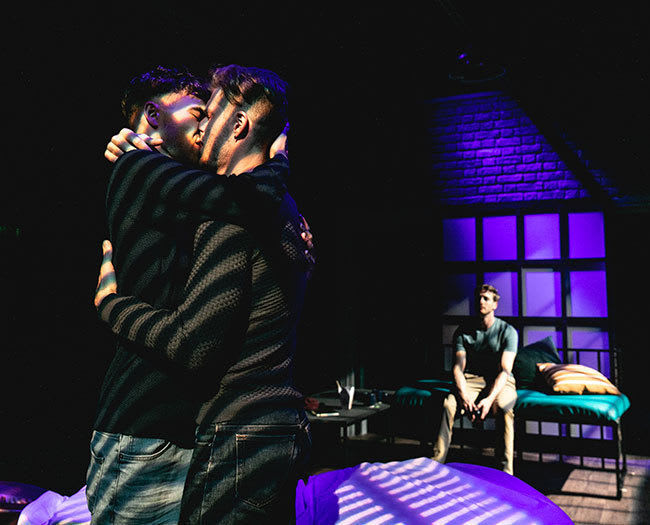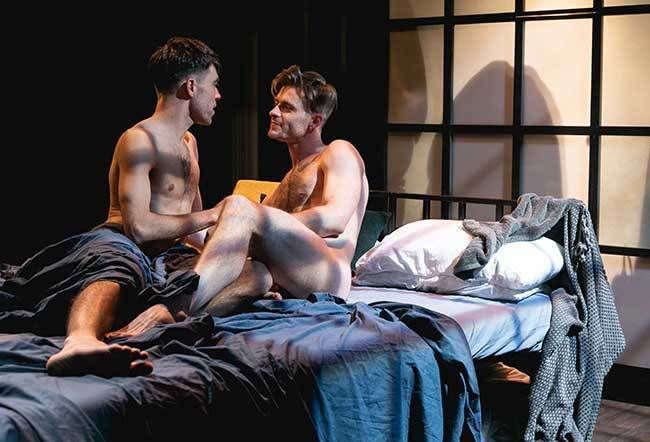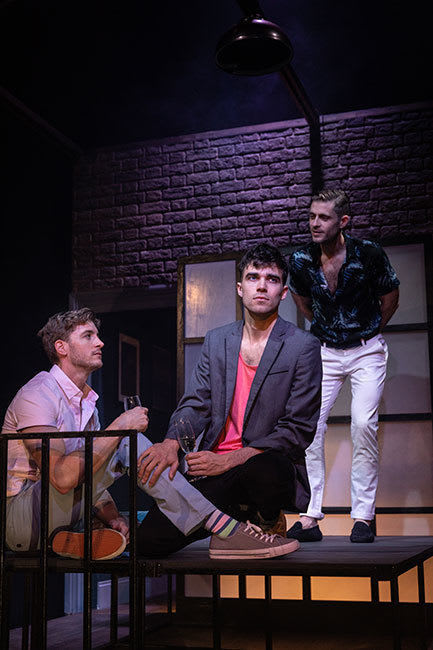 Director Tom O'Brien opens his production of Afterglow with heaving sheets that reveal an orgasmic threesome totally naked when they untangle, though their instant detumescence reassures that this was simulation. The promise of eye-candy nudity can be a useful publicity tool (and the night I saw Afterglow, just after press night, had a packed single-sex house) and in this ninety-minute single act there is a succession of shower scenes but it is dramatist Gelman who insists on the frankly gratuitous nudity.
Perhaps it is there to emphasise the openness with which he presents the mechanics of the marriage of theatre director Josh and research chemist Alex. They are both in their thirties, they have been together for five years, have a joint income that gives them a comfortable life in Manhattan and are soon to be parents with the help of a surrogate mother.
This isn't a monogamous partnership: it embraces both threesomes and separate encounters with others as long as they don't sleep over. The simple plot shows what happens when after a threesome with younger Darius—a masseur from Trenton, New Jersey, struggling to survive in the city—they each continue to see him.
Darius, who has never been in a relationship, envies their partnership, but as both men go on seeing him one of them gets closer. This begins to destabilise a marriage in which there is already a difference of feeling with one partner wanting more space, the other more passion.
It is a situation that is hardly new territory for drama, whether the relationship be a gay or a straight one, and in its brief ninety minutes it doesn't explore anything deeply. It is not news to be told that "love is easy, relationships are a lot of work."
The prospect of parenting adds an extra layer to the need for stability, but it is difficult to see how this couple would fit a child into their lives. Alex seems to already spend extra hours in his laboratory and Josh seems devoted to having a good time, but we really learn little about them outside this three-way relationship, though Danny Mahoney and Sean Hart bring an emotional charge to their playing.
Gelman tells us a little more about Darius and his aspirations and Jesse Fox is very moving as he talks of his past dream of being in Manhattan, though it becomes a rather separate set piece.
Though the content is thin, accomplished performers and O'Brien's direction make this a smooth-running production that is entertaining, not least in the way the cast strip to change costumes and manoeuvre scenery under flashing disco lights and pulsing music, itself a comment on New York gay mores, and you have to admire the ingenuity with which designer Libby Todd incorporates the multiple shower-taking.
This isn't a profound play but it avoids the clichés of coming out stories and HIV tragedies and is refreshingly honest (it is based on the dramatist's own experience) and from its reception the audience clearly enjoyed it.
Reviewer: Howard Loxton