After Liverpool/Games
James Saunders
Orange Tree, Richmond
(2006)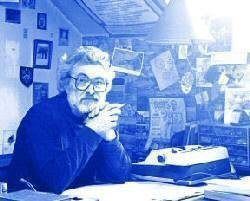 This challenging but entertaining double-bill, featuring the cast of James Saunders' A Journey to London, continues the celebration of the life and work of Saunders by the theatre with which he was most closely associated.
If memory serves, its first professional production was as an 'underground' staging in 1971 at London's Almost Free, which gained grudging praise from avant garde critics. But shortly afterwards the two plays formed part of a popular lunchtime season of five short pieces at the old Orange Tree—the famous room above the pub.
That first Richmond season was so successful that it led to a BBC television production of After Liverpool, then to an Off-Broadway airing of both plays at the Bijou in January 1973.
So much for history. But if memory also serves, the introduction of the f-word (and even, in an unguarded moment, the c-word) into Saunders' text is a 21st Century innovation, designed to give these two pieces a more contemporary ring, as is the use of mobile telephones as props.*
After Liverpool (directed by Auriol Smith) is a Laingian-style multiple conversation piece for eight or more actors (it may even have inspired the stage version of psychiatrist R.D.Laing's Knots which appeared at about the same time), and has since become a popular source of audition extracts for drama student showcases.
Conversation is shown as a ping-pong of exchanges for mismatched couples: words falling on deaf ears, obfuscation, dead-ends and circular arguments, put-downs and brief encounters, that often end with a silent slamming of doors, or a squabble over the last apple in the fruit basket. Pity 'tis that John Locke never saw it—it might have inspired an extra chapter or two in his Essay Concerning Human Understanding!
Among an excellent cast, the standouts are the coolly feminine Fiona Mollison in marital and romantic exchanges with Thomas Wheatley and John Hodgkinson.
This amusing 45 minute piece, essentially a revue item, is followed by Sam Walters' revival of Games, a four-hander that explores the background to the My-Lai massacre of 1968 in Vietnam: a group of three actors and their director devising and rehearsing an experimental theatre piece based on a Reuters report of the courts-martial of Captain Ernest Medina and Lieutenant William Calley.
In the middle of rehearsals they suddenly break off to question their own reactions to the troubling material about babies slaughtered in their mother's arms, and the validity or otherwise, as mere actors, of their contribution to a philosophical debate on personal responsibility and the wider world view.
At which point the actor working as director (Paul Goodwin) falls into a prolonged 'dry', an awkward lacuna which has the curious effect of getting members of the audience to join in the—somewhat manipulated—debate about the impossibility of protest for soldiers working under orders, or the problem, for example, of 'refusing to turn on the gas taps at Auschwitz'.
Clearly audience reactions will create different results at different performances and may even prompt apathy. But behind this play about the re-staging of a court-martial for entertainment and instruction, lies an overdue theatrical debate about our current enthusiasm for turning court cases and judicial enquiries into dramatic material—notably at the Tricycle Theatre in Kilburn.
My own view is that these almost always give out false impressions, since the actors (and their director) will almost certainly approach the edited transcriptions with a received point of view, rather like newspapers that mix biased editorial comment with reportage.
Thus, for example, the police in the Stephen Lawrence Inquiry were usually enacted as dubious boobies with estuary accents, while the BBC witnesses before Lord Hutton looked either sheepish or churlish when subjected to cross-examination by the urbane actor playing Hutton's legal front-man. Perhaps this was true to reality, perhaps not, but it always gives me an uncomfortable feeling of contrivance.
There seems no reason why a mid-performance debate between actors and the Orange Tree audience should not pick on this equally legitimate topic, and I hope it happens at least once during the run.
* After this review appeared, director Sam Walters wrote to John as follows:
The f-word was always in After Liverpool. And indeed was always the point of that scene — after a scene of clichés he, as it were, brings the sub-text to the surface and gets short shrift or, if you choose, a hearty slap.

When I did them (sort of) for television in 1972, Jim insisted on that scene being in and refused to cut the f-word. As it was live the nation's sets suddenly experienced interference!

The c-word is in the published version of Games. And I am sure was used in 1972
To which John replied:
Delighted to know that Tynan was not the only early bird to get "fuck" on television (although that of course was way back in November 1965). Many thanks also for this valuable insight into Jim's working methods and his resolute integrity in the face of the broadcast conventions of the day.
"The James Saunders Double Bills" season ("Games" and "After Liverpool"/"Bye Bye Blues" and "Double Double") is playing in repertory at the Orange Tree from 23 January to 4 February. The run of "A Journey to London" continues from 6-11 February.
Reviewer: John Thaxter