Afterplay/The Bear
Brian Friel
ATTIC Theatre Company
Traverse Theatre, Edinburgh, and touring
(2007)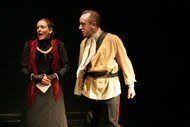 These two short vignettes, credited to Brian Friel but finding their origins in work by Anton Chekov, make for a none-too-taxing evening of entertainment at the Traverse.
The Bear, a comedy about a grieving widow and the man who comes to demand payment for her husband's debts, is witty, sharp, and entertaining. Ruth Gibson crackles as Elena, and Paul Boyle's turn as Gregory makes for a brilliant foil. Edmund Kent, as Luka, provides a measure of additional comedic relief. The Bear is a rather Austen-esque comedy of manners, and a hugely entertaining one at that.
Following a brief interval, Afterplay takes over. As different from The Bear as can be, this unites two of Chekov's characters twenty years after their play takes place. Having seen John Byrne's adaptation of Uncle Varick at the Lyceum gave me some background on the situation Sonya (Deborah Maclaren) had encountered in her play, but without much knowledge of Three Sisters, I was somewhat less aware of the background of Andrey (Kente again, in a more sobering performance than in The Bear). Despite this lack of familiarity with the subject material, Friel's play was engaging and, if a bit long, still worth watching.
.
Reviewer: Rachel Lynn Brody