Against Prejudice: Ira Aldridge, Theatre Manager, Coventry 1828
Tony Howard
Globe Education, Multicultural Shakespeare Project (University of Warwick) and Belgrade Theatre, Coventry
Sam Wanamaker Playhouse, Shakespeare's Globe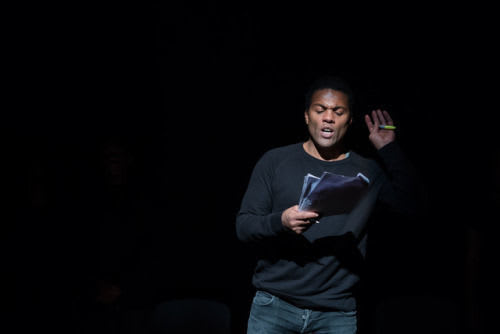 In July, newspapers carried a report of an attack on a 14-year-old African American boy on the streets of New York. Police were said not to have intervened but joined in the assault.
It is a very contemporary story, the kind to which the Black Lives Matter campaign has been a response, but this was nearly 200 years ago, in 1821. The lad was an actor, a member of the recently formed African Company at the African Grove Theatre, opened that year by West Indian William Brown. The attack was part of a campaign against it and the theatre was burned down under suspicious circumstance.
This is where Tony Howard begins his dramatised account of the life of the landmark African-American actor Ira Aldridge, for he was that boy and that attack is the first surviving record we have of him.
Three years later, with the assistance of English actor Henry Wallack, he made the crossing to England and in 1825 secured an engagement at the Royalty Theatre in East London playing Othello and was then offered roles by the Royal Coburg (now the Old Vic). He was billed there as Mr Keane and played Oroonoko in The Revolt of Suriname and in The Ethiopian, African Ingratitude and The Negro's Curse.
Among those who recognized his talent was Margaret Gill, a middle-class white woman ten years his elder, and that same year they were married.
Aldridge got some good reviews—but terrible ones too, especially in The Times. This was at the height of agitation against slavery, which had been abolished in Britain but not in the colonies where British plantation owners feared for their fortunes if slaves were freed. Aldridge was a symbol of the black man's intelligence and humanity; the pro-slavery lobby were probably paying for him to be discredited.
He went off touring the provinces and it was not until 1833 that he secured an engagement at Covent Garden, as Othello. That brought the same opposing views, for the very same reasons. Aldridge went back to touring the provinces and in later life touring Europe with enormous success, playing Othello, Macbeth, Shylock and Lear in English with supporting casts using their own language.
It was in 1828 that Aldridge had a booking at the Coventry Theatre Royal at a time when that house was at a low ebb with inferior actors. The theatre owner, a former local mayor, was so impressed by him that he asked Aldridge, still only twenty, to mount a season as theatre manager. He accepted, formed his own company and, turning down suggestions he open with a popular melodrama, opened with Shakespeare and finished the season playing Oroonoko for his own benefit performance.
That is the key part of this drama-documentary, written to mark the Coventry association and first performed at the Belgrade Theatre there last November. Tony Howard's script gives an illuminating look at a life that too few are aware of and places it historically as part of the anti-slavery battle. When he was in Coventry, the city raised a petition in favour of abolition to send to Parliament and Aldridge himself often spoken in support of the movement.
With Ray Fearon as Ira Aldridge and Rakie Ayloa and Justin Avoth voicing other people and providing reviews and reports from newspapers and documentary sources, this dramatisation is both informative and moving. It provides the opportunity for Fearon to give lively performances of speeches from some of key roles that Aldridge played. Jason Morell's direction gets strong playing from all three actors and gives this production the energy of a fully staged production rather than a rehearsed reading.
The Belgrade's Black Youth Theatre provides musical backing and links a new generation of black performers with their illustrious predecessor, providing the introduction to the discussion between a panel of academics, historians and performers that followed the play.
That discussion also welcomed the presence of centenarian veteran actor Earl Cameron, one in the line of twentieth-century black actors who, so long after, succeeded Aldridge and one with his own direct connection for, as a young post-war performer, he took voice lessons from Aldridge's daughter, singer, composer and teacher Amanda.
Earl Cameron was coaxed into giving Othello's "I have done the state some service". As mediated through Amanda, was this what Aldridge sounded like?
Reviewer: Howard Loxton