Agatha Christie's Murder on Air
Agatha Christie
The Agatha Christie Theatre Company
Quays Theatre at The Lowry
–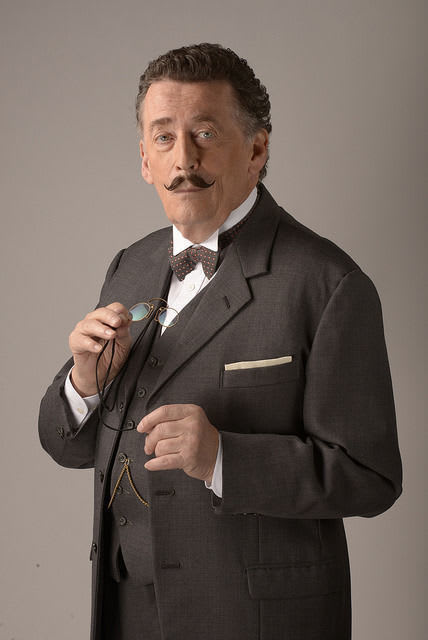 Back in the days when life was simpler (well, apart from small matters like the rise of fascism, the launch of the Welfare State and the break-up of the Empire), what better way could there be to take your mind off your troubles than to settle down with the family in front of the wireless, tune in to the BBC Home Service and wile away half an hour listening to an Agatha Christie murder mystery?
Better than that, Joe Harmston's Agatha Christie Theatre Company now invites us to be a studio audience for the "live" broadcast of three such thrillers.
The stage is set. Downstage, a row of seven old-style microphones on stands, with seven chairs set back from them. Stage left, an upright piano and an area enclosed by a desk which includes a peculiar contraption: a box with a door in it, letterbox, knocker and all.
A man enters, smartly dressed, carrying two suitcases. He opens the suitcases and extracts some peculiar objects, including four shoes (one pair male, one female) each with a short stick or handle rising vertically from it. The man places these items on the desk.
Soon, the man is joined by seven elegantly dressed others—posh frocks for the ladies, dinner jackets and bow ties for the men: this is the BBC, after all, you dear old thing.
We are treated to not one but three mysteries—"Personal Call" (first broadcast in 1954), "The Yellow Iris" (1937) and, post-interval, "Butter from a Lordly Dish" (1948). Each piece offers guest star Robert Powell a chance to go through his paces to grand effect.
Powell clearly relishes what must be one of the most pleasurable paydays of his distinguished career with embodying first the shifty husband, then a certain renowned Belgian detective and finally (with a marvelous take on the late James Mason) a philandering barrister.
Powell's co-guest star, Liza Goddard, also has fun, most notably in the final piece where she can cut loose and give it her all. The company's own players (Simon Cole, Louise Faulkner, Simon Linnell, Sonia Saville and Joe Harmston) all lend able support.
And, if for a moment you imagine that the best way to sit through three radio plays being performed on stage is with your eyes tight shut, then think again. The antics of pianist / foley artist Alexander S Bermange on special effects and the rest are not to be missed. When it comes to sound effects nothing—not even a kiss or a polite round of applause—is what it seems.
Christie's stories, whilst very much of the period and occasionally contrived, are nevertheless not short on wit and ingenuity. A dashed good time is had by all, cast and audience.
All in all, a delightful evening of murder and mayhem. Tune in.
Reviewer: Martin Thomasson