Agreement
Owen McCafferty
Lyric Theatre, Belfast
Lyric Theatre, Belfast
–

Listing details and ticket info...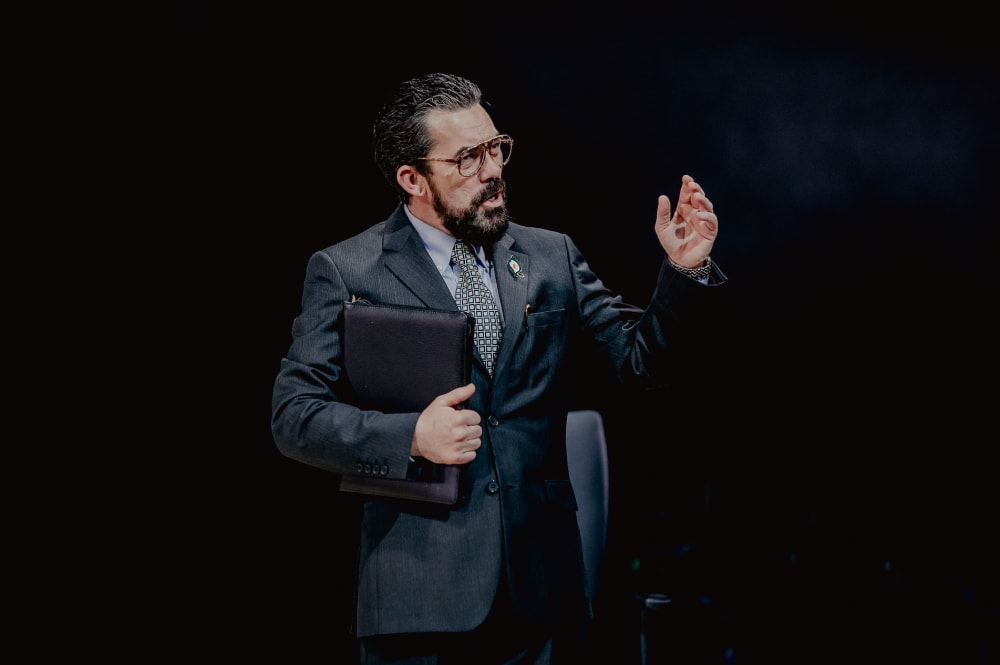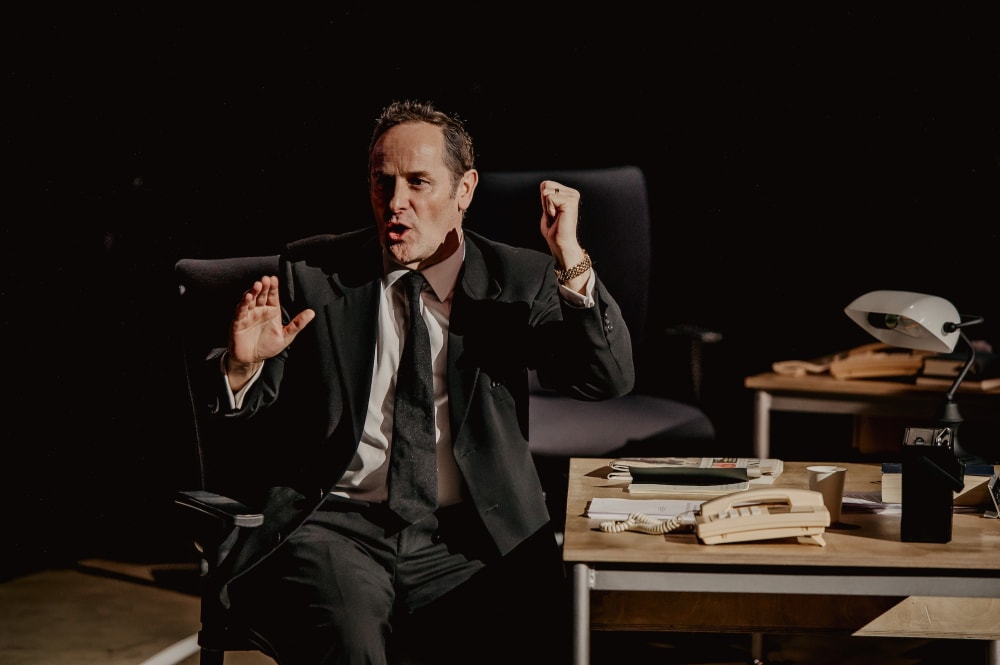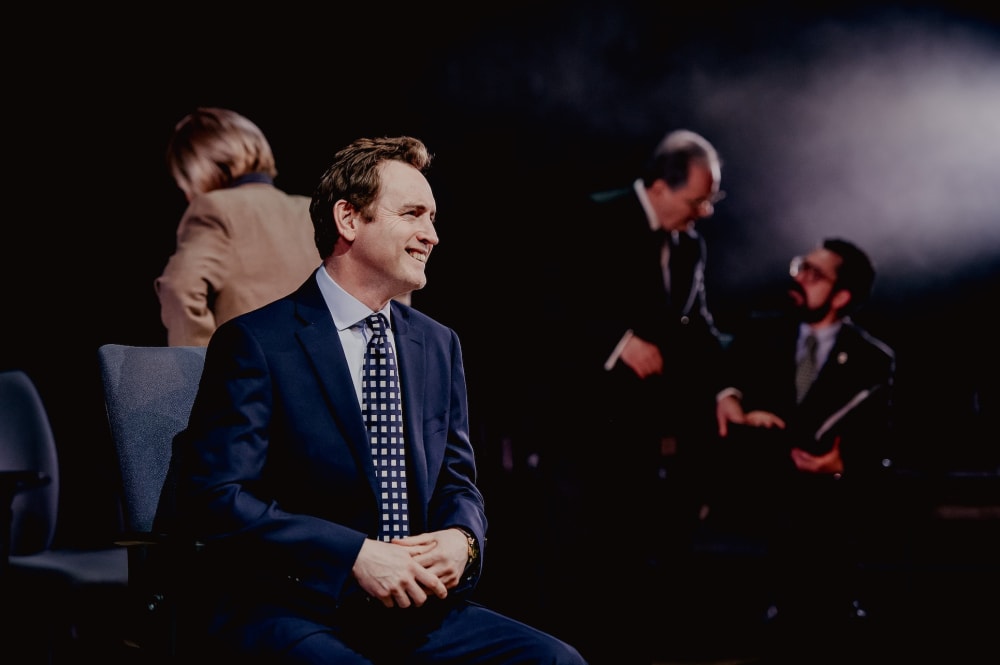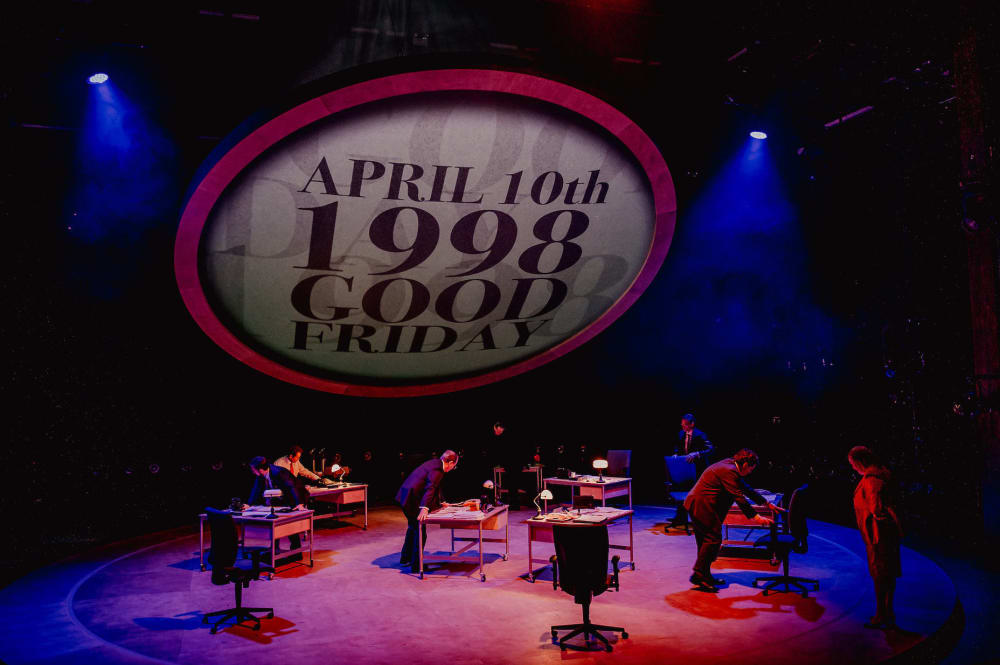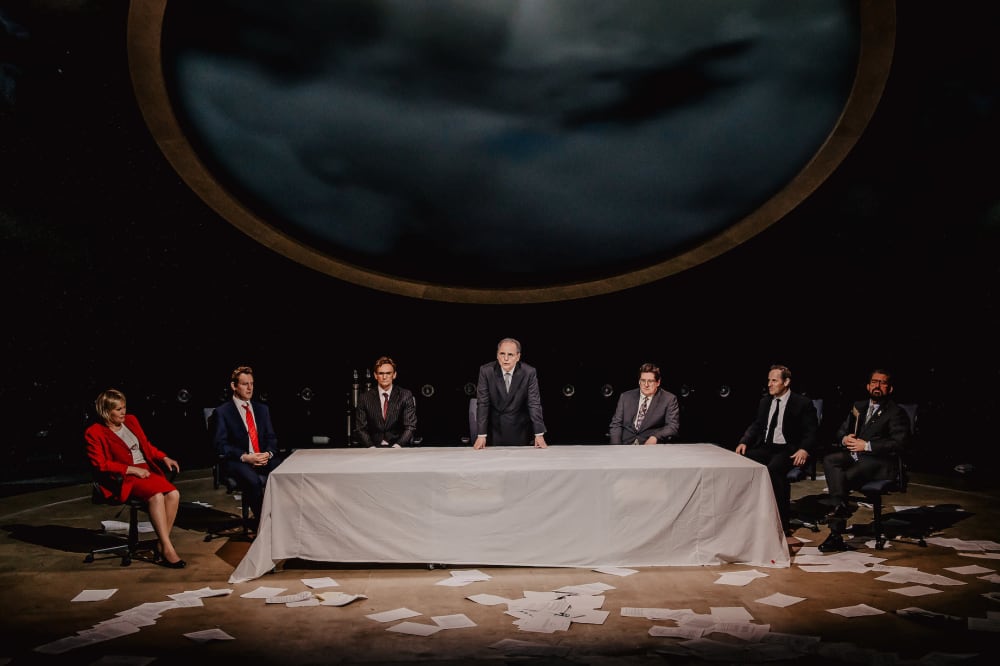 Owen McCafferty's Agreement brings politics back to the heart of Northern Ireland's theatre at the Lyric, Belfast with a penetrating, often wickedly funny, portrait of the personalities and pressures involved in the making of the Good Friday Agreement.
That historic document, signed 25 years ago, brought a cessation to the worst outrages of the sectarian violence that had long blighted the region, and with it the promise of peace.
If the intervening years haven't yet seen the complete absence of bloodshed and threat, nor the full restoration of democracy—witness the stubborn political paralysis of the past two years—the GFA nonetheless proved to be a turning point, pregnant with a promise still to be realised.
Depicting the final, fateful, four days of negotiations, McCafferty has crafted a telling commentary, equal parts political thriller, psycho-drama and absurdist comedy, on past events while also subtly taking aim at the atavistic prejudices that continue to bedevil Northern Irish politics.
He has form in delving into historic moments, Titanic: Scenes from the British Wreck Commission's Inquiry, 1912 (seen in the centenary year of the liner's demise at Belfast's The Mac) a remarkable, often moving, exercise in verbatim theatre. Agreement takes a looser view of actuality, McCafferty allowing himself liberties in exploring the personalities of key players.
In that, he's helped enormously by a seven-strong cast who acquit themselves with all the adroit flexibility and reciprocity of an ensemble of soloists. Director Charlotte Westenra's nimble, nuanced production allows each and all to shine individually even as she corrals them into a tight, coherent whole. The result is a timely, topical high-watermark in Northern Irish theatre.
Providing the glue that holds everything together, Richard Croxford's congenial George Mitchell—the American Senator who served as the fraught negotiation's indulgencing go-between and provided the still point at the centre of the storm—is complemented and matched by Andrea Irvine's Mo Mowlam, the British Secretary of State who eschewed political subterfuge for candour and direct, human interaction.
McCafferty and Irvine make much, but sensitively, of Mowlam's encroaching illness from the effects of the brain tumour that would eventually take her life. In a particularly touching scene, she is seen embracing Ronan Leahy's exasperated Irish Taoiseach, Bertie Ahern, himself grieving for his newly deceased mother, after a heated, eleventh-hour exchange. If Agreement has a heart, here is where it beats.
It's in exploring the personal dilemmas the protagonists face—their disconnect between achieving the liberating moment within reach and the leaden, paranoiac deadweight of inherited, seemingly intractable suspicion that stalls the inevitable—that McCafferty excels, stressing always the vulnerable human cost that all risk in daring to accommodate the other.
But Agreement is also alert to the absurdity of Northern Ireland's tribal politics, as Patrick O'Kane's taught, terse David Trimble, speaking for all concerned and all too conscious of the off-stage, rabble-rousing Ian Paisley as his potential nemesis pointedly remarks, "I need to be seen to be winning all the time".
Trimble's fellow Nobel Prize laureate, John Hume, sartorially dishevelled and strategically determined, a pragmatist in pursuit of leaving the past behind and looking to the future, is superbly played with humanising wit by Dan Gordon.
Packy Lee's drily knowing Sinn Féin leader Gerry Adams vies with Rufus Wright's slickly observed British PM Tony Blair for scene-stealing vignettes. Their shared affection for Anglo-Saxon expletives suggests a greater affinity than either's hidden hinterland allows.
Conleth Hill's convivial, disembodied end-of-a-phone line American President, Bill Clinton, is mischievously construed by Westenra and lighting designer Mary Tumelty as an overseeing God-like figure.
The raised circular set by Conor Murphy—a circus-like ring with a haloed oval suspended above—adroitly mimics Ken Adam's apocalyptic film designs for James Bond and Kubrick's Dr. Strangelove. Within the oval frame, Eoin Robinson's video design—superimposed clouds reflecting the inauspicious stormy weather outside, faux television footage and a portentous clicking clock—adds its own commentary. The glancing association with Da Vinci's The Last Supper in the final image speaks for itself.
Kate Marlais's percussion-led accompaniment (deftly delivered by Ruairi Glasheen) serves as its own plosive commentary on four days that struggled to reach the outlines of a different, putative future for Northern Ireland. That Agreement suggests such potential is still to be realised poignantly points to McCafferty's skilful, sensitive and sharply argued interrogation of this most potent moment in time.
Commissioned by the Michael Grandage Company, it sits in Belfast's Lyric Theatre with all too resonant immediacy, the first night audience affording it a deserved standing ovation.
Reviewer: Michael Quinn