Agrippina
George Frideric Handel, Libretto by Vincenzio Grimani
Met Opera on Demand
Metropolitan Opera House, New York
From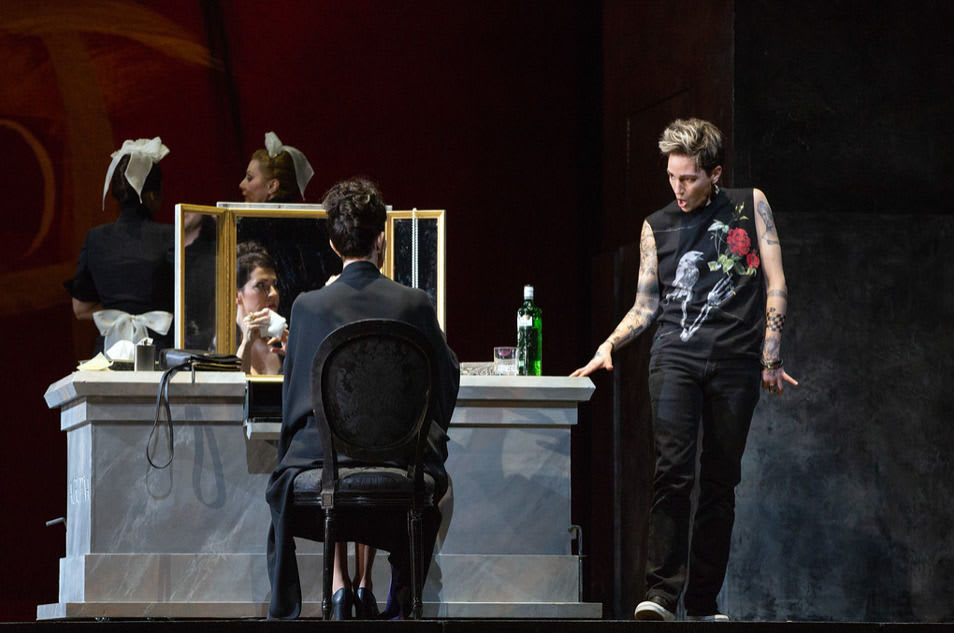 George Frideric Handel's Agrippina premièred in Venice in 1710 when Handel was 24. It is a popular mixture of gorgeous music, political satire and bedroom farce; and it's very, very funny. Handel funny? George Frideric Handel funny? You can't be serious. I am being serious.
Just wait till you see David McVicar's production, which premièred in Brussels in 2000 and was seen in London in 2007 and only arrived at the Met in February this year, just before all the theatres closed.
McVicar's Agripinna is one of the great opera productions of the 21st century, one of the great comic productions. I loved it when I saw it performed by ENO at the London Coliseum and I loved it all over again online.
The cast is discovered in a mausoleum in statuesque poses on tombs bearing their names. They step down off their pedestals to perform the opera.
It's not just the singing, the virtuoso singing, it is the witty physicality of the singers. Nobody just stands and delivers. It is the sheer inventive variety they bring to each solo. The moves and business always feel quite natural.
Agrippina wants Nero, her son, to become emperor and nobody, I repeat nobody, is going to stop her. She is the most determined lady. If it hadn't been for her machinations, her ghastly, psychopathic, incestuous teenage son would never have got the throne. Joyce DiDonato's performance has real class. Dressed in chic black, she is an elegant gorgon. I loved the way she walks.
Kate Lindsey's Nero, a coke-snorting brat, is hilarious when he gets high with a dust bowl of cocaine, a witty complement to Handel's hyperactivity. Lindsey has to do press-ups whilst she sings. I presume she went to the gym and rehearsed there, too. Her posture is so right. Never for one moment did I think she was not a lad. Offhand, I cannot think of anybody more convincing in a breeches role.
Brenda Rae's vocal skills are much in evidence as the flirtatious Poppea and especially at the end of act one. Her comic skills are also highly visible when Poppea gets drunk in a wine bar and turns cabaret artist. Matthew Rose's Claudio Is a golf-playing Emperor, who sports a Trumpian red tie and sings "Come, Beloved" whilst taking down his trousers; not the most pleasant of sights.
Duncan Rock and Nicholas Tamagna are a comic double-act as two of Agrippina's admirers and she winds them round her little finger. Iestyn Davies's Ottone emerges as the only really decent person in all the political shenanigans and is genuinely hurt ("Will no one share my grief?) when he is shunned and called a traitor.
The singing is gorgeous and McVicar's production is an absolute joy.
There are a number of ways of tapping into this opera and others at will. The Met Opera on Demand service offers annual ($149.99) and monthly ($14.99) subscriptions as well as a one-off payment ($4.99) for those who have limited time or only want to watch the occasional opera.
Reviewer: Robert Tanitch