Aida
Giuseppe Verdi, Libretto by Antonio Ghislanzoni
Met Opera on Demand
Metropolitan Opera House, New York
From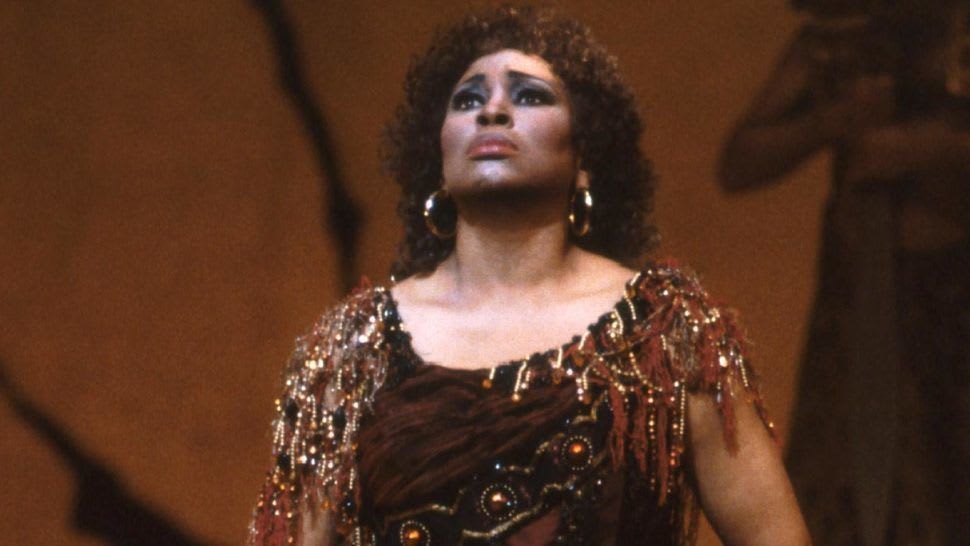 This particular performance, directed by John Dexter and conducted by James Levine, took place at The Met in 1985 and was emotionally something special. It was the night Leontyne Price took her farewell of opera.
Leontyne Price was the first African-American to become a leading performer at The Met and she was a big box office draw. Aida was the role that had made her acclaimed worldwide as the greatest Verdi soprano of her time. The voice, rich and vibrant, soars effortlessly.
Price received an ovation in the middle of the opera, at the end of the famous aria in The Temple of Iris, when Aida remembers her native land. The applause went on and on and on and on. Her face is seen in close-up on screen, fighting back tears. It is very moving.
Giuseppe Verdi was commissioned by the Egyptians to write an opera for their new opera house in Cairo. He immersed himself in Egyptian religion, music, history and geography and Aida premièred in 1871. It was a huge success and went on to become one of his most popular operas.
Verdi offers what sounds like a contradiction: intimate drama in monumental settings. The very first time I saw the opera, I was overwhelmed by the spectacle and emotional force and intensity of the music and the singing.
The opera has beautiful melodies, four great roles, a rousing jingoistic chorus braying for blood and revenge and the sort of spectacle you used to find in the cinema of Cecil B de Mille.
Did you see Elizabeth Taylor as Cleopatra entering Rome with a procession of thousands and finally reaching Caesar (played by Richard Burton), and giving him a big wink, as if to say, "Beat that!"?
The pageantry at The Met is uninspired and the dancing and the wrestling is such tacky kitsch as to be comic.
Amneris, the king's daughter, and Aida, an Ethiopian slave in the royal household, both love Radames who is given command of the army and leads the soldiers to victory in a battle against the Ethiopians. As a reward, the king offers him his daughter and to be his successor. But Radames loves Aida. Torn between love and duty, he finds himself in deep trouble.
His trial, when he is accused three times of treason and remains silent, interestingly, takes place off-stage. The emphasis is on Amneris's reaction to each charge. Florenza Cossotto's performance as the regal and jealous Amneris is striking and her singing of this particular aria is cheered loud and long.
There is solid support from James McCracken as Radames and Simon Estes as Aida's father. Pity though that Radames's broad-shouldered costume makes McCracken look like an American football player dressed for a fancy-dress ball.
There are a number of ways of tapping into this opera and others at will. The Met Opera on Demand service offers annual ($149.99) and monthly ($14.99) subscriptions as well as a one-off payment ($3.99) for those who have limited time or only want to watch the occasional opera.
Reviewer: Robert Tanitch