Aida
Music by Giuseppe Verdi, libretto by Antonio Ghislanzoni
Opera North concert staging
The Sage, Gateshead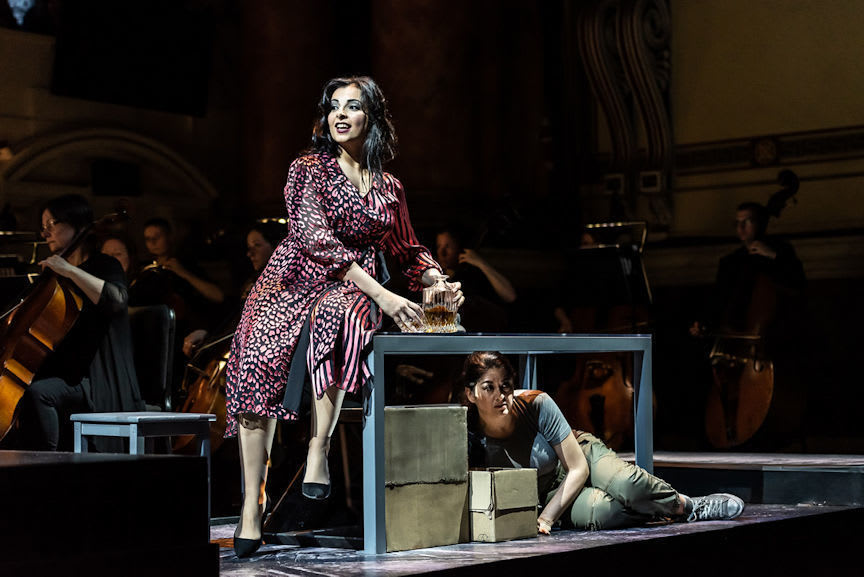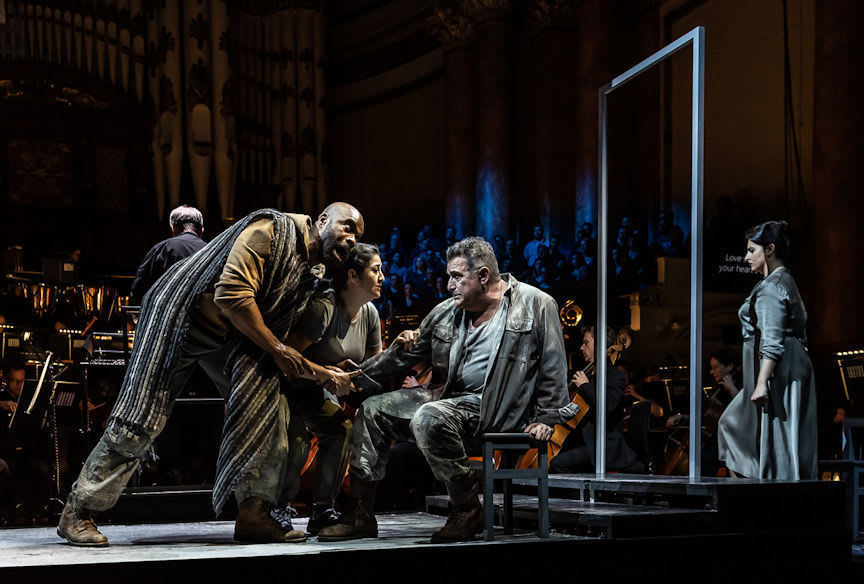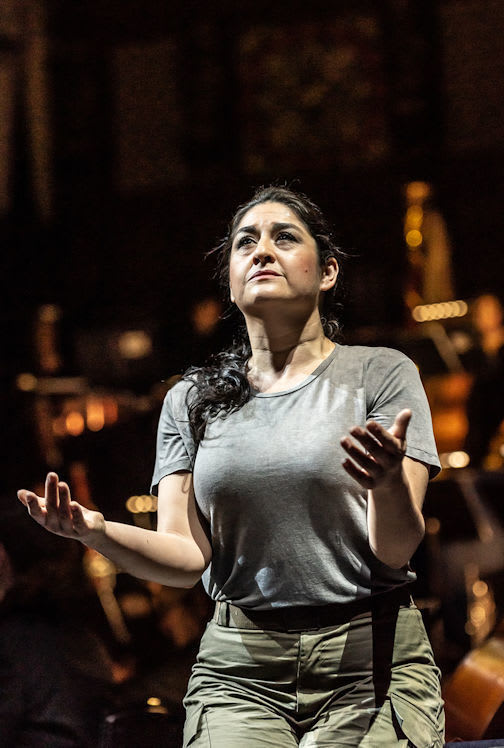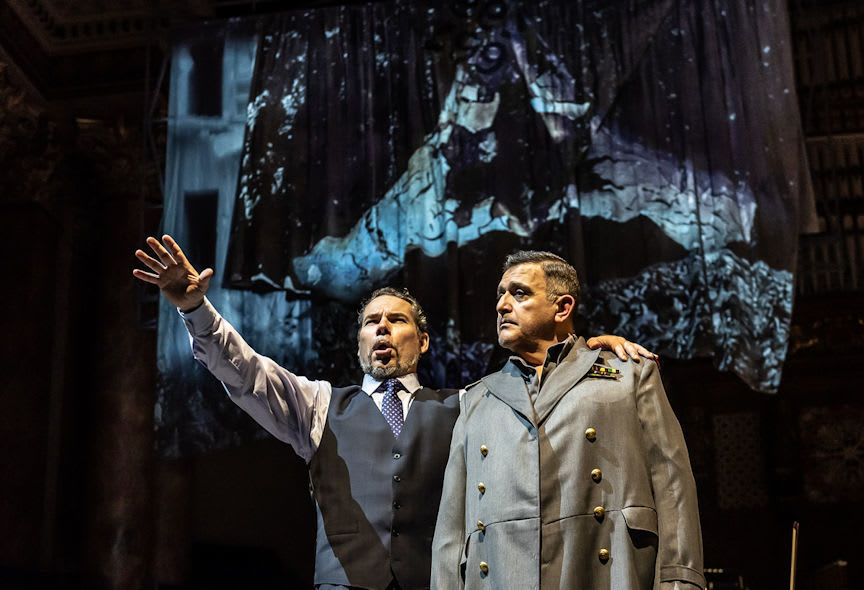 A concert staging for Opera North means that the orchestra takes centre stage, the chorus (at The Sage, at any rate) are well above everything else on the auditorium's second level looking down on the action, and that action takes place on a thin strip of stage with a few stools, a couple of steps to a door frame and more down to a table. Then, at the back on stage left, suspended high above everything, is a large and somewhat ragged sheet of white fabric which serves as a screen for video projections.
This is surely hardly the setting for Aida with its triumphal marches, its lines of captive soldiers in chains, its dances?
But this is directed by Annabel Arden who was responsible for the wonderful Turandot in 2017 and whose training at the École Jacques Lecoq and early career with Simon McBurney and Complicite gives her a unique perspective.
Forget tradition, forget the gorgeous Egyptian costumes: the King of Egypt and Ramfis, Eqypt's Chief Priest, are dressed in suits, Radamès the soldier wears battledress, the princess Amneris dresses in a conservative (she carries a handbag) modern style to suit her station whilst Aida, a prisoner of war and slave to Amneris even though she is actually the Princess of Ethiopia, is dressed all in grey—tee-shirt, trousers and trainers.
This, then, is modern times, and projected onto the fabric screen are images of Middle Eastern cities under attack, collapsing walls, falling masonry and other images which are less clear but suggestive of suffering and misery. As everyone sings "Gloria all'Egitto"—Glory to Egypt—the projections tell a much more harrowing story.
It takes a while (or it did for me!) to realise that they only colour on the stage is Amneris' clothing (and the King's red tie); everything else is grey or black and white. Even in the Grand March, the celebration of victory, the only colour is the brass of the instruments of the six trumpeters who come to the front, three to a side, to provide the opening fanfare.
This is the reality of war, and whilst the King, his High Priest and the people may celebrate a great triumph, it brings nothing but misery to the love triangle of Amneris, Radamès and Aida and leads to the awful deaths of the latter two as they are buried alive.
It's a very modern interpretation and extremely powerful. I wonder how many of us who saw it will be able to view the traditional Aida in quite the same light ever again?
What of the performances? Alexandra Zabala's Aida is at times heart-rending. Her aria at the beginning of act 3, "O patria mia, non ti vedrò mai più!" ("Oh my country, I'll never see you again"), in particular the frequent repetition of "mai più", certainly brought me close to tears.
As for Alessandre Volpe as Amneris, her first appearance made a strong impression—"don't like her, don't trust her, she's trouble". The princess who is used to having her own way will make sure that she will get Radamès and destroy Aida. But she isn't a dyed in the wool villain; there is a complexity there which Volpe captures. And what a great voice!
Rafael Rojas, an Opera North regular, plays Radamès as he plays every part, with sensitivity, conviction and real power.
Also powerful and impressive is Eric Greene as Aida's father and King of Ethiopia Amonasro. He's a big man and has enormous physical presence and emotional strength.
In fact, as ever, it is almost impossible to fault Opera North's cast, chorus and orchestra (conducted by Sir Richard Armstrong). Not, of course, that anyone would want to! This is not just a well performed and moving opera but it's also a fine piece of theatre.
And I have to confess that it is a long time since I have felt so gobsmacked (there's not a better word!) as I was by the ending of act 2 in which everyone—principals, chorus and orchestra—give all they have in a thrilling finale.
Reviewer: Peter Lathan