Aidy the Awesome
Devised by The Gramophones Theatre Company
The Gramophones Theatre Company
Curve Theatre, Leicester
–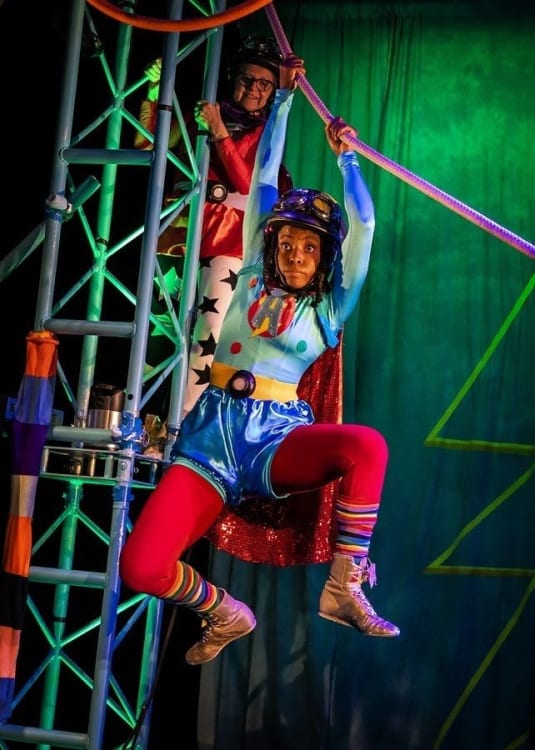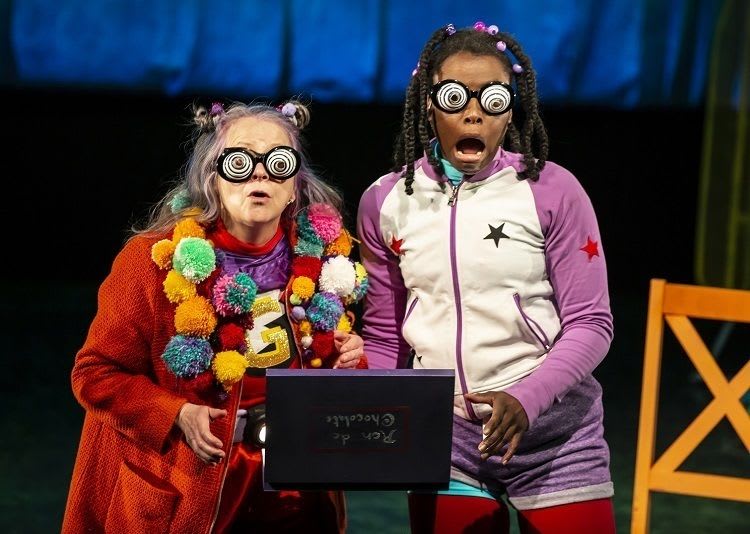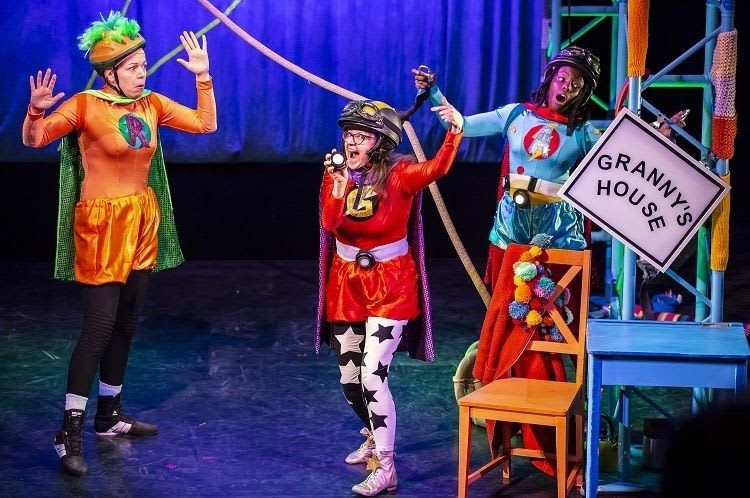 Bright, bubbly and with a 'badass' granny, what's not to like about Aidy the Awesome?
Inspired by online workshops connecting five- to twelve-year-olds and their grandmothers during the pandemic, The Gramophones are now taking their devised show Aidy the Awesome on a digital tour to a handful of venues.
In keeping with the superhero genre, Aidy (Farrrell Cox) discovers by chance—and via a surprise revelation from Glorious Granny (Deborah Sanderson)—that she has superhero powers. Frustrated by classroom plagiarism from Charlie (Alice McKenna) and an encounter with the dastardly Ron de Chocolate (Kathryn Hanke), Aidy throws herself into a mission to seize back her and Granny's stolen superpowers, as well as her own voyage of self-discovery.
As with much of The Gramophones' work, Aidy the Awesome is playful and well produced, combining aerial work with cartoonish comedy. Farrell Cox is outstanding as Aidy, instantly drawing the audience in with good use of some GoPro camerawork, and a charmingly convincing and enthusiastic portrayal of an eight-year-old.
Hanke's Ron de Chocolate is a treat—not only an anti-hero bearing Milk Tray and all manner of other chocolate bar references, but an amusing channelling of the irresistible Lord Flashheart from Blackadder, with hints of Pharoah (Joseph and the Amazing Technicolour Dreamcoat).
Deborah Sanderson wows as Glorious Granny as she and Cox go airborne for some impressive aerial work choreographed by Gwen Hales. Alice McKenna supplies air guitar opportunities as she rocks out on stage with Darren Clark's fun music and lyrics.
The Gramophones are a female-led company who "create shows that put women and girls centre stage". One of the aims of this show is to break down the princess archetype and show girls in "alternative feisty, funny and strong roles". I'd say mission accomplished here. Director Hannah Stone and Associate Director Ria Ashcroft (and also producers) maximise the caped comedy and larks, and Rachel Bunce's camera work provides a good sense of the different levels of performance (that is literally: on the ground and in the air).
After 45 minutes of energetic fun, the ending seems a little flat; whilst satisfying and with its concluding positive message that everyone is a superhero, it seems to lack the 'kapow' of the rest of the show. A small point, however, and the activity sheets and encouragement to send in photos of "you being a superhero" is a great way to keep everyone busy once the streaming is over.
Reviewer: Sally Jack