Airswimming
Charlotte Jones
The Courtyard Theatre Studio, Hoxton
(2009)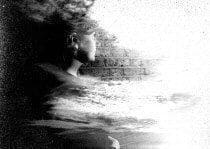 Two ladies in their early twenties are sent to an asylum for the criminally insane. Neither is sure why they are, but as the years and the decades roll by and they become institutionalised you begin to realise that if they weren't mad when they went in, they certainly are when they get out.
We know these two women were locked away in the early 1920s but Airswimming plays with linear narrative as the story of Dora and Persephone is told both forwards and backwards. It difficult to get a grasp on time as, like the characters themselves, you struggle to decipher what the year is and how long these poor women have been incarcerated. Initially polar opposites of one another, they grow fiercely dependant on each other and develop an unhealthy relationship as they disappear into their imaginations to escape the horrifying facts of their reality.
Charlotte Jones's play is as funny as it is chilling. Spanning approximately six decades (I think - as I said, the concept of time is a little hard to grasp) Jones's depiction of these two characters' descent into madness is skilfully executed by Katie Cotterell as Dora and Helen Bradbury as Persephone. Whist Airswimming begins to become a little repetitive, what it lacks in plot it certainly makes up for in the intelligent and witty dialogue.
Gemma Kerr's understated direction gives this world of imagination room to breathe and Cotterell and Bradbury are superb together. Their differences both physically and in character compliment each other perfectly. Cotterell, who is reminiscent of a young Julie Walters, skilfully works Jones's very wordy dialogue with a sharp and dry manner. Initially so strong, it is very sad to watch her decline. Bradbury is utterly adorable as she is swept up in her own vivid imagination of a world of glamour and sophistication. The subtle nuances she brings to the character of Persephone are brilliantly observed and her obsession with Doris Day is hilarious. If you are not that familiar with facts on Doris Day when you go into this play, trust me, you will leave an expert.
Whilst not based on a true story Airswimming is probably the story of many of those women who were locked away for absurd reasons and escaping to a land of make-believe was their only way of coping. Airswimming is harsh reminder of those ill-fated women who were just simply forgotten about.
Running until 15th February
Reviewer: Rachel Sheridan