Ajax
Sophocles in a contemporary translation by Robert Cannon
Love&Madness
In rep as part of the madness season Riverside Studios
(2009)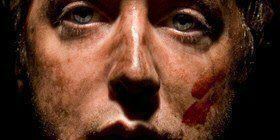 Military glory--that attractive rainbow, that rises in showers of blood--that serpent's eye, which charms to destroy...
~Abraham Lincoln
Thought to have been one of the earliest of Sophocles' plays, Ajax is a story that counts war, honour, madness and family amongst its themes. Beginning shortly after the Trojan War the plot follows the mighty warrior Ajax who is dealing with his anger after his enemy Odysseus won the honour of receiving Achilles' armour instead of him. Tricked by the Goddess Athena he then slaughters all of the animals in the army camp believing them to be the high command, holding one back to torture, thinking it to be Odysseus. Confronted by the realization of his actions what unfolds is both moving and powerful.
Director Jack Shepherd has chosen the evocative setting of a World War One hospital dugout for his interpretation of the piece and argues
eloquently in the programme notes that (as part of the madness season) Ajax can be seen to be suffering from battle fatigue and a mania created from the madness of war itself.
Deftly directed by Shepherd and with appropriately pitched performances from the eleven strong cast, the production manages to be intimate and yet epic in equal measure. Iarla McGowan displays a large emotional range as the ill fated Ajax offering a glimpse of the great leader he had been whilst capturing the torment of the character in the present. As his wife Techmessa, Lucia McAnespie also treads a fine emotional line and portrays a strong and yet fearful woman and mother.
The chorus are provided by medics and wounded soldiers who lie on stretchers throughout and are very much part of the action of the play
rather than just commentators. This adds hugely to the oppressive atmosphere created by the set and emphasizes the notion of a shared destiny as humans rely on a network of other humans to survive.
The continued motif of honour in warfare is one that still resonates today, as is the question of why man still continues to fight. War has always been political and Sophocles' timeless play demonstrates how it is always the human who suffers regardless of the winning side.
Until 26th July
Reviewer: Amy Yorston