Akshayambara
Sharanya Ramprakash
Royal Festival Hall (Blue Room)
–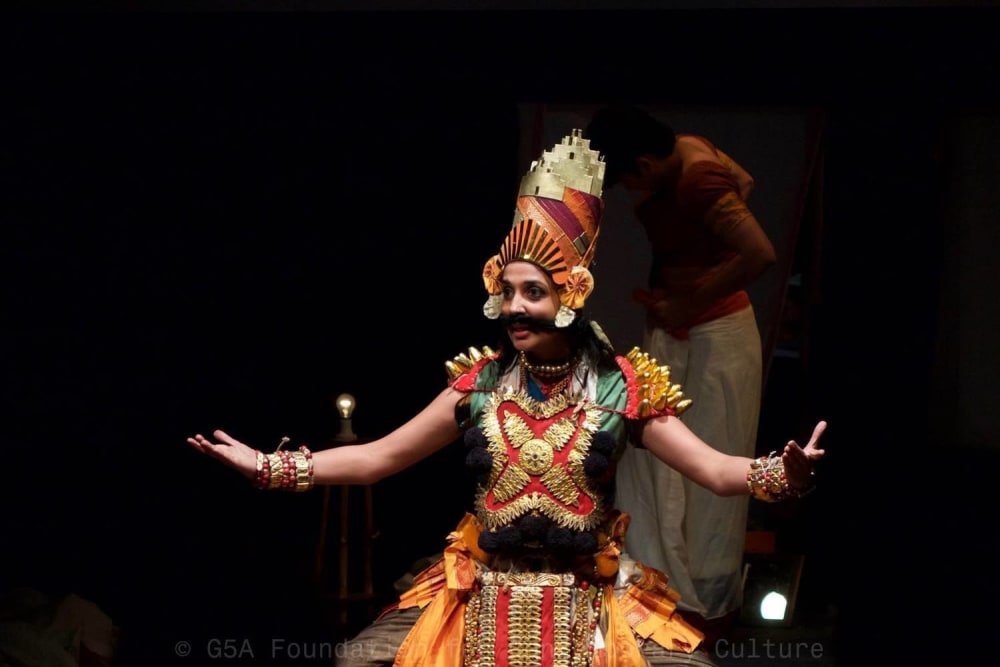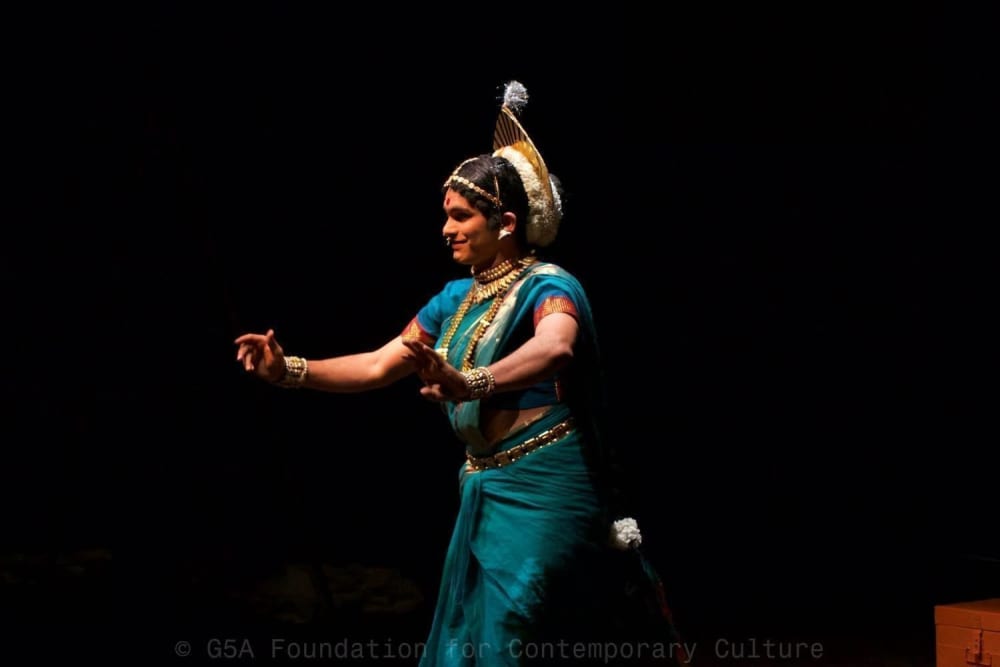 This is an opportunity to see a performance of Yakshagana theatre, an Indian dance form that is rare in London, and this one is even rarer for it presents a female performer in what is traditionally an all-male form of theatre.
It was written by Sharanya Ramprakash, one of the few women who has learned the techniques of and become an accomplished performer. She has set out to explore and challenge the idea of gender-specific performance presenting a situation where a women has been booked by the manager or a Mela to perform the male role of the legendary King Kaurava in the presentation of an episode from the Mahābhārata.
She confronts the male actor cast as the Princess Draupadi who is horrified by her presumption and they argue the case for and against real women play female roles when for 800 years there has been a tradition of male performers only.
The play starts with Prasad Cherkady as the actor preparing himself for the role and being interrupted by the woman, played by Sharanya herself, and trying to send her away. Prasad then performs the dance when Draupadi is saying farewell to her garden before leaving for the Swayamvara contest, which will select her future husband. It is a delicate performance, looking up at the birds in the trees, picking flowers, weaving a garland (all in dance mime), a demonstration of successful male to female cross-gender casting.
The performance is given in the Kannada language without surtitle summaries that give little detail so it is guesswork to match text and delivery and it isn't clear whether this and the dance excerpts of highlights from the story that follow represent a rehearsal that becomes a contest or glimpses of an actual performance. From occasional laughter from some of the audience, it is obvious there is much that those who don't understand the language are missing.
When Sharanya appears as Kaurava, entering behind a cloth held by attendants that is whipped away like a curtain, her huge moustache marks her as essentially masculine and the heavy thumps as she jumps, bent-kneed with both feet, are far from feminine and later she will present the king raging. There is something about her eyes that still stays feminine but for this play's purpose that is irrelevant, for the argument here is not about imitation but acceptance.
"Why," asks this actress, "can you accept an actor being a bird, cry when he sheds his feathers, but not a woman as a man?" In a London that now sees frequent cross-gender casting in both directions, is this still a problem? But it is certainly a challenge to the men who, following 800 year-old practice, consider these female roles to be their preserve.
Without being able to follow the dialogue, it is difficult to see how well the play makes her case, though it is clear that the extracts from the Mahābhārata that are enacted as well as the conversations between the performers all form part of the argument.
Those extracts are performed beautifully. They include some parts of some male roles that Prasad performs in the context of what appear to be flashbacks to auditions he gave when a 14-year-old lad. He has that excellent quality in an actor of being able to listen and does so even when the voice speaking to him is unheard, his reactions and responses so accurate that you get a very good sense of what he would have been hearing.
This is a performance that lasts over 90 minutes without interval, too long to be squatting on the floor if you weren't lucky enough to find a chair, but worth enduring the discomfort though it could be shortened (especially at the opening) without weakening its content, and full surtitles of all the text would be an improvement for audiences who need it.
Reviewer: Howard Loxton