Alabama God Damn

Hippana Theatre
Pleasance Dome
–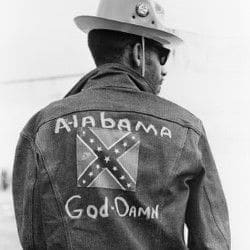 Named after the Spider Martin photograph of a denim-clad African American man wearing a Southern Cross badge, and the same refrain writ upon his jacket, the new Hippana Theatre play liberally delves into a host of sources to spin a yard about Alabama which is steeped in popular culture.
The most obvious of these is S-Town, the acclaimed recent podcast about the mysterious and suspicious death of a paranoid local man in a small Southern Town.
Ashley Driver plays Frank, a man returning to his hometown, a place he long ago abandoned, on account of the poverty, the stupidity and the crime, which left its mark on him, as much as upon itself. But he needs to come back to attend the funeral of his friend Virgil (Olivier Leclair) and find some measure of forgiveness from a girl named Dixie (Sarah Connolly).
There are laughs aplenty, especially from Leclair, who plays almost each and every one of the townsfolk with whom Frank interacts, swapping hats, accents and body language, to portray the various, possibly inbred yokels with whom Frank shares a history.
All the while, Frank is uncovering the mystery of how Virgil met his end and facing up to his past. It's a fun experience, suffused with live music, as well as a lot of humour.
Reviewer: Graeme Strachan