Aladdin
Andrew Ryan
UK Productions
Anvil Theatre
–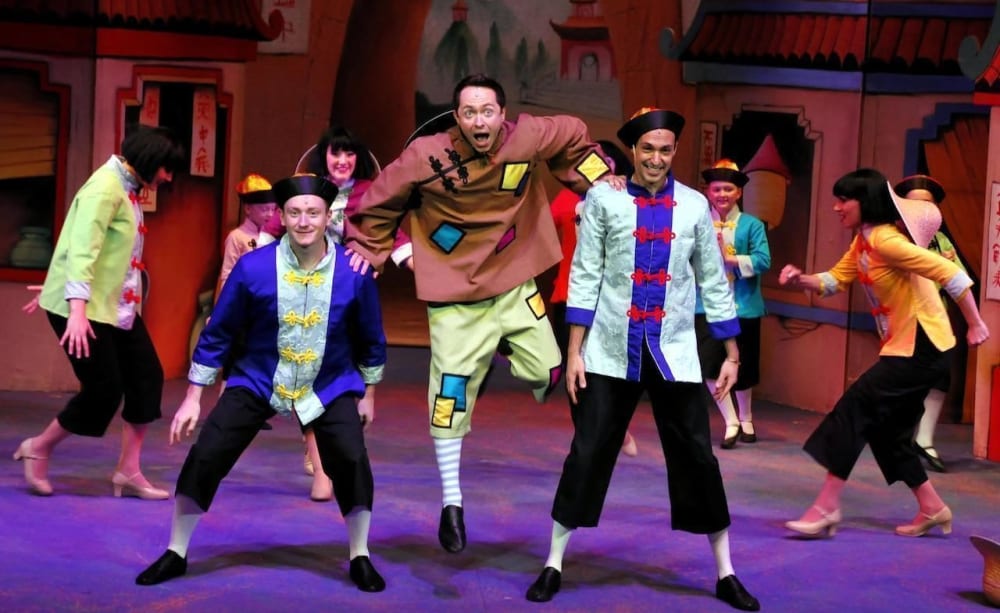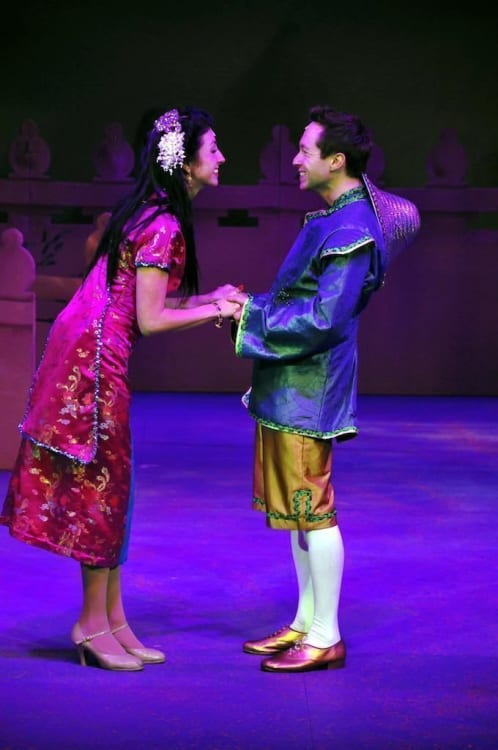 The panto season at the Anvil theatre in Basingstoke is an oriental feast of Peking magic as their production takes to the stage, "in spite of the one-way system."
Eager children were having fun with flashing cutlasses or rings and magical spinners and the excitement before the start was palpable.
Ian Good directs this colourful production with assurance and also plays the dame Widow Twankey with an outrageous variety of frocks and some dreadful one-liners that made you groan.
This is a traditional version of the story that has all the right panto ingredients. There is lots of audience participation, a rather tame laundry scene—I missed the slosh—but a wonderful flying sequence with clever projection as Aladdin skims the rooftops of Peking and travels through the desert and oceans to rescue his princess.
The hilarious version of the "Twelve days of Christmas" had the cast and audience in fits of laughter that lifted the rather staid first act.
There is the traditional ghost sketch sung to "She'll Be Coming Round the Mountain" and loads of help from some children from the audience for the song sheet in this case "One Finger One Thumb Keep Moving."
Colin Baker of Doctor Who fame is both an imposing and impressive Abanazar with a powerful thunderous voice, who is convinced that he is "the most powerful magician on earth."
There are oodles of references to the television series with an appearance of the Daleks and even the famous Tardis, and Baker just loves his "boos".
Keeping the proceeding whizzing along is Derek Morgan as the rather simple Wishee Washee with his catchphrase, "Yoh kids" to which they loudly reply, "Yoh Wishee" as we all agree to be in his gang.
He has good empathy with the audience but we also have to look after his pet dog Tiddles—and I'm not going to tell how he got his name but it had the audience in giggles.
Chris Carswell is a charming, daredevil Aladdin who has fallen in love Princess Jasmine, the delightful Rebecca Marks, and both have beautiful singing voices.
Of course Aladdin is tricked by Abanazar to help him find the magic lamp and ends up trapped in the dark, dismal cave but he is helped by the rather hip Slave of the Ring with attitude, the splendid Carrie Rawlings.
Mark James, making his panto debut as the hapless PC Pong, provides much humour and some clever magic tricks.
As the Emperor, Wesley Waring is a whimsical character and caused much hilarity when his moustache started to fall off, which led to some superb improvisation from members of the cast.
There is also good support from Neil Kitchin-Wilson as the lithe Genie of the Lamp.
With some slick choreography by Sarah Louise Day enthusiastically performed by a large ensemble augmented by a juvenile chorus from local dance academies, this is a production that was thoroughly enjoyed by the audience and an ideal start to the festive season.
Reviewer: Robin Strapp