Aladdin
Jon Monie
Martin Dodd for UK Productions
Anvil Theatre, Basingstoke
–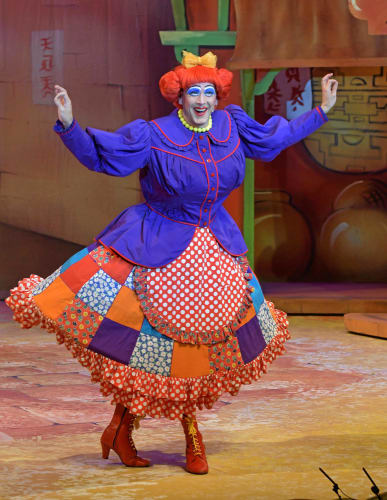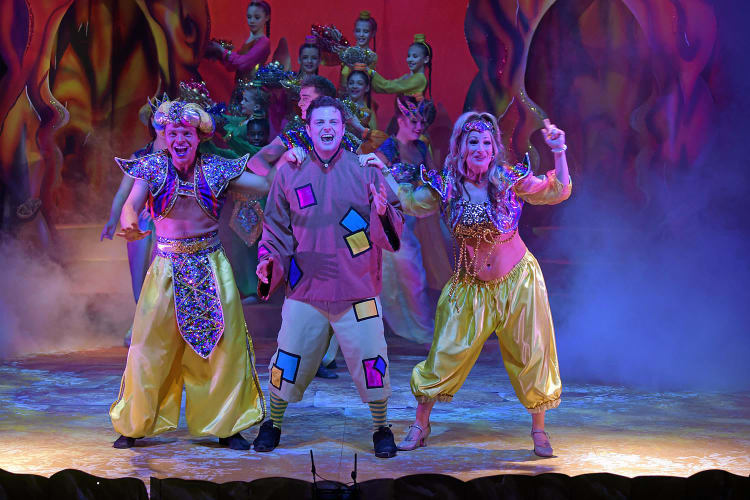 Christmas jumpers and princess dresses were the order of the day for the audience at the Anvil's traditional family pantomime, Aladdin, creating a lovely Christmas spirit and the excitement in the foyer was palpable.
Set in Old Peking, this classic story is given a modern slant. It's directed by Chris Pizzey who also gives an effervescent performance as Wishee Washee and he quickly had the audience on his side who all wanted to be "in his gang".
His mother Widow Twankey runs the local laundry but times are hard and money is scarce. Nic Gibney is an accomplished Dame full of fun and wears the most outrageous costumes.
Her son, Aladdin, the charming Mark Rhodes, has a wonderful stage presence and just shines. He has fallen in love with the Princess Jasmine, a feisty performance from Ashleigh Mackness, and they both sing beautifully.
But will Aladdin manage to convince the Emperor (Andrew Gallo) to allow him to marry her, especially as he is so poor? Or will Prince Manky Poo (Ben Westhead) be the lucky one?
However, help is at hand from the Spirit of the Ring, the delightful Jennifer Harding, and the rather camp, exuberant Genie of the Lamp (Scott Davies).
They are determined to thwart the evil, cunning Abanazar who, "wants to rule the world." Mark Moraghan owns this role. He's the perfect 'baddie' and the audience's boos got louder and louder every time he appeared.
Charlie Guest brings much knockabout comedy as PC Pong and his invisible police car—well, it's "because of the cuts"—but the sound effects are spot on.
There is something for everyone in this panto: jokes for adults and the children, a truly messy slosh scene that had the audience in hysterics, a comical laundry routine where Wishee Washee ends up going through the mangle and a spellbinding, spectacular magical carpet ride.
Look out for the enchanting cave scene, the Chinese dragon and the Mummy ghost sketch.
The ensemble dancers give high-energy performances with impressive choreography by Sarah Louise Day and are supported by youngsters from local dance academies who give their all.
With plenty of enthusiastic audience participation, lots of local references, sparkling pyrotechnics and a vibrant selection of musical numbers under the very capable hands of musical director Martyn Cooper, this is a highly enjoyable production.
Reviewer: Robin Strapp