Aladdin
Michael Harrison and Alan McHugh with additional material by Julian Clary, David McGillivray and Matt Slack
Qdos Entertainment
Birmingham Hippodrome
–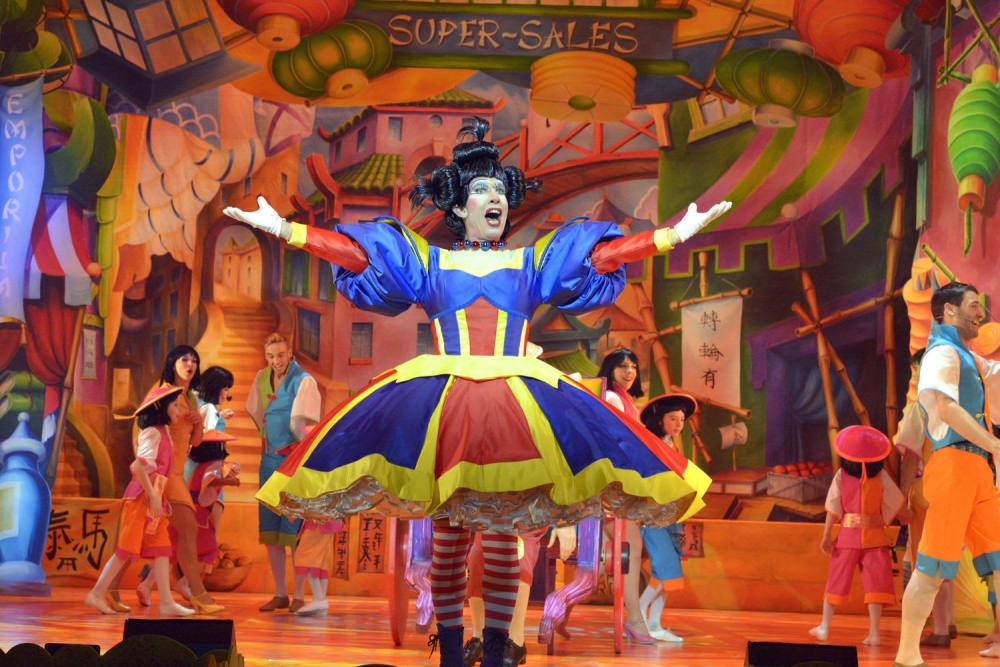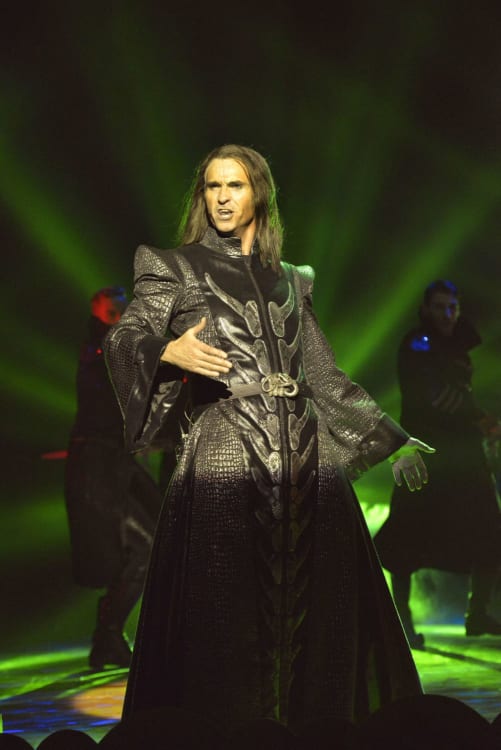 Known throughout the land as the Home of Pantomime, recent seasons have seen the Birmingham Hippodrome play host to an array of panto debuts. This year it's the turn of Marti Pellow, whose Abanazar looks like he's jumped straight out of Game of Thrones.
An ice-cold Villain, Pellow relishes the role and has even written two new songs for the production. His Abanazar remains cool, calm and collected at all times and commands the stage with his menacing glare as he sets out to be Master of the World, Universe and…nearby Dudley.
In a break from the usual narrative, Michael Harrison and Alan McHugh have whipped the magical ring from Abanazar's grasp and assigned it to Lee Mead's Aladdin from the off. In doing so, the Slave can behave much more like Aladdin's Fairy Godmother and protector, which in the hands of Julian Clary warrants one of the best performances in Pantoland.
Clary's Slave of the Ring is a sight to behold in an array of glorious outfits designed by Hugh Durrant accentuating the Ring of his title complete with plenty of plumes, sequins and flowing fabrics. A master of the double entendre, Clary's knowing delivery captures the essence of pantomime and adds an extra performative frame as he points out the absurdities of the genre to great comic effect.
Whether singing of his "Ring of Fire" to defeat Abanazar or expressing his bemusement at Mead's "Any Dream Will Do", Clary knows how to work the audience and make a vast auditorium feel incredibly intimate.
Yet again Qdos has assembled a stellar cast for its flagship production with panto stalwarts Andrew Ryan and Matt Slack providing belly laughs aplenty as Widow Twankey and Wishee Washee.
Slack's physicality and energy knows no bounds as he throws himself into proceedings for his third season in Birmingham. The relationship between his Comic and Ryan's Dame demonstrates the strength of top-class pantomime today, where skilled performers dedicate Christmas season after Christmas season to hone their act.
Last seen as the Hippodrome in Robinson Crusoe and the Caribbean Pirates, Ryan's Dame is a force to be reckoned with and within a few bars of the opening number, she's already on the hunt for a man. Her long eye-lashes flutter as she woos potential suitors in the stalls and during act two's opener "Bang Bang", Ryan has the audience engaged and entranced as his merry Widow gyrates and struts her stuff giving the energetic ensemble a run for their money.
With a Hippodrome panto, there really is no expense spared and, as well as giant gorillas, terrifying blades of doom, a monstrous cobra and 3D flying sequences across lava rivers and enchanted ruins, Aladdin's much anticipated magic carpet not only soars across the auditorium, but rotates 360 degrees upside down with Wishee Washee and the Slave of the Ring aboard. This triumphant conclusion to act one reminds us that pantomime has always embraced technical wizardry and that the Hippodrome always ensures the finest is presented for its audience.
With plenty of puns, scores of slapstick and a whole host of stars and spectacle, Qdos Entertainment has done it again and created a stunning production that that ensures the Hippodrome retains its pantomime crown. As the lyrics to the show's opening number states, "What on Earth you waiting for, come visit Old Peking!".
Reviewer: Simon Sladen