Aladdin
Phil Wllmott
Corn Exchange
Corn Exchange Newbury
–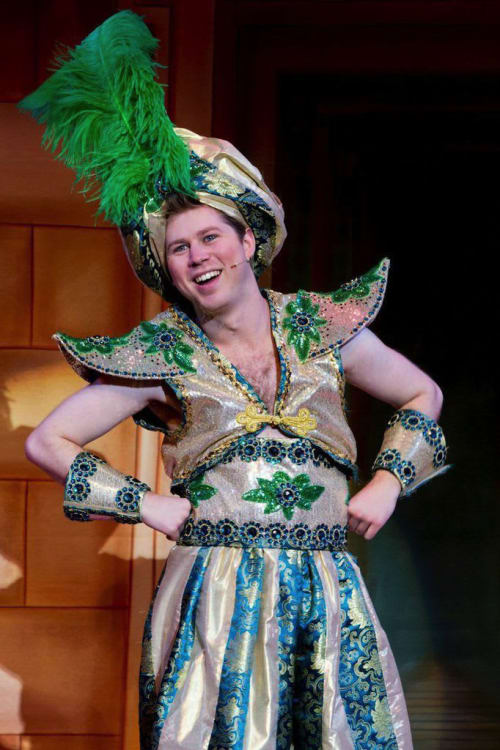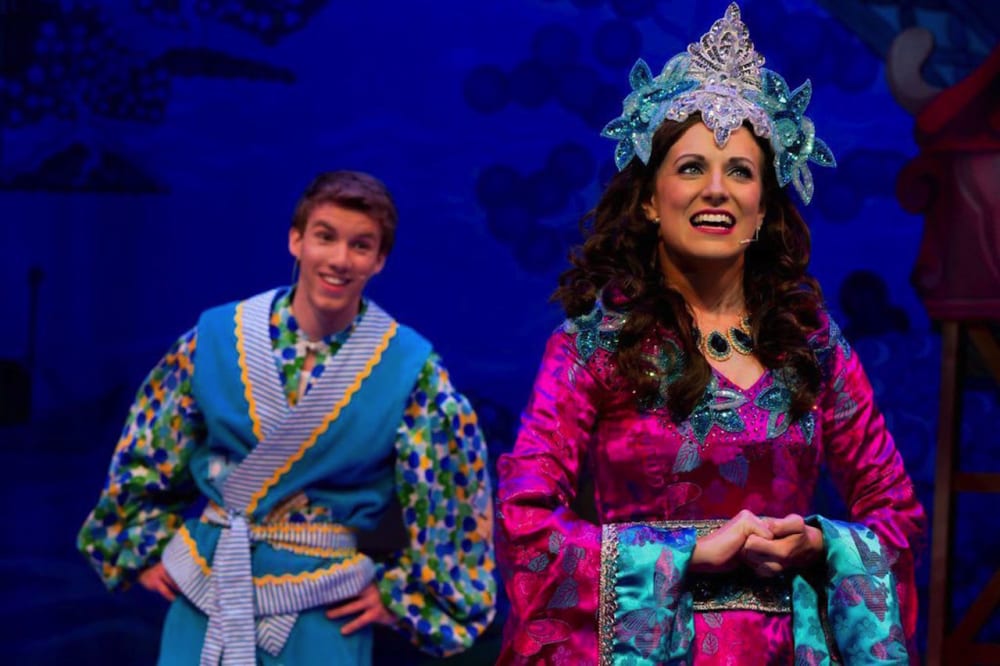 The Corn Exchange Newbury has a huge festive hit on its hands with a cracker of a pantomime in this year's Aladdin.
From the decorated murals in the foyer, created by pupils from local schools, to the auditorium bedecked with hanging Chinese lanterns and washing, the atmosphere was electric and the audience was buzzing with excitement. They were duly rewarded with a sparkling, traditional family show that is truly superb.
Once again Phil Willmott has written a witty script and directs with inventive panache with all the familiar ingredients that make up panto: groan-making puns that really are quite funny, a truly messy slapstick scene, a magical flying carpet that mesmerised the audience, pyrotechnics and oodles of audience participation.
The whole enthusiastic cast are really excellent including the young company of dancers who seem to be thoroughly enjoying their performances.
Christopher Hines is a splendidly evil Abanazar who has a commanding stage presence and was thoroughly booed by the audience, much to his delight.
Returning for his sixth appearance as Billy, but this time as the Genie of the Ring, Mathew Grace just grows in confidence and affability creating a wonderful rapport with the audience who simply adored him. His catchphrase this year of, "give us a ring" was energetically responded to by loud shouts of "ding dong".
There is a clever tongue-in-cheek parody of "Turn It Off" from The Book of Mormon sung by Billy and Aladdin that is hilarious.
Every panto needs a dame and Phil Sealy, making his first foray into this role, is terrific, a truly loveable character wearing outlandish frocks that become more and more exotic throughout the show.
Making their professional stage debuts are Christian James as the charming, spirited Aladdin who falls head over heels in love with Princess Jasmine, the delightful Caoimhe Garvey, and they both sing beautifully.
Anne Odeke is outstanding as the sassy Gloria, the Genie of the Lamp, with a powerful performance and a voice to match, a joy to watch perform. The gospel style number "Dig a Little Deeper" is great fun and full of energy.
Amy Christina Murray gives an excellent physical performance as policeman Ping, and Joshua Coley is the somewhat silly Policeman Pong who loves Strictly Come Dancing.
An unusual twist is to have Wishee Washee (Dominic Griffin) played as a giant panda who swiftly won the affection of the audience—and do look out for the penguin.
There is so much to enjoy in this family friendly panto with lots of surprises including hairy gorillas, a magical carpet ride that is certainly a "wow" moment and a charming nod to the movie Frozen with a real surprise transformation.
Musical director Richard Baker assisted by Gavin Whitworth provides a vibrant score and Holly Hughes's lively choreography is spot-on.
The colourful sets, exquisite costumes designed by James MacIver and inventive, clever lighting by Guy Dickens make this a Corn Exchange panto to remember.
Perhaps it is best summed up by Henry, my 7-year-old companion, who said it was "awesome" and I must agree it was.
Reviewer: Robin Strapp