Aladdin
Keith and Ben Simmons
Paul Holman Associates and Derby LIVE
Derby Arena
–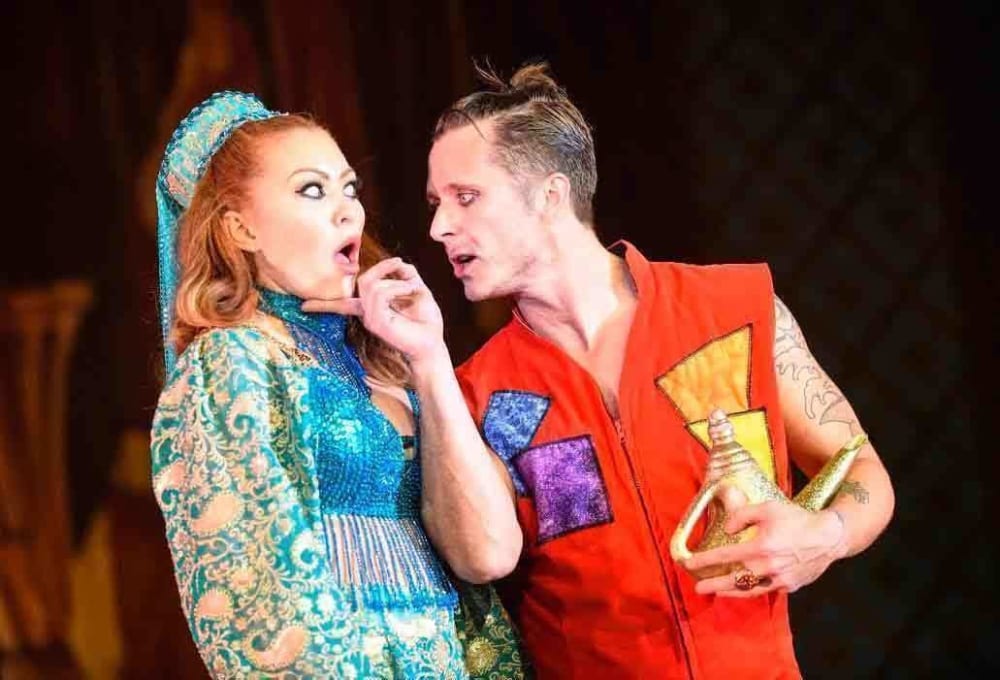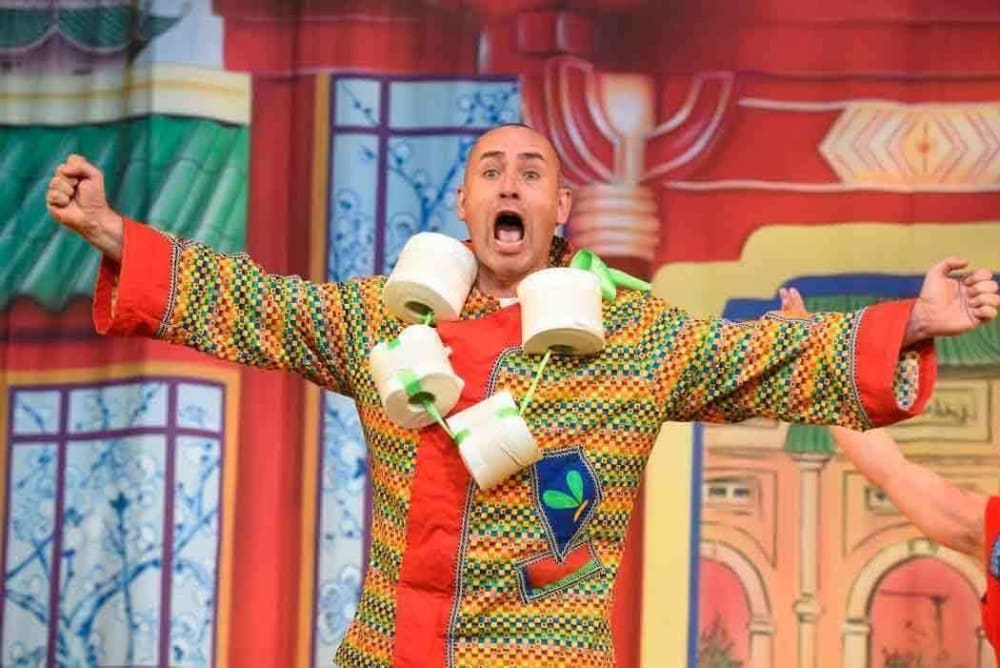 Panto is back in Derby—with a spectacular show aimed at making audiences gasp in amazement.
The 2014 panto was cancelled after a fire caused extensive damage to the city's main venue, the Assembly Rooms. While the building's future is still uncertain, bosses decided to switch Aladdin to the relatively new Derby Arena. The 2016 panto will also be held there.
The major attraction of the Arena is a 250-metre cycle track. That is unused during the panto which takes place inside a 1,400-seat area sectioned off with black curtains.
The audience enters to see a vast stage with a massive version of Aladdin's lamp and a huge lighting rig. It is obvious little expense has been spared. Once the show gets under way, there is no doubt that technicians have been working extremely hard to prepare this visual feast.
The headline names for Aladdin are Natasha Hamilton, Ritchie Neville and Dan Osborne.
Natasha Hamilton, one third of the group Atomic Kitten, is underused as Slave of the Ring and rarely gets a chance to show what she is capable of.
Neville, a former member of '90s boy band 5ive, takes the lead role and impresses with his enthusiasm. But the songs chosen for him do not bring out the best of his vocal range; for the most part they illustrate its lack of power and depth.
Osborne, a former professional model who appeared in one series of the reality TV show The Only Way is Essex, plays the Genie of the Lamp. His attributes are his physique and charm rather than his acting ability.
The most memorable aspects of Aladdin are the comedy routines. Mike "Squeaky" McClean takes the role of Wishee Washee in his fourth Derby panto. He makes the audience laugh every time he takes to the stage. His topical, local references are funny and acerbic.
He makes a memorable first impression, wearing cycling gear as he rides into the Arena. He proclaims at one point that he cannot believe the panto gets away with "this rubbish" every year. One scene in which he forgets his lines has everyone—including other actors—helpless with laughter.
Leon Craig who has played the dame for the past 13 years at various venues gives a masterclass as Widow Twankey. He manages to find humour even in material which could easily be described as ancient.
The younger members of the audience find plenty to laugh about in the performances of Joseph Elliott and Richard David-Caine as Sergeant Ping and PC Pong. The double act from the CBeebies show Swashbuckle are commendably silly, stupid and senseless.
In an evening which will be remembered more for its glittering costumes than its vocal interludes, there is a surprise when Howard Ellis as the Emperor of China gives a stirring rendition of "Nessun Dorma".
At more than two-and-a-half hours including an interval, Aladdin is quite long. Concerned parents welcomed the final song and nipped out before the end to take tired young children home.
Overall, Aladdin has glitz, glamour and gags in abundance. There are times though when it appears that looks are more important than content.
Reviewer: Steve Orme